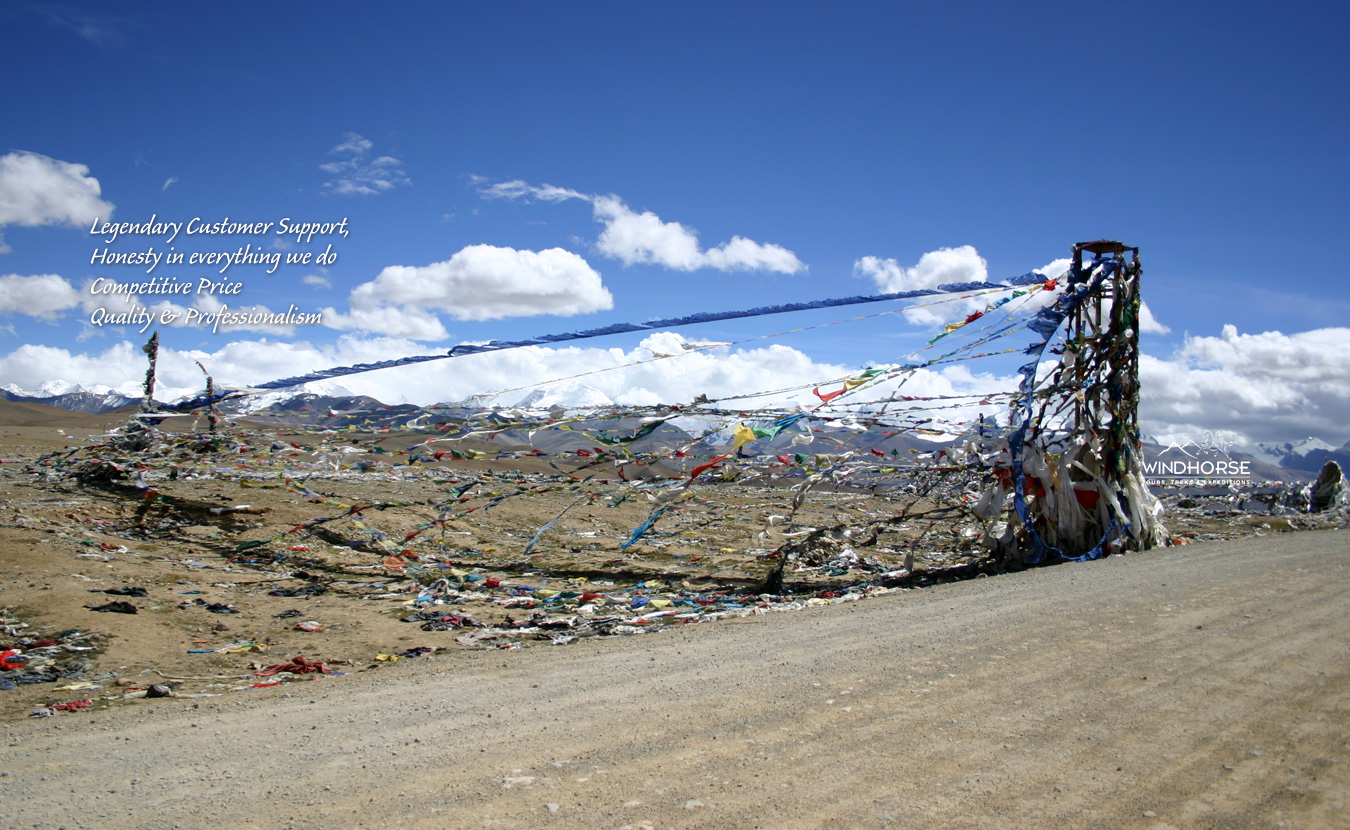 Everest Base Camp Trek (Tibet)
Trek to North Face of Everest on the Tibetan side
13 Days
Trekking
For those short on time but long on the desire to maximize their experience in Tibet, this Everest Base Camp Trek is the perfect trip. It offers a rather comprehensive overview of Tibet's landscape, culture, and people. This trip, though similar to our Everest Base Camp tour, differs in its emphasis on trekking in the Everest base camp region.
Drive along the magnificent Lhasa-Kathmandu road covering Tibet's "must-see" places to fabled Rongbuk Monastery, set exquisitely beneath Everest's North Face. Begin a three-day trek to Tingri and spiral down to Kathmandu, the capital of Nepal, from where you can extend your trip or return home.
The trek is not terribly strenuous, as we will cross only one relatively small and manageable pass on our way. In fact, were it not for the high altitude and thinner air, the occasional nomad camp by the side of the trail, and the huge north face of Everest looming over us, we might momentarily forget where we are and think that we're out for a day hike in the Sierras. We will set up our tents each night amid stunning scenery, often with nomads as our next-door neighbors. Except for the participants' s personal day packs, all of our gear will be transported by yak. As in any physical endeavor, fitness is the most essential ingredient for success. That said, no previous Himalayan trekking experience is needed to take part in our Tibetan trips. In general, a love of mountains and hiking is all that is required. One should be physically fit, meaning that one should be capable of walking a full day with a day pack.
Outline Itinerary
Day 1: Arrival in Kathmandu. Meet with our representative at the airport and transfer to Hotel. Welcome drink and short briefing about Tibet Tour.
Overnight in Hotel
Day 2:In Kathmandu. (In the morning Tibet Visa preparation)Full-day Sightseeing in Kathmandu Valley with our fluent English speak and experience Tour Guide by private car.
Overnight in Hotel.
Day 3: Fly from Kathmandu to Lhasa (3650m).1-hour flight. Our representative meets you at the airport and transfer to Lhasa (98km, 1-hour drive).
Overnight in Hotel.
Day 4: Lhasa Sightseeing. After breakfast, we set off for a full-day guided sightseeing tour. Today, we visit Potala Palace, Norbulingka Palace (the summer residence of the Dalai Lama), Jokhang temple, and Barkhor square.
Overnight at Hotel.
Day 5: In Lhasa. Today we visit two of the very significant monasteries in Tibet; Drepung & Sera Monastery, both monasteries are located just outside the city. Later, we visit also the Tibetan Medical Centre.
Overnight at Hotel.
Day 6: Drive from Lhasa to Gyantse (3950m). Early morning we proceed for Gyantse via Lake (Yamdurk tso). Gyantse is the fourth largest city in Tibet (after Shigatse and Chamdo). It is still small (population 15000) and largely Tibetan in character not so much influenced by the Chinese. Strategically sited at a junction between Shigatse and Lhasa, it lies along the caravan routes from Sikkim and Bhutan in the South. Gyantse assumed an important role as a military center and market Town, particularly for wool and handicraft. Gyantse jeweled with some ancient Monastery and Stupa. We visit Khumbum Stupa, Gyantse Dzong, and Palkar Choice Monastery in Gyantse.
Overnight at Hotel.
Day 7: Drive from Gyantse to Shigatse (3900m) via Shalu Monastery. After breakfast, we head out to Shigatse. On the way, we visit Shalu Monastery. In Shigatse, we visit the Tashilungpu Monastery, where the Panchen Lama resided.
Overnight at Hotel.
Day 8: Drive from Shigatse to Xegar (New Tingri) via the Sakya monastery. Today you have an extensive distance to travel to reach Xegar (New Tingri) via 2 high passes en route. Also, you will visit Sakya Monastery on the way. The Monastery is located 21km off the highway.
Overnight in a hotel.
Day 9: Drive from Xegar to Rongbuk village (4920m). You are reaching your final destination (Rongbuk, Basecamp of Mount Everest) today via Pangla pass. Rongbuk, where the highest Monastery in the world is established, lies some 8 km from Everest Base Camp. There are magnificent views up the valley of Mount Everest and Cho-Oyu.
Overnight at Guesthouse.
Day 10: Drive from Rongbuk to Zhangmu (2100m). Today is your last journey on Tibet Plateau. Zhangmu, also known as Khasa or Dram, lies on a mountainside 10km(6miles) inland from the Friendship Bridge that spans the Bhotekoshi (the Sun Koshi) River. This small town has become a major trading post between Tibet and Nepal. The subtropical climate endows the small town with warm, humid weather and beautiful scenery throughout the year. The town is built along a winding road that is lined with private homes, shops, restaurants, and governments building.
Overnight in Hotel.
Day 11: Drive from Zhangmu to Kathmandu. Drive from Zhangmu takes you to friendship –bridge, where our representative from the Kathmandu office will meet you and help you to complete the immigration formalities on the Nepal side. After the immigration process, you will drive to Kathmandu. This scenic journey takes four and a half hours.
Overnight in Hotel.
Day 12:In Kathmandu. Full-day Sightseeing in Bhaktapur Durbar Square and Patan Durbar Square with our Tour Guide by private car.
Overnight in Hotel.
Day 13: Departure. International Airport.
Trip Highlights
Cost Information
Tier priced (per person in US$ 1650) based on number of participants and type of hotels.
Cost Information Price on Request
Private Journeys for independent travel with your own dates.
Included
Accommodations as listed or similar.
Meals as indicated by B/L/D (Daily breakfast and dinner).
All transfers and sightseeing as per itinerary.
Local English speaking Tibetan Guide in Tibet and English speaking representative from Nepal at the border.
Entrance fees for sights, parks, restricted areas covered by the trip.
Tibet Permits
Clean Bed Cover and Sleeping bag is borrowed to each of the members to cope with some basic accommodation in Xegar, Rongbuk and Zangmu.
Not included
Chinese Visa.
Flights into Lhasa and out of Kathmandu
Nepal Visa (can be obtained upon arrival)
Traveller Review
Everest Base Camp Tour
Our trip was very successful.
Tsering is an exceptionally good guide, nothing was too much trouble for him, and he made every effort to ensure our trip was the best it could be.We appreciated Datong's driving skills. The roads in Tibet can be quite dangerous, but we felt very safe with him.
Rinchin, whom I had met on my last trip to Tibet in 2010, made us very welcome, and we enjoyed the coffee meeting we had with him.
There were no bad times during our trip, and I am happy to recommend Windhorse to anyone who may be visiting Tibet.
Thank you.
With best wishes
Robert Whitehead
June10 -18, 2016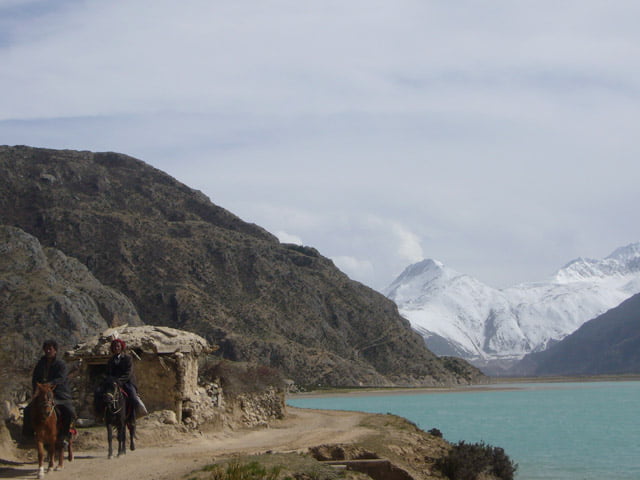 Tibet Everest Base to Nepal
Hi, Postak and Ugen!
We had a wonderful time in Tibet. It was magnificent. Our driver and guide were fabulous, and we had a great time in their company. Everything went perfectly, with the exception of Paul developing altitude sickness at the base camp of Mount Everest, and so, we were not able to spend the night at the monastery, but had to go down so that Paul would get better. No fault of the agency, of course!
Just a couple of questions:
1) When we go to Bhutan, am I supposed to have a visa or permit prior to flying from Kathmandu I was just talking to Dave at your office in Kathmandu and he asked me where my permit was. I apologize for my terrible memory, but hope you can understand that there are a lot of details in organizing a trip of six months. Please let me know what is needed in that regard and fax to the office here if need be.
2) Dorje, our guide in Tibet, was wonderful. I wanted to send him some stuff from Canada. Are you able to provide his mailing address for me, or not He's a great guy, and made our trip wonderful.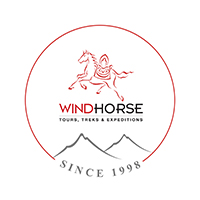 Jan W
Oct, 10 2007
Facebook Review