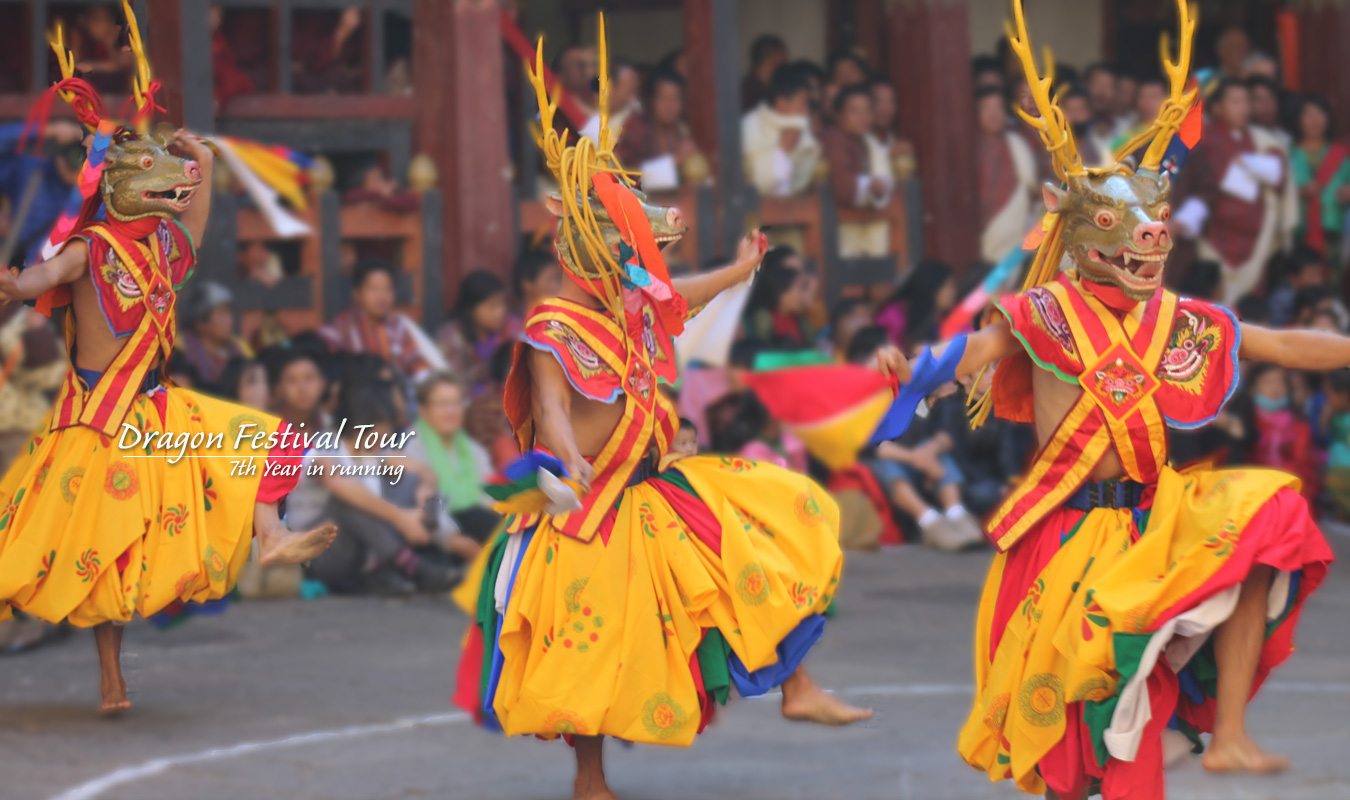 Bhutan Dragon Festival Tour
Definitive Cultural & Festival Tour of Bhutan
12 Days
Culture Tours
Festival Tours
The Kingdom of Bhutan is one of the world's little known treasures. Here in the "Land of the Thunder Dragon," quality of life is measured in terms of Gross National Happiness, instead of material success – though Bhutanese live comfortable, serene lives. Until quite recently this tiny country remained in splendid isolation, dedicated to preserving its rich Buddhist traditions and pristine landscapes. Small number of guests each year, visit to discover Bhutan's natural and cultural wonders.
On this Dragon festival trip, you will attend at least one or multiple colourful festivals, and get insight into Bhutanese culture and tradition, while visiting its unique fortresses, monasteries and ancient temples. On few occasions, your dinners will be hosted by local families. We'll visit local farms, villages, schools and have an opportunity to meet and learn from locales.
First introduced in 2001, Dragon Festival Tour has be modified slightly each year, to keep up with changing conditions. As the Road Widening Project has somewhat slowed the driving, this year, we added one internal flight and one extra day to allow good pace of the tour, without feeling that too much time is spent on the road.
Join us on this definitive Cultural immersion Journey, among ancient monasteries and temples, Himalayan peaks and glacial rivers, rare flora and fauna and extraordinary people. We assure you that this will be one of your most memorable trip.
Outline Itinerary
Day 1 & 2: Arrive and stay in Paro, Bhutan
.Day 3 & 4: Jakar (Bumthang)
Day 5: Chumey & Trongsa
Day 6 : Gangtey, Phobjikha Valley
Day 7 & 8: In Punakha & Wangdue
Day 9 & 10: Thimphu Valley
Day 11: Thimphu – Paro (Hike to Takstang)
Day 12: Departure
Please note that the schedules are revised for each trips to incorporate the festivals, events & domestic flight.
Trip Highlights
Visit to one or more festivals.
Colorful local markets .
Dzongs (monastery/fort), temples
Arts & Architecture
Optional hike to Taktsang (tigers nest) Monastery  and Chimi lhakhang.
Opportunity to meet locals, visit local villages, homes. etc
Escorted locally by expert and friendly Bhutanese Tour Leader.
Detailed Itinerary
Expand All
Day 1 & 2:
Arrive and stay in Paro, Bhutan
Upon arrival by flight into Paro airport, meet/ greet and transfer to the hotel, where we spend two nights. Serene Paro at 7,500ft is one of Bhutan's most fertile and most beautiful valley.
Usually, the flights from Bangkok or Delhi are scheduled for early morning arrival around 8 am. Which means practically whole first day. We will be able to cover all listed sights. In case, if it is afternoon , we will cover next day, if we had to miss due to time constrain.
MEALS:
Altitude:
Paro -2200m
Duration:
Attend festival if any, Local sightseeing, some short walks in between.
Day 3 & 4:
Jakar (Bumthang)
A short, and scenic flight whisks into Bumthang, the spiritual and cultural heartland of the Kingdom.
It is laced with historical monasteries and other edifices. Enough to keep us engrossing engaged for 2 days.
Internal flight from Paro - Bumthang takes around 20 - 30 minutes.
MEALS:
Altitude:
Bumthang - 2600m
Duration:
20 - 30 mins Flight. Attend festival if any, Local sightseeing with some short walks in between.
A short drive takes us over to Chumey valley. Continuing on across Youtongla pass, arrive at Trongsa, a small town, perched above a gorge, high above the Mangdechu river with a most spectacularly sited Dzong.  Normally a 3hr journey, the current road condition is likely to take more, and hence it is also a necessary stop.
You will be crossing one Mounatain Pass - Youtongla Pass - 3425m
MEALS:
Altitude:
Youtongla Pass - 3425 m. Trongsa - 2300m
Duration:
3 - 4 hours to reach Trongsa. Local sightseeing.
Day 6 :
Gangtey, Phobjikha Valley
Phobjikha or Gangtey is a wide glacial valley with a central stream meandering through the open grassland and thickets of dwarf bamboo. Farmlands occupy the peripheral slopes where potatoes and turnips are grown. The central area is a marsh land protected as habitat for wildlife. At 2900m, this is the highest night halt on your journey. The valley is a protected (Conservation) area and is both scenically and culturally worthwhile.
MEALS:
Altitude:
Phobjikha 2900m
Duration:
It takes 3 hours to reach Phobjikha. Local sightseeing, nature walks.
Day 7 & 8
In Punakha & Wangdue
Punakha and Wangdue Phodrang two separate towns, but they are located nearby like twin towns. The valley is at a lower elevation of about 1250m above sea level and therefore it enjoys subtropical climate; with warm summers and pleasant winters. Cactuses, Mandarin, and Bananas, Guava, grow alongside rice crops, in terraced fields, gently slopping down the hillsides; one of the most delightful sight to see.
MEALS:
Altitude:
Punakha - 1300m
Duration:
It takes 3 hours to Phobjikha. Attend festival if any, some short walk to visit sights and also to villages.
Day 9 & 10:
Thimphu Valley
En-route, enjoy the panorama of snow capped peaks, including the highest mountain in Bhutan from Dochula pass, over a cuppa. Then spend the next two nights in a comfortable hotel, and visit Thimphu, which is still the most relaxed capital in the world, without any traffic lights ! In addition to its many attractions, you will have time for shopping, to go the post-office to send off  Postcards, see an archery match and colorful farmer's market
MEALS:
Altitude:
Dochula Pass - 3150 m, Thimphu 2300m
Duration:
It takes 3 hours to Thimphu. Attend festivals if any, local sightseeing.
Day 11:
Thimphu - Paro (Hike to Takstang)
Our journey in Kingdom culminates into a hike to iconic Taktsang (tiger's nest) monastery, the most famous site in Bhutan. Drive short distance to Paro and begin this famous hike, for which you can also hire a riding horses till the 1st viewpoint ( One way only).
If you wish, we can take you further up, following the old pilgrimage trail for 1 hour to visit Ugyen Tshemo, Zangdopelri, and retreat centre.
MEALS:
Altitude:
Taktsang Monastery -3120m, Paro 2200m
Duration:
6-7 hrs - whole day affair
After breakfast transfer to Paro airport according to your flight times.
If your flight is in the afternoon, then we can make the morning hour useful by exploring more the Paro Valley.
MEALS:
Departure Dates
Start Date
End Date
Status
Remarks
Cost Information
It is tiered priced ,  based on number of participant.
1 Pax – USD$ 2800
2 Pax – USD$ 2250 Per Person
3 – 6 Pax –  USD$ 1975 Per Person
7 – 10 Pax – USD$ 1810 Per Person
Single room Supplement – USD$ 330
SDF (Extra) – USD$ 1400
Included
All daily tourists fees
Bhutan Visa fees.
Travel permits
Accommodations in listed or similar (3-4star hotels
All meals and evening tea
All transfers
Sightseeing with entrance fees.
Local English Speaking Tour leader/Guide.
Bottled water and other complimentary services
Not included
Flights into and out of Bhutan (listed separately).
Travel & Medical Insurance ( Recommended).
All optional expenses such gifts, tips (optional), laundry, bars and beverages and other personal expenses not listed in the included section.
Trip Photos