In French, one says : Jamais deux sans trois, which means Never two without three,and I am already contemplating a new journey to be organized by Windhorsetours
---
In French, one says : Jamais deux sans trois, which means Never two without three,and I am already contemplating a new journey to be organized by Windhorsetours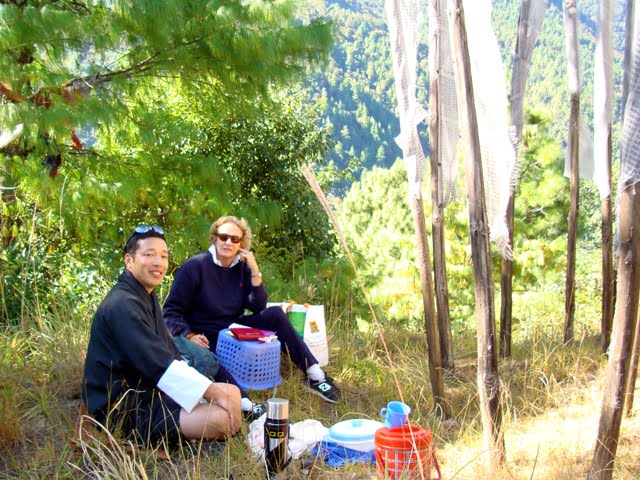 Pour un futur voyageur au Bhutan.
Je recommande vivement Kinga Dechen et son agence WINDHORSETOURS. En janvier 2006, j'ai passé 12 jours au Bhutan et ai visité Thimphu, Punakka, Paro et environs avec un guide épatant, KINGA DECHEN. Grâce à sa connaissance remarquable de l'histoire, de la religion, de la nature du Bhutan ( et des régions avoisinantes) , grâce aussi à sa présence toujours pleine d'attention, à son intelligence et à son excellent sens de l'humour, j'y ai fait un séjour inoubliable.
je m'étais promis de revenir et c'est chose faite. En novembre (2008), j'e suis venue de Gauhati, dans l'Assam, en Inde, et j'ai traversé le pays d'Est en Ouest, un voyage passionnant de 1200 km à travers une région beaucoup moins connue et visitée. Dans chaque hôtel où nous descendions, Kinga Dechen était acceuilli chaleureusement car il est connu comme étant un agent de voyage particulièrement honnête et un homme toujours prêt à aider et des plus aimables. Ces contacts personnels m'ont toujours fait offrir la meilleure chambre !
On dit : "Jamais deux sans trois"
et déjà je contemple un nouveau voyage que je ferai organiser par Windhorsetours, la très sérieuse agence de Kinga Dechen que je recommande chaleureusement.
To whom it may concern – To future travellers wishing to really discover Bhutan.
I spent 12 days in January 2006 visiting Thimphu, Punakka, Paro with a wonderful guide, KINGA DECHEN whom I had the luck to be accompanied by.
He made my stay unforgettable by his knowledge of history, religion, nature pertaining to Bhutan ( and the whole region) , and by his friendly, helpful presence, and by his personal intelligence and great sense of humor.
I had promised myself I'd come back and this I have just done, coming from Gauhati in India, and travelling East to West thru Bhutan, a fascinating journey of 1200 km which I enjoyed immensely. In every hotel we went, Kinga Dechen was welcomed warmly across the country he is known as a particularly honest travel agent and a friendly, helpful man. Thanks to these personal contacts, I always had the best room .
In French, one says : Jamais deux sans trois, which means Never two without three,and I am already contemplating a new journey to be organized by Windhorsetours, Kinga Dechen's very serious and trustworthy travel agency which I recommend heartily.
Marie Lippens, Belgium
Pasé 12 dias en Enero del 2006 visitando Thimpu, Punakka y Paro con un guía maravilloso. KINGA DECHEN con el que tuve la suerte que me acompañara. El hizo de mi viaje una experiencia inolvidable con su conocimientos de historia, religión, naturaleza de la región de Bhutan, con su inteligencia y gran sentido del humor.
Me prometí a mi mismna volver y esto es lo que he hecho viniendo desde Gauhati en India, y viajando del Oeste al Este a través de Bhutan. Un viaje fascinante de 1.200 km que disfruté en todo momento. En cada hotel donde nos alojábamos, con Kinga Dechen era un contacto con el que siempre tenía un recibimiento caluroso, al conocérsele como a un agente de viajes honesto , cariñoso y muy valioso. Gracias a sus contactos personales siempre tuve la mejor habitación!!!
En francés se dice : No hay nunca dos sin tres.
Ya estoy pensando en mi próximo viaje, con la organización " Windhorsetours ", la agencia seria y capaz de Kinga Dechen, a la que puedo recomendar de todo corazón.
— Marie Lippens, Astridlaan 4, 8300 Knokke Heist, Belgique. N'imprimez ce message que si vous en avez vraiment besoin
Aan alle belangstellenden
Aan de toekomstige reizigers die het "echte" bergkoninkrijkje Bhutan (Bhoetan) wensen te ontdekken
Gedurende 12 dagen in januari 2006 heb ik het geluk gehad Thimphu, Punakka en Paro onder de deskundige leiding van een uitstekende gids KINGA DECHEN te bezoeken. Door zijn kennis over de geschiedenis, godsdienst en natuur van Bhutan (en omgeving), zijn vriendelijkheid en behulpzaamheid, zijn intelligentie en goede zin voor humor werd mijn verblijf aldaar onvergetelijk.
Ik had mezelf beloofd om naar Bhutan terug te keren en dat heb ik net gedaan. Vanuit Gauhati in India, van oost naar west doorheen Bhutan, heb ik ten zeerste van deze fascinerende reis van 1200 km genoten. In alle hotels waar wij verbleven werd Kinga Dechen met open armen ontvangen, daar hij als eerlijke, vriendelijke en behulpzame reisagent alom bekend is. Dankzij deze persoonlijke contacten heb ik altijd in de beste kamers mogen logeren.
In het Frans zegt men : Nooit twee zonder drie. Ik denk nu al aan de organisatie van een derde reis bij Windhorsetours, het zeer betrouwbare reisagenschap van Kinga Dechen dat ik hartelijk kan aanbevelen.
–Marie Lippens. Heist, Belgique. N'imprimez ce message que si vous en avez vraiment besoin –
Rating:
5
By:
Marie Lippens
---
---
Marie Lippens

From

Astridlaan XXXX Knokke Heist, Belgique.

Travelled with us on

April 20,2006

Destination

Guide

Rating