I came home with lasting and oh so vivid memories of this fabulous trip.
Person Name

Stephanie Sales

From

1722 Holland Drive, Walnut Creek, California, USA 94597

Travelled with us on

I came home with lasting and oh so vivid memories of this fabulous trip.

Travelled Date

March 22,2008

Greetings Ugen, Postak (WindHorse Minnesota), Santosh (WindHorse India), and Chimi (WindHorse Bhutan)!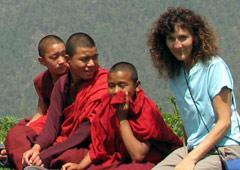 I want to thank all of you for all your efforts in arranging a most spectacular trip to India, Nepal, and Bhutan for me and my travel buddy, Mary-Anna!
Ugen and Postak did an excellent job in managing all of our initial plans and arrangements – keeping us well informed and up to date with all the various options and connections for our 5-week journey (March-April 2008). They helped us build a trip itinerary that allowed us both structured and independent travel even through times of political challenges in Tibet and Nepal. They quickly mobilized to get us on track when our Tibet tour had to be cancelled. Within days of our planned departure (due to the conflicts in Lhasa) we shifted our plans to visit India instead. Weeks later, while in Nepal, they provided us a WindHorse contact to help us maneuver through the challenges of departing Kathmandu for Paro, Bhutan in the middle of the first Nepalese national election (when all transportation was shut down). All our communications with them by phone and email were professional, courteous, informative, and prompt! We really appreciated the personal attention!
The WindHorse network is extensive and reliable! We worked with their partners and associates in each country. The Minnesota team put us in contact with Santosh in India who personally escorted us to the New Delhi train station at 5 in the morning for our trip to Agra (what service!!). Santosh arranged the connections and our fabulous guide in Agra, Ram Naresh Mittal. Ram delighted us with the history and lore of the Taj Mahal and the Agra Fort. And through the WindHorse Agra network we were able to customize our journey through Rajasthan and onward to Nepal. I also want to commend our guide "PJ" at Fatehpur Sikri in the Agra district – his enthusiasm for and love of this wonderful "ghost palace" was infectious and he greatly enhanced our knowledge of the Mughal Emperor Akba that started with Ram at the Taj Mahal.
As much as we loved India and Nepal… the people, the colors, the mysticism, the Himalayas, the intensity… Bhutan presented us with its own unique reality that we fell in love with. Our two weeks crossing west to east were truly spectacular. Windhorse provided the most excellent guide, Sonam Gyembo and the very careful, conscientious drivers, Passang Tshering and Nidup Tshering. We cruised in the comfort of Nidup's SUV, as day by day we headed eastward. Sonam used each day to build our knowledge and understanding of Bhutan's history, culture, politics, and the influence of Buddhism. Sonam was the most attentive guide and truly inspirational. Together with either Passang or Nidup they made sure we had every opportunity to enjoy our trip and make it our own. We found a love for the birds of Bhutan – so Sonam found us a field book and even he became a talented bird spotter. We wanted to learn to eat the Bhutanese dishes in the traditional manner – so Sonam and Passang showed us how to eat with our fingers and were tolerant as we made messes and teared up eating the chilis. We wanted to visit a hospital in Trashingang – so Sonam made that happen and we learned so much about health care in Bhutan. We wanted to learn to pay homage in the temples – so Sonam taught us the proper prayers, salutations, and prostrations. We wanted to take a bike ride – so Sonam found bikes for us to rent in the Phobjikha Valley and Nidup rode my bike back when I got pooped! We wanted to visit a traditional home – so Sonam made that happen in a most gracious manner. We never tired of the mountains; the winding roads, the Dzongs, the temples, and we increased our appreciation for the people of Bhutan each day.
Well, as you can see, I can go on and on in my praise for the WindHorse team and your network of fabulous guides and drivers. I came home with lasting and oh so vivid memories of this fabulous trip. I have been so pleased with WindHorse that I will continue to recommend the company to my friends and associates. And, of course, I hope to travel again someday with WindHorse.
Namaste and Kuden Che!