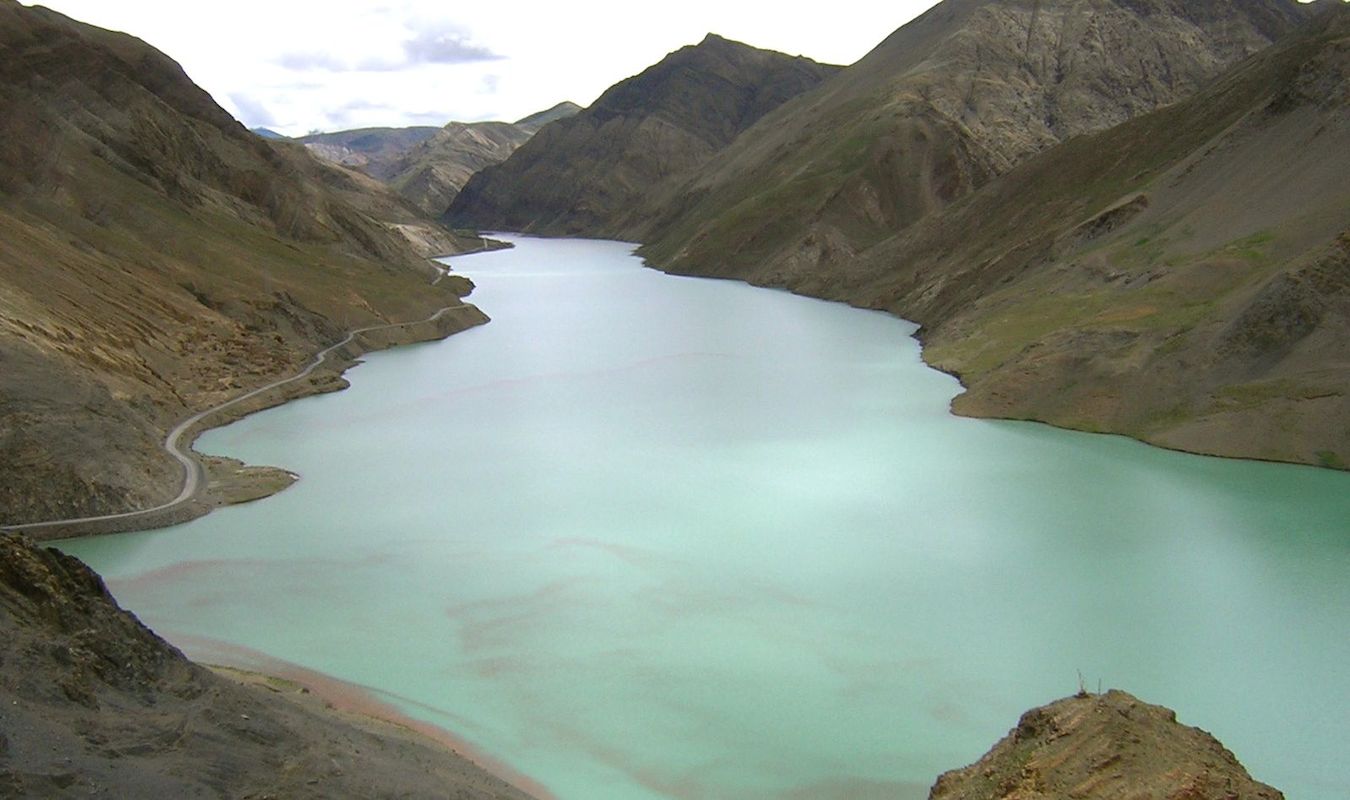 Yamdroke Lake Tour
Integration of Cultural delights with short Trekking splendour in Tibetan highland.
10 Days
Trekking
Culture Tours
This specially design itinerary not just unveil and augment well with the rich legacies of Tibetan history through its awe inspiring monuments, Temples/monastery but also we have added a conventional trekking program in the Tibetan highland that bring you close with its natural elements in its inaugural forms. For instance camping under the awfully clear and starry sky – Astronomers' delights . Some surreal natural landscapes from the high passes. Also interact and delve deeper into social and religious structures of nomadic herders and villagers too.
Also peruse the cultural highlights encompassing the Tsedang, Gyantse, Shigaste and Lhasa. In addition the azure Yamdroke Lake, reflects not merely the astounding views of surroundings but also metaphorically, the very nature of this specially design itinerary. From the lake, the vista in the distance horizon of Mt Nojin Kangstang (7191 m) is simply breathtaking.
This itinerary has been crafted incorporating the best of both worlds – depicting cultural delights blended with trekking splendour within the span of 10 days.
Outline Itinerary
Day 1. Arrive In Lhasa transfer to Tshedang.
Upon arrival in Lhasa (3650m), meet our representatives and transfer to Tsedang (3580 m). It takes 5 hours approx over wide and well paved road, offering scenic landscapes. Tsedang is nominated as cradle of Tibetan civilisation for it augmented well with mild weather and fertile land which attracted many Tibetan dynasties to thrive and flourish. For ideal acclimatisation – take a short walk but not strenuous one in evening. Drink lot of water and good night sleep. Overnight in Hotel.
Day 2. Tsedang to Dewachen village.
In the morning, visit Yumbulakang Monastery – palace turned into monastery for religious school. Just like the land, its fertile history dates back over 2000 years and houses many ancient scriptures and paintings. After, visit Samye monastery – known for its unique Mandala designs and features of Buddhist cosmology. Later, drive to Langtang Dewachen village, upon arrival visit Bomthang Manastery. Overnight in Camp.
Day 3. Trek begins: Dewachen Village – Lera Nomad Settlement.
Trek start, after breakfast we leave villages, traversing some scenic landscapes along the way and climb to Duri La pass and descent to reach Lera Nomad Settlement area. It takes 5 to 6 hours approx. Overnight in Camp.
Day4. Lera Nomad settlement – Kamru Monastery
Visit and interact with the nomad, after resume trek for 5 to 6 hours, en-route cross some breathe taking natural landscapes till you reach Kamru monastery. Overnight in Camp.
Day 5. Kamru Monastery – Yamdroke Lake & Pado village (Trek ends)
After breakfast, continue trek, today is the end leg of this beautiful trek that takes you to turquoise blue, fresh water lake- Yomdroke Lake (4450 m) – one of the three sacred lakes in Tibet. Further hike reaches to Pado village.Trek ends. Overnight in Camp.
Day 6. Drive from Pado Village to Gyantse
In the morning, visit Samding Monastery, the main monastery at the Yamdroke lake area, the distinctive feature is it's the only monastery in Tibet headed by female reincarnation of lama. Then drive over the well paved road to Gyantse (3950m). Overnight in Hotel.
Day 7. Gyantse to Shigaste to Lhasa
Today we will cover the triangle tour and also is longest drive in the trip. It take approx 6 -7 hours covering distance from Gyantse to Shigatse to Lhasa, however, we will make stop in Shigatse (3840 m) and visit Tashihunpo Monastery- Seat of Panchem Lama. We explore intricate monastery and elaborate temple followed by watching pilgrim activities. Leaving Shigaste, we take the direct road to Lhasa, following Yarlung Tsangpo river valley. Overnight in Hotel.
Days 8 & 9. Lhasa Tours
Two full days tour of Lhasa. Being the capital and also cultural and religious heart of Tibet, it houses many historical and religious monasteries/temples/Monuments. On first day we visit imposing Potala Palace, it rises 13 storied and with more than 1000 rooms it practically dominates the Lhasa skyline. Later visit Jorkhang Temple – one of the holiest site in Tibet and join pilgrim circuit from Tibet and rest of the world that circumambulates the Jorkhang, that is lined with maze of vibrant markets and restaurants.
Next day visit Norbulingkha – former official summer residence of Dalai Lama and their family built in 18th century by 7th Dalai Lama. Later, watch the monks in action having a religious debate in centuries old manner in Sera Monastery. Overnight in Hotel.
Day 10. Departure.
Transfer to airport for your onwards journey.
Trip Highlights
1.Interaction with nomadic herders and insights into their lifestyle.
2.Astounding natural landscape including azure Yamdroke lake.
3.Camping under awfully clear and starry sky
4.Colossal Potala Palace a UNESCO-listed site with over 13 stories rise and over thousand rooms
5.Jokhang Temple, the most sacred site in Tibet since the 7th century
6.Mingle among the pilgrims and swashbuckling traders from eastern Tibet in Barkhor Bazaar
7.Sera Monastery – Watch monks in action – debating on religious subjects, still practising in archaic way.
8. Gyantse town, a historic outpost that has managed to maintain its quaint charm.
9.Tashilhunpo the seat of Panchen Lamas of Tibet
Cost Information
Starting from USD$ 1720 per person (Land) however, it depends on number of participants.
Please contact us for details.
Included
Accommodations in 3-4 star hotel as listed (option to upgrade in Lhasa)
All meals (Breakfast, Lunch, Dinner)
One dinner with cultural performance.
All private transfers and transportation by good quality vehicle (Land Cruisers up to 3 pax)
Sightseeing with entrance fees
Local Tibetan native Guide
Tibet Permits
Not included
Flights
Chinese Visa
Bar, Bevarages, Tips etc.
All other expenses not listed in included section
Guides