Jhomolhari Trek (Chomolhari) – Abode of Gods Trek
Jumolhari, Lingshi Trek ending in Thimphu
Tour Costs
Cost is based on the group size and season. Please contact us for further information.
Departure Dates
Private Journeys for independent travel with your own dates.
One of Bhutan's most popular trek, it offers spectacular views of 7314m high Jumolhari, its companion Jitchu Drake, Tserim Kang and the adjoining peaks. Mt. Jhomolhari is spelt as Chomolhari, Jumolhari or Jomolhari but they are all the same. Bhutan's deeply venerated guardian peak, rises on the Tibet-Bhutan border near the major ancient trade route from India into Tibet's Phari Valley. It is thought by many to be the most beautiful mountain in the whole length of the Himalayas. The trek passes through Bhutan's little-visited villages, valley's and forests, with opportunities to see blue sheep, along with a huge variety of bird life. In the spring, Rhododendrons, Azaleas, and masses of wildflowers carpet the high meadows, and pear and apple trees blossom in the valleys. In the fall, rice paddies ripen to a golden brown, and Yak herders bring their charges down from high summer pastures.
At A Glance
Trek Duration:
9 days including two rest days in Jangothang and Lingshi. Total 15 days including tour.
Trek Difficulty: Moderately strenuous
Max. Elevations:
4,930m at Yeli la pass after Lingshi and 4,870m at Nyile La pass between Jangothang and Lingshi.
Max. Campsite: 4080m at Shodu.
Seasons
The trek is possible from late march till November. However it is best in either in Spring months of April and May or in the Autumn from late september till early november. The rainy seasons affect from late June and can stay as late till early september. However this is also the blooming season in alpine meadows. Snow usually closes the high passes from mid to late november and don't reopen until late march or early april.
Day 1: Arrive in Paro and visit as per available time.
Day 2: Paro valley sightseeing and short walks.
Day 3: Day hike/trek to Takstang (Tiger's Nest) monastery and return to Paro.
Day 4: Begin trek from Paro to Shana Zampa (an easy day of 4-5hrs).
Day 5: Steady ascent following Paro Valley to Soi Thangthangkha.
Day 6: Break above the tree line to Chomolhari Base Camp area (4050m) Jangothang.
Day 7: Jangothang Halt ; a day in open yak-pastures for exploration or rest.
Day 8: Ascend to spectacular Nyelela pass (4250m) and descend into Lingshi basin.
Day 9: Lingshi halt – for  exploration of Lingshi village and surrounding mountains.
Day 10: Trek across Yeli La Pass at (4930m/16,200′) to Shodu.
Day 11: Trek to Barshong.
Day 12: Trek to Dalamkencho and continue to Dodena, arriving in Thimphu by late afternoon. Overnight in hotel.
Day 13: Thimphu sightseeing.
Day 14: Option for full day excursion-drive to Punakha & Wangdue and return to Thimphu in the evening. Or stay in Thimphu for further tour and to take it easy.
Day 15: Departure transfer to Paro airport in time for your flight
If you are short on time, we can remove the rest day in Lingshi or the day 14 excursions to Punakha.
Trip Map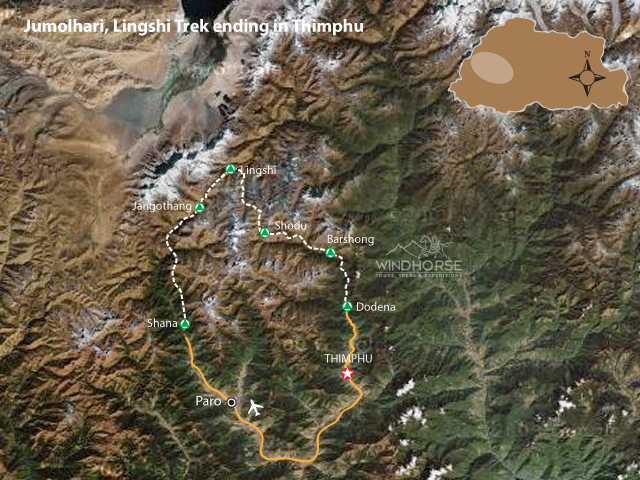 Trip Photos