How We Travel
For many people, traveling is more than a way to unwind oneself. It is about discovering new places and on the way discovering oneself. The only way to get rid of the strife that has stricken the world is by traveling and getting to know people from places so different yet somehow serving the same insight entrusted upon mankind by nature. While faiths and cultures seem so bewildering and different, they hold within them the wonders of the imagination of man. It is with this same faith, we move on and find that when we travel, we start respecting one other and therefore lean one step forward to making this world a better place.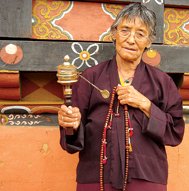 We enjoy bringing you trips and are dedicated to using our joint expertise and experience to offer you some of the best journeys in the Himalayas. The Himalayas; with its beautiful and friendly people is the one destination which is an amalgamation of beauty, cultural diversity and adventure in the crucible of warmth and generosity. We live in that same place, among the same people and we take you directly to them for their culture is in a profound sense, fascinating and beautiful. You can learn about customs; participate in religious ceremonies, festivals and holidays and share with them their joy of dancing, singing, smiles and laughter. Eat! Celebrate! And Explore! All Groups are escorted by highly qualified, seasoned local guides, whose years of experience and expertise contribute to your unbeatable adventure. They are well educated, have an in-depth knowledge of the area, its culture, traditions and are fluent in English among other languages. They are selected for their qualities of leadership, enthusiasm, initiative and the ability to relate to clients and the local people. They are flexible and always seek to accommodate your needs and any special interests you may have.
Every itinerary is carefully crafted; we believe it is an art where we think about all that you will like and dislike and frame them according to what we think will leave you with an unforgettable experience. This we do with the joint effort of our Guides and field staff. We begin by asking our Guides to come up with their dream trip and start from there. We also analyze and incorporate various invaluable suggestions of our past guests. Even if you are just 2 people, you don't have to worry about the trip being cancelled. The operation is guaranteed. Escorted locally, the group sizes are small with a maximum of eight travelers. This limited size enhances group dynamics, flexibility, and allows visits to small villages and private homes to view folklore and native customs. Being locals and experts in the areas we cover, we are able to quickly and efficiently come up with customized trips according to your wishes and personal interests. Alternatively you can take up one of the scheduled journeys with dates that suit your needs. Or browse through our collection of popular independent journeys.
We also believe strongly that our planet is beautiful and must remain that way and there is nothing we won't do to protect nature from the hands of evil doers. We seek to protect the environment and to minimize pollution when trekking, attaching great importance to respecting local traditions, religious sites and practices, and the preservation of the national heritage. This is just a small way we can give back to mother nature for all that she does for us. We believe our policy of restricting group numbers, is the best way of practicing low impact tourism and preserving the beautiful areas we visit and that local communities should gain some benefit from our visit.
Our trip leaders/guides and support staff also take utmost care of every aspect of your trip; from altitude related concerns to ensuring hygienic food preparation in the camp. We provide the very best in trekking equipment and services. We also provide various accommodation options to suit your budget. All you need to do it fly from your home country and we will be there to meet you at the Airport.