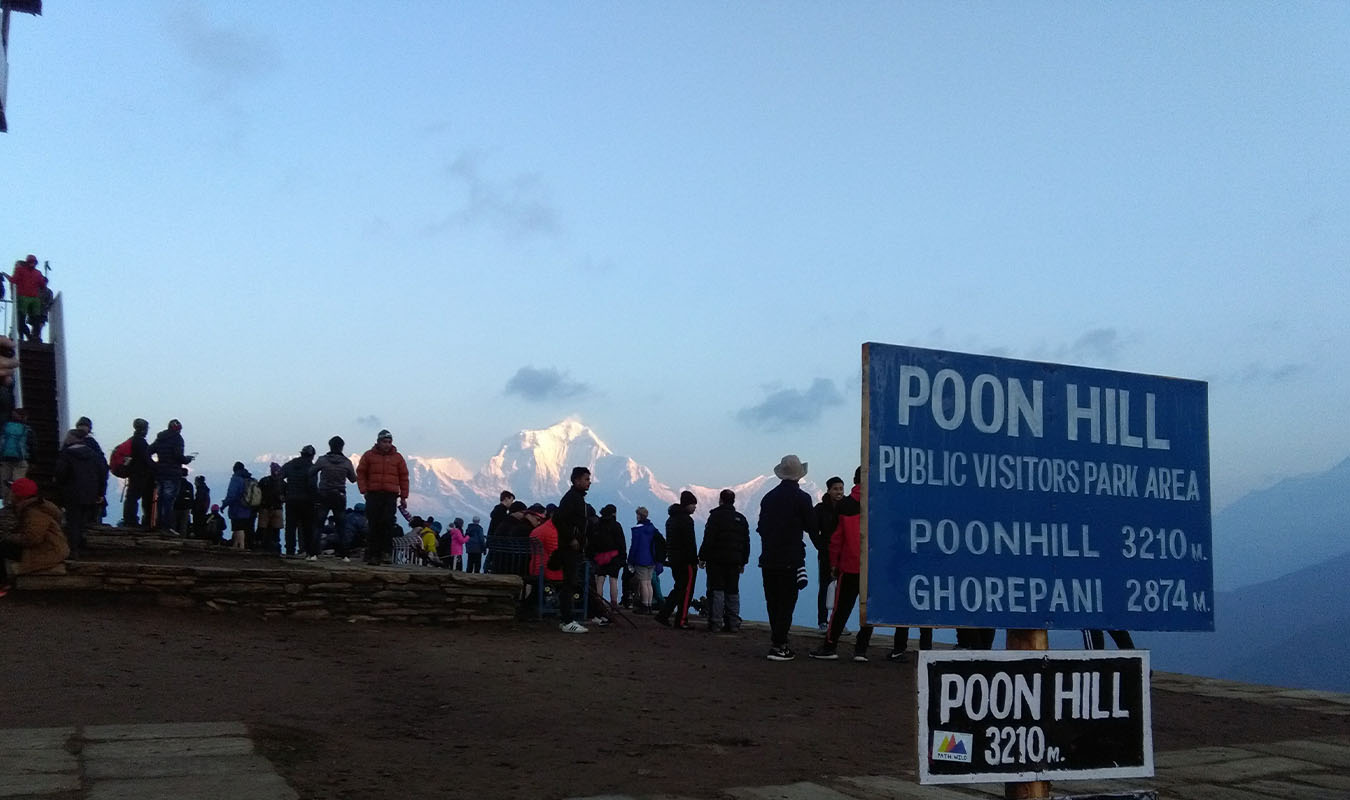 Ghorepani Poon Hill Trek
Annapurna Sunrise Trek
10 Days
Trekking
Culture Tours
Ghorepani Poon Hill trek is a short and relatively easy trek that touches base in the foothills of the Annapurna region. It blends with the traditional setting and cultural delights of Gurung and Magar tribes with the stunning Panoramic view of the mountain range. Inter-spersed with delightful flora and fauna that would invariably create a vivid feeling that provokes thoughts and mood. Among many, the glorious sunrise from Poon Hill over the Annapurna, Machhapuchhre, and other peaks would be a prime takeaway.
Ghorepani Poon Hill Trek starts with a short drive from Pokhara to Nayapul. From Nayapul, we hike on towards Ghorepani. The journey passes through the villages of Birenthanti, Hile, and Ulleri and arrives at Ghorepani. We will hike to poon hill to watch the breathtaking sunrise view over the snowcapped mountains. We can get a fantastic view of Hiunchuli, Annapurna South, Annapurna I, Dhaulagiri, Manaslu, and many more peaks from Poon Hill. After breakfast, we continue our journey to Ghandruk through Tadapani. From Ghandruk, we descend across terraced rice fields alongside the Modi Khola past villages to Nayapul and then drive to Pokhara.
Outline itinerary
Day 1. Arrival in Kathmandu
Day 2. In Kathmandu
Day 3. Drive to Pokhara
Day 4. Drive to Tikhedhunga-Trek to Ulleri
Day 5. Trek to Ghorepani
Day 6. Hike to Poon Hill-Trek to Tadapani
Day 7. Trek to Ghandruk
Day 8. Trek to Syauli Bzaar-Drive to Pokhara
Day 9. Drive to Kathmandu
Day 10. Departure

Trip Highlights
Experience the cultural variations with the panoramic Himalayan scenario.
Enjoy the majestic sunrise and sunset view from Poon Hill.
Gain insight into the culture and tradition of the Gurung and the Magar people.
Visit the monastery and Gurung museum.
Detailed Itinerary
Expand All
Day 1.
Arrive in Kathmandu
Upon arrival, meet our representative and transfer to the hotel. The rest of the afternoon is free to relax at your hotel or take a short walk around Thamel area, the main tourist district in Kathmandu. Dinner in the evening at a traditional Nepalese restaurant with a cultural performance. Overnight in Kathmandu.
MEALS:
Altitude:
1350m
Being the capital, there are several places of attraction within the Kathmandu valley. We will visit some World Heritage Sites including Kathmandu Durbar Square, Boudanath Stupa and Pashupatinath temple. Kathmandu Durbar Square is the palaces of the kings of Nepal. It is a collection of fascinating, shrines, statues and temples such as the Taleju temple, Kal Bhairav, Kasthamandap, Hanuman Dhoka and Kumari Ghar(the resident of the living goddes Kumari) and others.  Boudhanath is one of the center of Buddhism in Nepal. Thousands of pilgrims gather daily to make kora(ritual circumnavigation), beneath the watchful eyes of the Buddha. Walk along with the pilgrims and visit the many shops and monasteries around the Stupa. After the visit we will drive a short distance to visit Pashupatinath temple, one of the holiest hindu site in Nepal.  Although non Hindus cannot enter the main temple, but the surrounding complex with shrines, lingams, and ghats might interest you.  Overnight in Kathmandu.
MEALS:
Altitude:
1350m
Duration:
6hrs
The drive from Kathmandu(208 km) goes along river banks, local villages, farmlands, and beautiful mountain scenery. We shall stop to observe the scenic spot along the countryside and stretch our legs. On arrival, check into the hotel, relax or stroll around the Phewa Lake and visit the local market. Overnight in Pokhara.
MEALS:
Altitude:
822m
Duration:
6-7hrs
Day 4.
Drive to Tikhedhunga-Trek to Ulleri
From Pokhara, we will drive north west along the Pokhara Baglung highway towards Tikhedhunga(The trail from Nayapul to Tikhedhunga is over a dirt road, to avoid the dust and the traffic, we will drive until Tikhedhunga). We will begin our hike from Tikhedhunga following the Bhurungdi Khola. We will cross over the Bhurungdi Khola, and then hike uphill over some three thousand stone stairs to the village of Ulleri. Overnight in Ulleri.
MEALS:
Altitude:
1965m at Ulleri
Duration:
Drive 2 hrs/Trek 3hrs

Village Lodge/Tea House
From Ulleri, it is a gradual ascent through a forest of rhododendrons, crossing several streams. As we climb higher, the views become more impressive with Annapurna south, Nilgiri south and several other peaks in sight. After crossing the Nange Thati River, we will continue our journey towards Ghorepani. Overnight in Ghorepani.
MEALS:
Altitude:
2874 m
Duration:
6 hrs

Village Lodge/Tea House
Early in the morning, before sunrise, we will hike up to Poon Hill (3210m). Poon Hill offers the best sunrise view over the high mountains with panoramic views of Dhaulagiri, Annapurna South, Fishtail, Nilgiri South, Annapurna I, and other peaks. After enjoying for some time, we will then descend to Ghorepani for breakfast. After breakfast, we will continue our journey towards Tadapani through pine and rhododendron forests. Overnight in Tadapani
MEALS:
Altitude:
3210m at Poon Hill/2630m at Tadapani
Duration:
5-6 hrs

Village Lodge/Tea House
Today's hike will be mostly downhill. We descend gently through rhododendron and oak forests with the sounds of birds twittering to Ghandruk. Ghandruk is a huge Gurung village. We will visit the traditional handicraft center and the Gurung museum to understand their culture and way of life. Overnight in Ghandruk
MEALS:
Altitude:
2012m
Duration:
4-5hrs

Village Lodge/Tea House
Day 8.
Trek to Syauli Bazaar-Drive to Pokhara
After breakfast, we will hike downhill across terraced rice fields and villages to Syauli Bazaar. At Syauli Bazaar, we will board on to a private vehicle and drive to drive to Pokhara. Overnight in Pokhara.
MEALS:
Altitude:
822m
Duration:
Trek 2hrs
Day 9.
Drive to Kathmandu
After breakfast, we will retrace our drive to Kathmandu. On arrival check into your hotel. The rest of the afternoon is free to relax or go shopping. Overnight in Kathmandu.
MEALS:
Duration:
6-7 hrs
Transfer to the airport for your departure flight.
MEALS:
Departure Dates
Start Date
End Date
Status
Remarks
Cost Information
Included
All airport and hotel transfers by private vehicle.
One full day sightseeing with entrance fee accompanied by a local guide as per itinerary.
Accommodation in the above listed or similar (3-4*) hotels in Kathmandu and in local comfort lodges during the trek.
Only breakfast during the stay in Kathmandu and Pokhara, and all meals during the trek.
One welcome/farewell dinner in Kathmandu.
English-speaking local guide along with a porter(one porter for every two pax) during the trek.
Guide, porter, and trekking staff insurance.
All necessary paperwork and permit (TIMS/ACAP)
All Government taxes and service charges.
Not included
Nepal entry visa.
International flight to and from Kathmandu.
Lunch and dinner or any other meal not specified above.
Personal Travel Medical Insurance.
Personal expenses such as bar, beverages, tips and gratuities, laundry, telephone, battery recharge, etc.
Hot showers during the trek.
Any extra cost incurred due to unforeseen circumstances or early return from the trek.
All other personal expenses, not listed in the included section.
Traveller Review
I was fortunate enough to book a last-minute trip to Nepal through Wind Horse for March/April 2017. I had confidence in them because I had a wonderful experience with them in Bhutan. Ugen and his team are really great at putting custom trips together. I was interested in wildlife and trekking, and seeing the Himalayas, and every day was simply amazing!!!
Three days in Chitwan National Park watching rhinos, elephants, crocodiles, and an amazing array of birds. The hotel was beautiful and right on the river, and you could even see rhinos from the deck every day! Then off to a 5-day trek in the Annapurna region. I had never really done trekking before, and my guide, Hem Raj Bastola, was really helpful and kind. I learned so much about the region and stayed in fun trekker lodges with gorgeous views. The hiking was so diverse…with jungles, sweeping vistas, monkeys, and to top it off, sunrise with clear views of the Himalaya from Poon Hill!
Then it was off to the Everest region for a 10 day trek. My guide, Lhakpa Sherpa, was simply and amazing person and I felt very lucky to spend time with him and explore this spectacular region. I loved every town, every day, every minute of this part of the trip. Seeing Everest for the first time, and all the peaks around it and in this region was one of the highlights of my life, made so much more so by the amazing open and big hearted people of this region.
I also got to see beautiful and important sites in Kathmandu and Bhaktapur thanks to Mahendra, my guide in Kathmandu and overall contact in Nepal. No matter where I was in the country, Mahendra was keeping track and making sure everything was going well. I really appreciate his outstanding efforts to provide an excellent and varied experience for me. I went on this trip solo, but I never felt alone.
I highly recommend Wind Horse Tours and am looking forward to my next adventure with them!!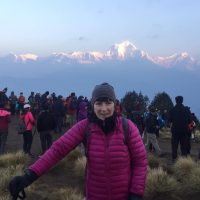 Dianne
March 26-April 18,2017
We were delighted to find a Bhutanese company with an office in the States that could help us plan trips to both Nepal and Bhutan. The fact that Ugen , a partner in the business and our stateside contact made the trip to both countries himself a month before our trip, gave us current updates and information relevant to our itinerary.
My husband and I are both seniors (he is 65 and I am 72) .  I had some concerns about the Nepal leg of this trip; concern about my physical fitness to take it on after some serious spinal surgeries and knee replacement in my 60's, US State Department warnings regarding an Indian oil embargo , border closures, and Maoist activity, as well as the effects to Nepal's infrastructure as a result of the disastrous earthquake just one year ago.  Added to this, and most scary of all to me. was the fatal plane crash of a Tara Airlines flight between Kathmandu and Johmson- a route we were scheduled to fly. The crash happened about a week before we were to fly through the same narrow Himalayan pass. When I checked the safety record of the smaller Nepalese airlines, they had the lowest of safety records-on par with Air Congo and Air Kazakhstan! Yikes!
Wind Horse and Sixth Sense, it's Nepalese affiliate worked with us at every turn. Our Indigo flight from New Delhi was met by one of the owners of Sixth Sense, Mahendra.  Our 4th floor corner room in the Shambala Hotel couldn't have been nicer.  We found the air quality Kathmandu to be nearly as polluted as we remember Beijing.  As a person who suffers from asthma, it felt a bit alarming to me.  We stopped immediately and brought face masks to help filter out particulate. We did some light sightseeing, had a welcome dinner in a restaurant featuring folkloric dancing and looked forward to getting back to the hotel to downsize our packing to trekking only gear. Sixth Sense provided us with duffels, trekking poles, and -10 degree North Face (or knockoff) down sleeping bags.  They were happy to store things from the Indian leg of our trip until our return. While guide, driver and accommodations were all excellent, we were happy to leave Kathmandu and hopefully find the clean, fresh air of the mountains!
We changed our trekking itinerary to a route , still part of the Annapurna Circuit that did not require the risky flight.  Air Buddha, which flies larger planes on safer routes took us to Pokhara where we started our trek. Here where the magic began.  Our new guide, Hem Raj Bastola, and, porter, Rajendra Bahadur Singh met us, ready to head to the mountains.  I was immediately comforted when Hem told me he had recommended we alter our trekking route to a safer alternative, even before David and I came to that decision. The roads to our 'put in' spot were primitive at best, often narrow with huge rocks and potholes.  Our vehicle felt sturdy and our driver, careful. We carried our day packs, while Rajendra carried our combined gear (which we think came to about 40 lbs or less.) A few pace out of the car and we were met with our first 'up'- 3600 stairs !
The magic I referred to earlier was really a lovely marriage between exquisite scenery,  well paced physical exertion , deep gratitude on our part and the lovely old souls , Hem and Rajendra who would be our guides, hosts, teachers, coaches, historians, and friends for the next seven days and whom we will hold in our hearts forever! Their mutual respect toward one another, toward us (always Sir and Madam), love of their country and tight choreography was no less than inspirational! Both are culturally Hindu, our discussions were deep, interesting and stimulating.  Hem, a passionate , published poet, quoted from the giants of Western literature when it was appropriate on the trail.   He read his original poetry to us at breakfast and dinner. He wrote poetry in our honour about our specific journey.
Both men are conversationally fluent in English.  I could write volumes on each of them!  At the end of our trip, Hem scaled a 40 foot rhododendron   tree to pluck a blossom to congratulate me on our successful trek!
We were met at the first vehicle accessible road by our car and driver, delivered to the airport and whisked back to Kathmandu.  Here, we were met by a new face,  Kumar. I was  not excited to breathe the polluted air and ready to excuse myself from our scheduled outing.  I was so glad that I changed my mind.  Kumar took us to the UNESCOWorld Heritage Site at Dunbar Square.  While damage from the 2015 Earthquake was evident, the intact buildings are magnificent.  Later we climbed more stairs to the Buddhist Stupa and saw hordes of monkeys, people and magnificent views!
From planning to execution, Wind Horse and Sixth Sense were collaborative and cooperative They personalised our trip and made it comfortable at every turn. To the very end, the guides actually waited at the airport until our planes took off to make sure we were safely in route to our next adventure.  We feel we chose well and enthusiastically recommend Wind Horse and Sixth Sense to our friends and fellow adventure travellers!   
Bonnie V.S
March 4-13,2016
Facebook Review