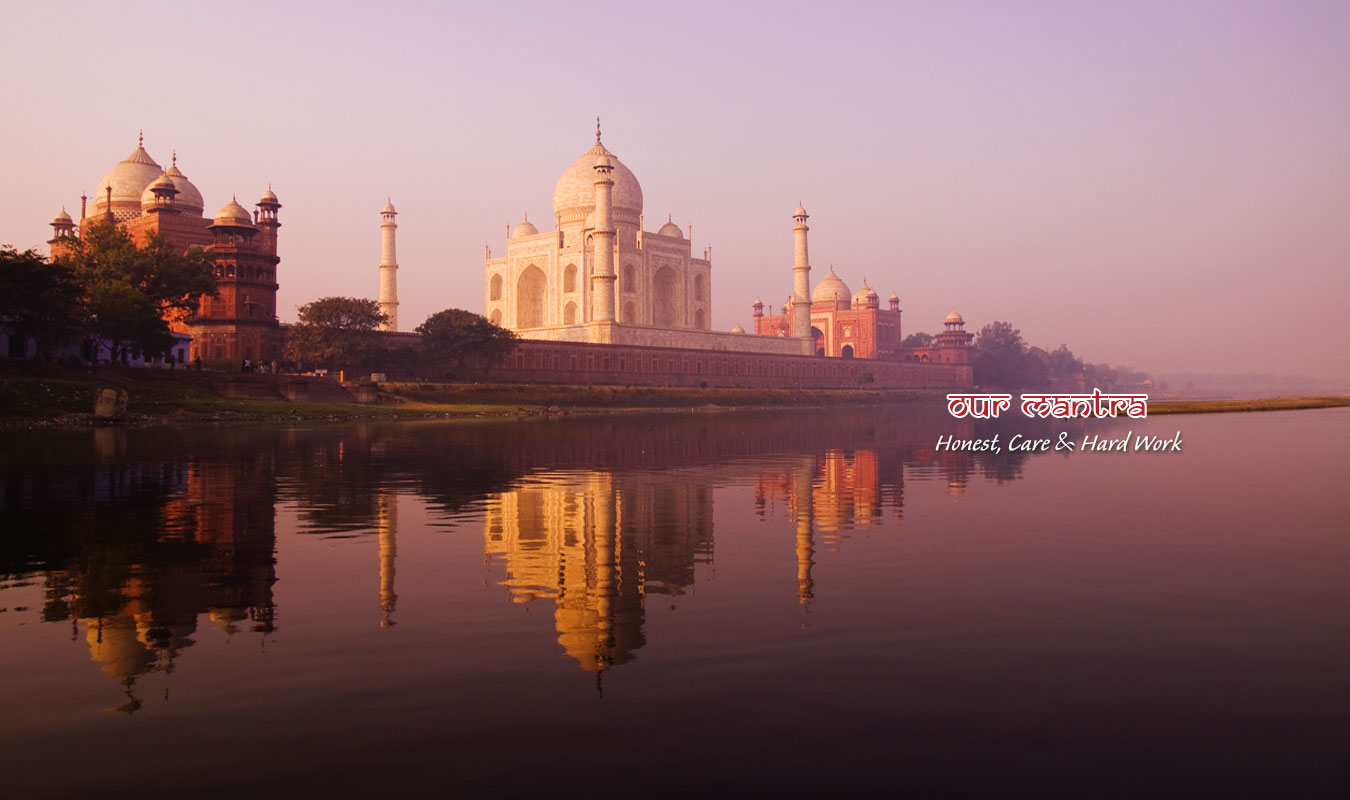 Highlights of Northern India
Delhi, Jaipur, Agra, Orcha, Khajuraho & Varanasi tour with option to Extend to Bhutan, Nepal and Darjeeling
10 Days
Culture Tours
The tour highlights the very best and must see places of Northern India. From the capital Delhi, we travel to Jaipur, the capital of colourful Rajasthan. Visiting the myths and legends associated with Agra to see the mesmerizing beauty of the Taj Mahal. From Agra, journey through rural India to the picturesque town of Orcha and further away from cities to the Khajuraho, to admire the stunning 1,000-year-old temples – infamous for their explicit carvings depicting the entire Kama Sutra. Our final leg of this India journey brings us Varanasi, one of the oldest cities in the world and holiest for the Hindu.
From Varanasi you can extend your travel to Bhutan, Nepal or Darjeeling or all of them.
Outline Itinerary
Day 1: Delhi – Welcome To India.
Upon arrival in Delhi, meet and transfer to the hotel. Take a rest to recover from jet lag.Overnight in hotel.
Day 2: Short Delhi Tour and drive to Jaipur
After breakfast, check out of the hotel. Before taking on the road to Jaipur, we will briefly tour New Delhi. Drive through the Raj Path Avenue, where we will view the India Gate, a memorial for the unknown soldiers of World War, see the Parliament Buildings and President of India's House all from outside. Then in the outskirts of Delhi, visit the World heritage listed sites of Humayun's Tomb, the first garden tomb built in 1570, which set a benchmark for later Mughal mausoleums in India, including the Taj Mahal. Also stop to wonder at the tall brick minaret of Qutab Minar, an UNESCO World Heritage Site made of red sandstone and marble, built way back in 1193.
Then begin our drive to Jaipur, which around 4 ½ hrs drive, scanning the scenery from the comfort of a private vehicle. This evening, take a walk to the city's crowded and colourful bazaars, which sell a wide variety of artisan goods. Jaipur is famous for semi-precious stones. Overnight in hotel.
Day 3: Jaipur Tour
Jaipur also called "Pink City" is the capital of the colourful state of Rajasthan. We begin our full day private tour after breakfast. At the outskirts of the city, on a hilltop is the fortress and Palace complex called Amber Palace. Ride the elephant uphill, just as in the old days the Kings would have to visit Amber Palace. Make a photos stop at India's most photographed building after the Taj Mahal, the Hawa Mahal or 'Palace of the Winds'. This famous building has elaborately carved facade built to enable the ladies in the Palace to watch the goings-on in the street below without being seen. Visit the City Palace and its museum, located in the heart of the Old City. Visit Jantar Mantar, one of the five astronomical observatories built by Maharaja Jai Singh, the founder of Jaipur.
Option: In the evening, if you feel like it, you can discover the extravagance of a Bollywood blockbuster, at the spectacular Raj Mandir Cinema.
Overnight in hotel.
Day 4: Jaipur – Agra via Fatehpur Sikri
En-route to Agra, stop at Fatehpur Sikri, the deserted former capital of the Akbar, the most famous Mughal Emperor. This magnificent deserted Mughal city was built by Emperor Akbar in 1569, only to be abandoned after 15 years due to the scarcity of water. Explore this UNESCO World Heritage Site and see the elements of different religions: Akbar built three palaces for each of his favourite wives—a Hindu, a Muslim, and a Christian. A highlight of the settlement is Jama Masjid, a striking mosque featuring elements of both Persian and Hindu design. The main entrance of the mosque is the impressive 54-metre high Buland Darwaza, the Gate of Victory, constructed to commemorate Akbar's military victory in Gujarat.
Upon arrival in Agra, enjoy walking in Sadar Bazaar which is famous for handicrafts, marble goods and leather shoes.
Overnight in hotel.
Day 5: Agra – Taj Mahal
Early this morning, visit the Taj Mahal, the ultimate monument to love. Built by Mughal emperor Shah Jahan, the ornate carvings and bejewelled marble of this mausoleum are truly breath taking. Spend the afternoon exploring impressive Agra's Red Fort, home to Shan Jahan and many Mughal Emperors prior and after him.
In the evening, you have an option to see light and sound show at Agra Fort, which displays and showcases the history of Agra Fort or you can simply rest and stay in the hotel.
Overnight in hotel.
Day 6: Agra- Jhansi by Train and drive to Orchha
Early this morning (at 8:00AM), take a two and half hour (A/c) train ride across Indian terrain to Jhansi. Transfer short distance to picturesque town of Orchha.
Located on the banks of the Betwa River, Orchha has changed little over the centuries. Although a small town today, Orcha once served as the capital of the Bundela Kings, one of the largest and powerful Kingdom in central India, and as a result, Orchha has more temples and palaces than any town of this size deserves. Crumbling temples and palaces are scattered across rural countryside, their spires and domes rise from the jungle. Orchha, means 'Hidden' and it is indeed a hidden gem. Visit Orchha Fort Palace Complex, Raja Ram Temple and Cenotaphs and tour the local village.
Overnight in hotel.
Day 7: Orchha- Khajuraho
With our private vehicle, drive across the rural India to Khajuraho, which is around 180KM/4hrs away. Far from any major cities, Khajuraho's remote location saved its stunning 1,000-year-old temples – infamous for their explicit carvings depicting the entire Kama Sutra. Although remote and very quiet today, in the tenth century Khajuraho was the center of the thriving civilization of the Chandelas. This magnificent group of temples (a UNESCO World Heritage Site) was built between the ninth and tenth centuries. The erotic stone carvings here have come to symbolize the important role of love and prana energy in Hindu thought. Only about 20 temples survive from the 85 that were originally built, but they are among the finest in India. This afternoon, we visit the eastern and western temple complexes. In the evening there are optional activities such as Sound & Light Show in held near the Western temple or see the famous Kandariya classical dance performance in a Theater.
Overnight in hotel.
Day 8: Khajuraho- Flight to Varanasi
In the morning, visit the Southern group of temples and take a quick flight to Varanasi, the holiest of Hindu cities. Meet and transfer to the hotel.
Known as Benares or Kashi in ancient India, Varanasi is one of the oldest cities in the world, with a written history dating back more than 4,000 years. It has an intense, almost palpable atmosphere of spiritual devotion, a feeling of an unending religious festival. Hundreds of temples propitiate the thousands of deities in the Hindu pantheon. Pilgrims from every part of this vast nation crowd the narrow streets and the riverside ghats. Towards the evening, transfer to the bathing ghats located alongside the sacred River Ganges. People flock in large numbers every day to bathe and worship in the temples built beside the riverbank. Feel the timelessness of Varanasi as the sun sets and as the temple priests perform aarti, the sacred light ceremony, on the banks of Mother Ganga. After the puja ceremony is complete, transfer back to the hotel.
Overnight in hotel.
Day 9: Varanasi
At sunrise, we board our small boat for a cruise on the Ganges. From our boat we can see the everyday life of this holy city. People arrive at the ghats at dawn to take a ritual dip, perform yoga asanas, religious rites, wash clothes and offer flowers and incense to the river. After disembarking, walk with your guide to visit local temple before returning to the hotel for breakfast.
After breakfast, we drive to the nearby ancient Buddhist learning center of Sarnath. Here, Gautama Buddha preached his first sermon to his first disciples. Visit some of the Buddhist temples and Sarnath Museum, (except on Fridays, when the museum is closed) which houses some of the great treasures of Indian Buddhist art. We may be able to visit a local silk-weaving workshop.
Return to Varanasi, where plan on visiting Banaras Hindu University, Bharat Mata temple and if time is still available, we will walk through crowded alleyways, and browse its markets.
Overnight in hotel.
Day 10: Flight Varanasi – Delhi or extend to Bhutan or Nepal
Transfer to airport for your flight to Delhi. Connect your international flight OR you can opt for extension tour to Nepal and fly Kathmandu.
---
Nepal Extension via Lumbini
Day 10: Drive from Varanasi to Lumbini (6-7hrs), crossing into Nepal
Day 11 & 12: Lumbini to Chitwan: Drive to Chitwan and spend two nights in Chitwan National Park
Day 13 & 14: Travel to Pokhara (5-6hrs) and spend two nights in Pokhara
Day 15 & 16: Drive to Kathmandu (5-6hrs) and spend two night in Kathmandu
Day 17: Departure from Kathmandu and or extend to Bhutan
Bhutan Extension
Day 10: Fly or train from Varanasi to Kolkata
Day 11: Fly to Bhutan, travel to Thimphu
Day 12: Thimphu
Day 13: Thimphu to Haa Valley
Day 14: Haa to Paro valley
Day 15 & 16: In Paro valley with one day for hike to famous Takstang Monastery.
Day 17: Departure
Trip Highlights
A brief tour in capital Delhi to cover Humayun's Tomb, Qutub Minar, Rajpath Avenue and India Gate.
Discover the delights of the 'Pink City' of Jaipur, where we ride an elephant to Amber fort. Visit Hawa Mahal, City Palace Museum and Jantar Mantar Observatory
Tour the ruins of Fatehpur Sikri, Akbar's capital city, on our way to Agra.
Visit the timeless Taj Mahal of Agra and get swept up in a kaleidoscope of colours in the local market.
Travel through central India's rural areas and spend a night in picturesque Orcha with palaces and temples rising from the jungles
Peruse Khajuraho's erotic temple carvings
Mingle with pilgrims in spiritual Varanasi, where we ride boat on Ganges, visit sarnath and stroll through it narrow alleys filled with lively shops and color. Also visit Sarnath from Varanasi
Easily extend your trip to Nepal, Bhutan, Darjeeling/Sikkim or all
Whats Included/Excluded
Included
Accommodations in listed 4 star type hotels.
Daily breakfast as per itinerary.
Entrance fees to the monuments listed in the itinerary. (extra fees may for cameras and any additional monuments or optional tours visited)
Elephant ride in Jaipur, Boat ride in Varanasi
Train ticket from Agra to Jhansi in air conditioned chair car
Land transfers and transportation by Private AC Vehicle.
Full escorted and guided by English speaking local guides.
All applicable taxes for above services.
Not included
India visa (option available for visa upon arrival).
Flight in and out of Delhi
Flight tickets (2 flights) in coach class between Khajuraho-Varanasi-Delhi
Lunches and dinners (approx between $5 -15 for each meal)
Any other tourist activities not mentioned in the program.
Optional tips and gratuities
Insurance for Travel/Medical
Departure Dates
Start Date
End Date
Status
Remarks
Cost Information
Cost Per Person in US Dollars
This is small Group Journey with daily – guaranteed departures, but available for private trips at a small premium.
Cost is based on number of participants (Maximum 8 members). At the time of sign-up, you will be invoiced based on 2 participants and final invoice will be raised on total sign-ups before departure.
6-8 members: $1110 Per Person
3-5 members: $ 1170 Per Person
2 member: $1260 Per Person
Single member: $1970 (including single room supplement)
Single room supplement: $400
For trips in May until 15 September 10 % discount will be provided.
Exclusively choosing to travel privately will be charged small fee. Ask for details
Guides
Trip Photos