Eastern Bhutan Tour
9 Days
Discover Bhutan's Quaint Eastern Frontier, where tranquility, pristine natural elements and its quaint appeals are still order of the day.

Trip Grade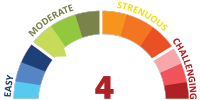 Trip AccommodationSimple hotels/Guest Houses (best available in Samdrup Jongkhar and Trashigang). In Radhi and Merak we use only available simple guest house or farm house stay. See Details
Group SizeAny number of participants.
MealsFull Board
Route1.Gawahati To S/Jongkhar - 185 kms - 3 1/2 hrs
2. S/jongkhar to Tashigang-180 kms - 6 hrs
3. Tarashigang to Trashiyantse - 55 kms - 2 hrs.
4. Tashigang to Radhi - 26 kms - 1 hrs
5. Radhi to Merak - not available (unpaved farm road)
Trip TypeCultural Tour with fair bit of walking.
Trip SeasonsDuring the month of May & June, it can be hot especially in Samdrup Jongkhar and Tashigang. But substainically pleasant in Radhi and Merak area.Monsoon also influence the region in july and August. Rest of the months are best time to travel to the region. Festival like Trashigang, Gom Kora festival and some indigenous community based ritual in Merak can add a new dimension to your experience which falls during best time.
Best MonthsApril, October, November
Good MonthsMarch, May, June, September, December
Lean MonthsJanuary, February, July, August
In the fast changing world, where a subject tend to outlive its relevance in a hurry, Eastern Bhutan Tour in particular contradicts the very idea. As it instill a  sense of pulsating stillness. Its prevading quaint charms, exhibits an impression where time have come to grinding halt long time ago, in a way,  far removed from the melodrama of modern world.
This region popularily called eastern circuit, over the time, have seen only  few visitors. It's  least explored, owing reasons to well guarded isolation, largely, contributing in retaining its tradition, cultural, natural elements in nascent and pristine form. This journey not only expose you to the natural beauty of the regions, it's social, cultural, traditional dimensions and some of the oldest spiritual practise in the country but also  unique community of Brokpa in Merak.
The trip  solely focus on  Bhutan's oriental quaint frontier with port of entry and exit in Samdrup Jongkhar – a sleeping town in far east. The journey commences from pick up from Gawahati in India and take its course through Samdrup Jongkhar, Trashigang , Trashiyantshe, Radi and Merak. Discover some major landmarks monuments, visit to local weaving villages –  and its trademark back strap wooden loom, manufacturing finest quality textile, using traditional dye and introduction to the exotic community of Merak and more all along the way.
Along the course, in few places the accomodation especially in Radhi and Merak are simple and basic in guest house or farm house. Perhap it add charm of its own. And also some hiking to Merak and short walk to visit the villages. Some long drive are interrupted in between by the visit to roadside villages.
This is certainly  different tour  on offer  than our conventional ones. This was conceived out of our past satisfied guests request to see more of classical  Bhutan in its quaint villages and vegetation. This is form of tribute to all our past guests.
Outline Itinerary
Day 1: Arrive in Guwahati- Samdrup Jongkhar Meet the representative and transfer to Samdrup Jongkhar. In the evening, Take a stroll in towm
Overnight in Hotel.
Day 2: Samdrup – Trashigang After breakfast, we 'll drive north to Trashigang, with the gradual gain in altitude, change in vegetation is distinct.
Overnight in Hotel.
Day 3: In Trashigang (Excursion to Tashiyangtse) After early breakfast, drive to Trashiyangtse as day excursion. It's a small, quiet town but it boast of production of finest wooden bowl and container in Bhutan. Visit the workshop and then visit Chorten Kora and on the way back visit Gom Kora Temple. Later in afternoon we will visit Trashigang Dzong.
Overnight in Hotel
Highlight* – Every spring Chorten Kora comes alive with festival. One of the prominent festival in eastern Bhutan. Although remote, but it draws large crowd from all over the country.
Day 4: Trashigang to Radhi (home stay) Following breakfast, drive for 26 kms to reach Radhi. Before Radhi, visit Rangjang village – tranquil agarian village. At Radhi, visit farm houses surrounded by vast expanse of rice field, its aptly considered as the rice bowl of eastern Bhutan. Not to miss is to witness the women folk in action in traditional back strap loom using traditional dye, resulting in finest quality textile locally called "Burha"
Overnight in Home Stay
Hightlight* Especially Radi and Rungjung not only steal the limelight as top notch agarian village but also  as two of Bhutan's most renowned weavering villages. Specializing in natural dyed raw silk textiles.
Day 5: Radhi to Merak Today we will use the local outback vehicle and drive along the country road. The dirt road is not tarred and as it is rarely used. The road cannot be taken during the rainy season. The road makes winds up to Chaling village, from where the locals usually trek. After Chaling the road become more rougher but we continue for next two hour or so till the road head. Construction of the road is ongoing and so we may have to trek less than expect trek of 6hrs.
Overnight in a simple Guest house
Day 6: Explore Merak  After breakfast, today the whole day will be devoted to visit in and around the Merak village. It involves visit to the local home, if possible school, interaction with people and delving deeper into their their social, cultural and religous structure of this unique community.
Overnight in simple guest.
Day 7: Merak to Trashigang After early breakfast, retrace our step back with the trek till the road head, meet the vehicle (first into a local Bolero (MUV) and then into our modern (SUV) to Trashigang. Later in evening in Trashigang, being the principal trading town of Eastern Bhutan, bustle with hive of activties. Visit its market.
Overnight in Hotel
Day 8: Drive to Samdrup Jongkhar Early morning drive to Samdrup Jongkhar, savouring the kaleidoscope of changing vegetation as we drive downhill. Also stopping at villages along the way.  Free evening in Samdrup Jongkhar. You can either rest in hotel or take a stroll in market for  souvenirs shopping
Overnight in hotel
Day 9:  Samdrup Jongkhar to Guwahati airport.

Transfer to Guwahati on time for  your flight

Extension Trip to Upper Assam If you have time at your disposal, it can add a great deal of value with the extension trip towards upper Assam. it has some of the amazing sights and attraction that can contribute to your memorable moments. For instance Kaziranga National Park, world famous Assam tea Garden, Majuli Island – one of the largest river island in the world, this can convienently placed  prior or after the eastern Bhutan tour.  Please click the hyper link – for details information on Upper Assam – The  Unexplored Frontier