Bhutan Flight Schedule
Bhutan Flight Schedule: Druk Air & Bhutan Airlines
Currently, there are two airlines carrier – Druk Air & Bhutan Airlines operating its flight services in Bhutan. All flights operations take place in and out from Paro, located at 2235  meters above sea level. And also there are domestic airport in Bumthang (Central Bhutan) Yongphula (Eastern Bhutan) and in Gelephu, of which Bumthang is currently operational.
Druk Air
Druk Air operates with 3 Airbus 319 on different international sectors and uses ATR -42 – 500 for Domestic Flights. Airbus 319 has seating capacity of 114 seats. With 20 seats for business class and 94 for economy or coach.
Druk Air operates from Bangkok(Thailand), Kathmandu(Nepal), Delhi(India), Guwahati(India), Bagdora (India) Dhaka (Bangladesh), Singapore, Bodhgaya (India), Mumbai (India) Kolkatta(India).
Druk Air operates daily flight both ways to Bangkok. And for the rest of the sectors it's twice or thrice  in a week. Please check with Druk Air website www.drukair.com for the exact schedule. As it is subject to change due to the weather  conditions and also for  routine maintenance exercise. Some time they also put additional flights to cope up with on season demands.
Wind Horse with its office in both Bhutan, India and US and as a local tour operator can book and purchase tickets for our guests booking tour with us, Wind Horse provide free ticket booking service.Druk Air Flight Schedules, Fares regional Flights.
Fares are the general indicator. It is subject to change. Fare are not guaranteed until ticketed.As this goes in print discount for lean season are not updated by Druk Air, it will be reflected as soon as notified.
Druk Air fares – Coach or Economy Fares  in US $
Sector
Season Fare

Off season fare
(Jun, July…)
Taxes + Y-Fuel Surcharges
PARO – DELHI
 315
31
DELHI- PARO
 309
64
BANGKOK- PARO
385
41
PARO -BANGKOK
360
43
KATHMANDU – PARO
183
49
PARO – KATHMANDU
190
33
KOLKATA- PARO
183
54
PARO – KOLKATA
190
43
Druk Air fares – Business Class Fares in US $ 
PARO – DELHI
380
43
DELHI – PARO
373
67
BANGKOK -PARO
462
42
PARO -BANGKOK
440
33
KATHMANDU -PARO
222
50
PARO – KATHMANDU
230
33
KOLKATA- PARO
221
55
PARO- KOLKATA
230

Infant Fare:

90% discount on the base fare for Infants (below the age of 2years)


Child Fare

: 33% discount on base fare for Children (below 12 years on the date of travel)


Student Discount

: 25 % discount on base fare for Student (must be below 25 years of age and proof to show that one is a full time student, including ID card)


Group Discount:

For every 11th passenger, there is 50% discount on 1 pax or OR 1 person travel free for every 16th passengers. All passengers must be traveling on the same route and purchasing flight tickets at the same time. Taxes and insurance etc are still charged.Please note:Druk Air fares are subject to changes at any time, although we try keep the most updated fares.Airport taxes for flights from Nepal and Delhi can change based on the local currency fluctuations. Fares provided here are net. non-commissionable and Wind Horse or other travel agents may charge service fees.
Fares for Bhutanese or Indian nationals with valid passport/travel document. Fares in INR or Nu.
Sector
Fares
Taxes + Fuel surcharge
Total
PARO – DELHI
 8895
 2572
11467
DELHI – PARO
8750
3206
11956
BANGKOK- PARO
23,630
2576
26,206
PARO- BANGKOK
22,540
2053
24,593
KATHMANDU – PARO
11,285
3080
14,365
PARO -KATHMANDU
11,900
2053
13,953
KOLKATA- PARO
11,350
3286
14,636
PARO- KOLKATA
11,900
2053
13,953
Druk Air operates scheduled flights to the following destinations
Druk Air Flight Schedules and other other ways to get to Bhutan >>
All flights between Bangkok and Paro stop either in Calcutta, Gaya in India or Dacca, Bangladesh. Most flights between Paro and Delhi stop in Kathmandu. The number of seats for Calcutta, Kathmandu, Dhaka and Gaya are limited to few because Druk Air gives preference to the originating sectors.
Baggage Allowance on Druk Air:
Druk Air allows one carry one cabin bag and 30 kilos (two pieces) of checked in bagage on Economy or Coach class. Business class passengers are allowed additional 10kgs of check-in.
Airport & Aircraft:
Paro Airport is located in a narrow valley at 2,235 meters (7,330 ft) above sea level, and is surrounded by mountains as high as 4,900 meters (16,000 ft). The first Airbus A319 arrived in Bhutan on 19 October 2004 and the commercial flights were launched on the 31 October. In December of the same year the second Airbus was delivered.
Bhutan Airlines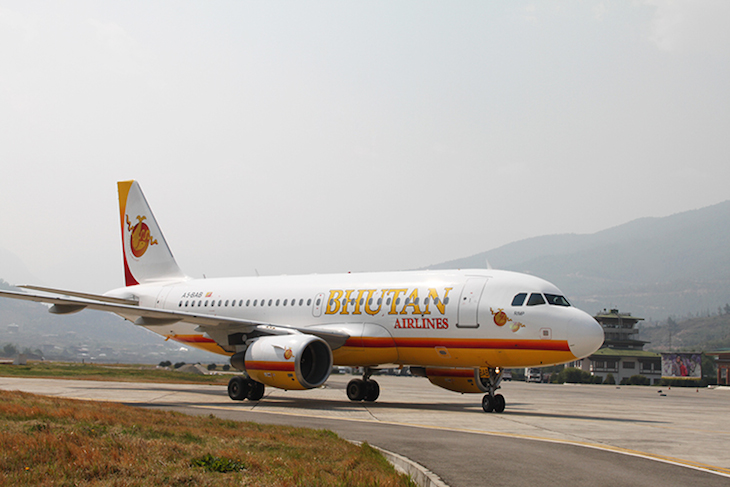 Bhutan Airlines first started its commercial flight operation on 10th October, 2013 with Airbus 320 on wet lease. Now they started their fleet with a new Airbus 319 with 122 seating capacity.
Currently Bhutan Airlines operate daily flight into Bangkok via Kolkatta (India) and return. It also operate daily flight to Kathmandu (Nepal) except on fridays. Proposal are underway to start flight to Delhi from September,2015.
Wind Horse tour is the official GSA for USA. For all Wind Horse Tour's guests for Bhutan, we provide free ticketing services, if under inevitable circumstance, if required, then we do it at bare minimum service charges.
Fares for the Bhutan Airlines are identical with Druk Air and sometime it may be inclined more towards lower side. And so is  the baggage allowance policy identical with Druk Air.For schedule and fare, please visit Bhutan Airlines website http://bhutanairlines.bt/
Other Ways of getting to Bhutan (Regional Flights/ Airports & Land)
Other airports which are close to Bhutan are
Bagdogra Airport (code IXB), near Siliguri, WB, India: Several flights from Bagdogra fly to Delhi, Kolkata or Guwahati. Bagdogra is around 3-4hrs drive from Phuentsholing.
Guwahati airport (code GAU) in Assam, India: Several flights from Guwahati operate direct or via Bagdogra to Delhi and Kolkata. Guwahati airport is around 3-4 hrs drive from the the south eastern border town of Samdrup Jongkhar in eastern Bhutan.
Bhadrapur airport (code BDP) located in Nepal, is just across the border with Siliguri or Bagdogra. It takes around 1hr from Bagdogra or around 5 hours from Phuntsholing. Provision around 2 hrs for immigration and customs on India/Nepal border Kakarbitta. Small aircraft carrier flies from here to Kathmandu daily. Much larger airport is located 2hrs further west in Biratnagar.