Bhutan Books
Recommended  Bhutan Books
Following are some of recommended reading list of Bhutan Books that can help you understand the country and enhance the enjoyment of your travel. Wide ranges of books on Bhutan are available  online and also in some of the stores in Thimphu. Following are some of the suggestion
Lonely Planet – Bhutan (Country Guide) By Lindsay Brown.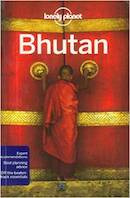 Lonely Planet: The world's leading travel guide publisher Lonely Planet Bhutan is your passport to all the most relevant and up-to-date advice on what to see, what to skip, and what hidden discoveries await you. Visit Tiger's Nest, Bhutan's most famous monastery, marvel at the dance routines of the tsechu festival, or trek through the mountainous regions of Bhutan; all with your trusted travel companion. Get to the heart of Bhutan and begin your journey now.
Bhutan: Himalayan Mountain Kingdom, Fifth Edition (Odyssey illustrated guide) by Francoise Pommaret.
"The bible of Bhutan guide books."—Travel & Leisure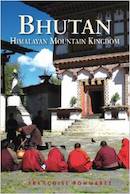 Few outsiders know Bhutan as intimately as Françoise Pommaret. He traveled extensively and is familiar with  every nooks and corners  of the country at a pace that allowed him to delve deeper into religious, social and cultural structures from close quarter. This book provide profound insights into  every aspects that define Bhutan, in addition to the very ethos that sustain the nation – the people. This book study the common man's perspective, pragmatic approach toward the l  their belief, faith, belonging, sense and sensibilities to take from the West what will benefits their country and leave the rest…….
Beyond the Sky and the Earth by Jamie Zeppa

As a teacher of English literature, Jamie Zeppa would understand how the story of her journey into Bhutan could be fit into the convenient box of "coming-of-age romance," a romance with a landscape, a people, a religion, and a dark, irresistible student. An innocent, young Catholic woman from Canada….
Bhutan: A Trekker's Guide (Cicerone Guide)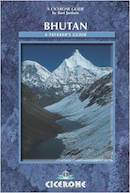 A fully revised second edition guide to trekking in this mysterious country.
With 19 treks of between three to 24 days in length, this guide offers a unique perspective to trekking through Bhutan. A thorough introduction offers advice on preparation and fitness, when to go and how to get there, trekking in Bhutan as well as the people and culture of this country.
The guide includes:
• All the stunning trails are  accompanied by full route information
• Information on preparation, health issues, permits and local culture
• Information to ensure a minimum-impact trek
• Illustrated with the author's own stunning photographs, and full-colour sketch maps of each trek.
Dream of Peaceful Dragon: A Journey through Bhutan by Katie Hickman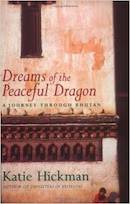 Through this book Katie takes you on journey to the region that still dwell in its pristine forms, be its nature, or uncorrupted tradition and culture, social and religious value.
As a foreigner, she is among the fortunate few, who could traversed as far as to eastern mountainous region of Merak and Sakten and into the endemic habitat of Brokpa people. The regions that takes you back in time and and give you an impression that time has come to standstill in its glorious ratio.The book offer pretty much meticulous accounts of people she met – merchants, abbot, vagrant priest etc.
If you are doing one of our tour like Bhutan Traverse from West to East or in reverse order or for that matter Merak & Sakten Trek, this book can provide rewarding peek into the region arguably less known to the most.
Butter tea at Sunrise: A year in the Bhutan Himalayas by Britta Das

When Britta Das goes to work as a physiotherapist in a remote village hospital, her good intentions are put to the test amid monsoons, fleas, and startling conditions. But as she visits homes in the mountains and learns the mysteries of Tantric Buddhism, the country captivates her very soul. Gaining insights into the traditions of the mystical kingdom, Britta makes friends, falls in love, and battles illness…….
Birds of Bhutan
by Carol Inskipp

Most guidebooks for birders are very general in their descriptions of birds. "Birds of Bhutan" tells you when and where in the country you can view them. Includes endangered, endemic and vagrant species. Beautifully detailed showing all local varieties, this book is Written very specifically about Bhutan Birds but, still gives information about where in Asia these birds range. This Book is a must have !
FootPrint – Bhutan (Footprint Bhutan Handbook) By Gyurme Dorjee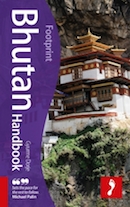 Like most books based on Bhutan, this book also find its course to draw inspiration from nature in its grandeur, well preserved culture and tradition, people, religion that is on offer in abundance.
Footprint's long-awaited and totally revised 2nd edition Bhutan Handbook, written by expert author Gyurme Dorje, provides in-depth coverage of the country's cultural and religious heritage plus fantastic planning and essentials sections. The ultimate companion for intrepid travellers, it will ensure they get the most from their trip to this independent and quaint region.
Fodor's Nepal, Tibet and Bhutan by Fodor's Laura M Kidder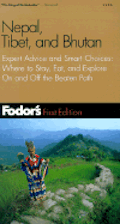 Hotel and restaurant choices for all budgets, with reviews that convey why each place is special and provide important information such as facilities, addresses, and Web sites. Great descriptions of all the sights, plus shopping, nightlife, outdoor fun, and side trips. Historical background, walking tours, and unique itineraries, plus dozens of maps. Expanded "Smart Travel Tips A to Z" chapters — packed with essential local contacts and great advice.
Longitude books supply Wind Horse Travelers with latest updated Bhutan reading list. You can buy above and some hard to find books from their site
Bhutan Travel Info.
[cmwizard menu=514]