Climate Of Bhutan
Climate of Bhutan cannot be generalized because of its mountainous landscape. The geographic co-ordinates of Bhutan is Latitude 27.5 N and Longitude 90.5 E. A tad more than imaginary Tropic of Cancer, which pronounce the tropical climate as an inevitable conclusion. Bhutan lies at par with New Delhi in India, Cairo in Egypt and Miami in USA. Bhutan being in same latitude with these cities, one may think Bhutan may be hot, and to some its location in Himalayas one may think, Bhutan will be cold, conversely, it experiences very pleasant weather throughout the year due to elevation of valley.With the exception of southern regions that border plains of India, and the northern frontier with Tibet, the middle valleys where most people live and tourists visit, enjoy pleasant temperate climate with moderate changes between winter and summer.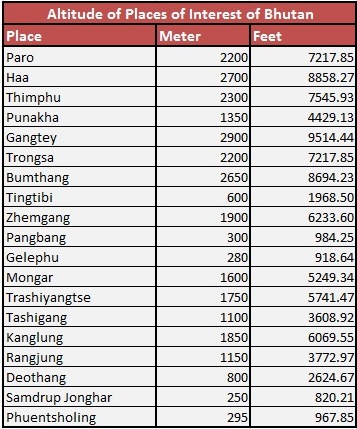 Altitude is one notable factor that determine the weather especially for the places of interest like Thimphu, Paro Punakha, Wandgi, Bumthang and places in eastern Bhutan like Mongar etc.The weather can vary due to changes in elevation. For instance, Punakha and Wangdue (1300m) is warmer than Thimphu (2300) and Bumthang (2580 m) is colder than both, which is due to variation in altitude.
Another factor that influence the Climate of Bhutan is annual seasonal cycle, which brings the climatic changes in annual cycle. As a whole the climatic conditions varies from sub-tropical in south to the Alpine in the north. Climatic conditions in Bhutan can be broadly categorise into four;
Spring Season:
It start from the March to June, the southern regions experience typical sub tropical weather like hot and humid conditions. Whereas in Thimphu, Paro, Bumthang valley has warmer days with cool night and clear blue sky. It is noticeably warmer in Punakha & Wangdi valley. This periods also offers time windows to do high altitude trek like Jhomolari, Dagala, Druk path etc. Rhododendron and wild flowers blooms surrounds the trails whilst trekking especially at higher elevation. And also most likely to see the wild life as well, they comes out from hibernation after cold, long unforgiving winter.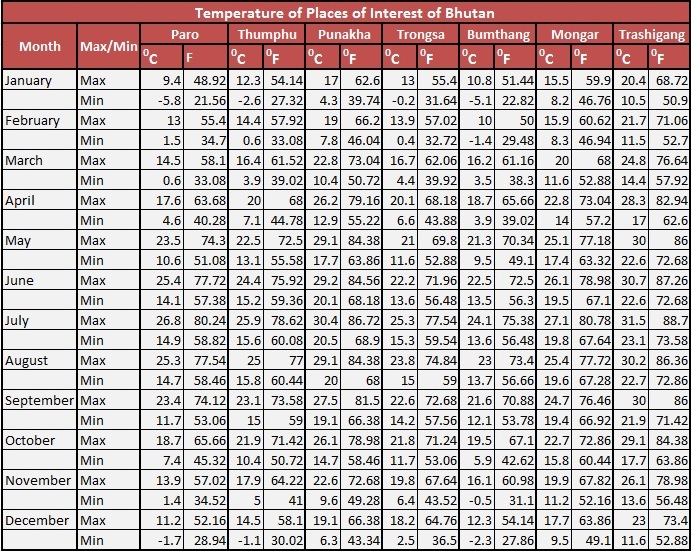 Monsoon Season:
Beginning of July marks the advent of south east monsoon till the earlier September. Bringing much relieve after scorching summer heat in southern belt. And a boon to farmers for the cultivation of their seasonal crop mainly Rice. The rain in the valleys like Thimphu, Paro Punakha etc is relatively far less in proportion in  comparison with southern belt. Southern regions are in first range to confront moisture laden south east monsoon so i it shed bulk of its moisture in these regions. And also the valley in west and central Bhutan fall under leeward or rain shadow side, which makes the rain reach in fairly less proportion. It carpets the valley and surrounding vegetation with greenery.This period bring the trekking into complete standstill as the trails get wet, slippery and muddy.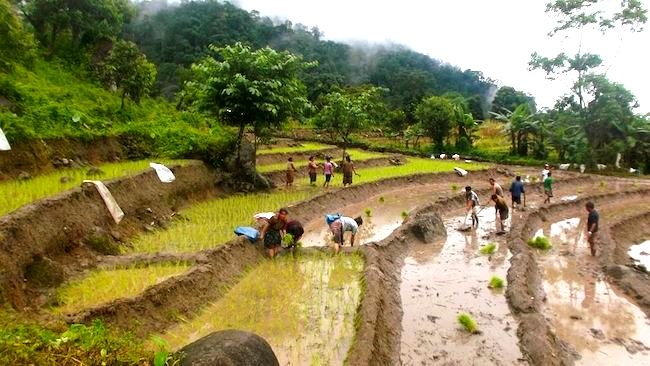 Autumn Season:
It normally start from tail end of September till November, when the weather tend to slowly stabilise after the monsoon. The sky start to get more clearer with warm autumn sun and continues offering spectacular view of far off peaks.
These months are considered  as the best time for Trekking, these periods make conditions favourable for trekking with accessible high passes and stable temperature. it throws open small windows of time in a year, specifically, for the epic Snowman trek. As for other high altitude trek like Dagala, Jhomolari, Druk Path it is best time as well.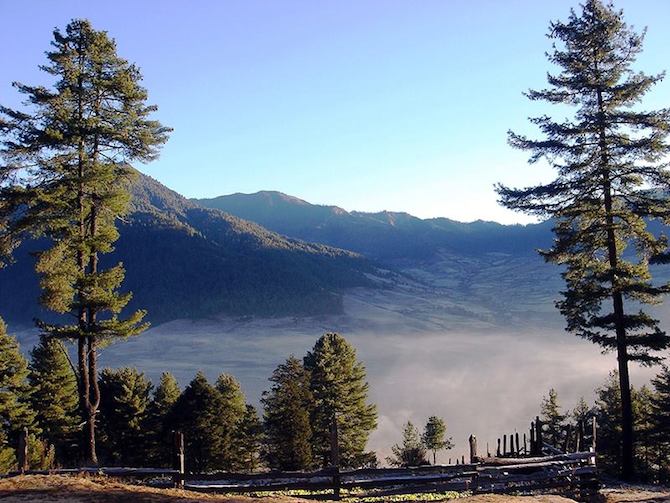 Winter Seasons.
It starts from December  till February. Specifically, it's the time of year when night tend to get cold with day being warm with bright sun. Blue winter skies serve a striking background to the snow-capped peaks., however, the higher passes like Docula, Pele La, Chele La experience snow but the valleys remain bereft of heavy snow with occasional light dusting of it . The possibilities of heavy snow remain only  if there is sudden and dramatic change in temperature.
Higher passes remain closed due to snow so high altitude trek becomes distance dream during winter, however weather in lower altitude places like Punakha experiences pleasant climate. It becomes favourable time to do low altitude winter trek like Samtegang and Nabji Korphu.