Day Hikes in Bhutan
Day Hikes in Bhutan
Bhutan is seemly  a great destination to do day hikes that takes you up and  close  to many hill-top villages, remote valleys, monasteries, retreat centres. The trails that lead to these destinations are sometimes a small path on the ridge of terraces rice fields. In some case it's paved with wild flowers during spring. During winter, the walk may trigger the sound emanated  by stirring dry shedded deciduous leaves, breaking the silence of stilly forests. Largely, it traverse through farm houses, field, school etc , a typical case where the journey is as beautiful as the destination.
In these years, it is seen that most guests like to add a day or two of camping with their cultural tours or to incorporate as much as hike in their cultural odyssey. Probably,  the best way to experience the country, as it allows greater opportunity to see and get the feel of quaint natural ambience at leisurely walking pace. In the process, the opportunities get enhanced to exchange a few words with laymen, farmers, monks, students etc, translating  into lending  insights into religious, social and cultural structures.
Keeping the above in mind, our itinerary are resilience and every effort are redeemed to allow it to flourish incorporating your inclinations, interests and likings. There are several opportunities for day hikes from comforts of the hotels.
Aesthetically, taking it a step further, a day or 2 at the most camping under starry Himalayan sky and for that matter even farm house stay overnight potentially can add a new dimensions to your experience.
Following are some of the hikes that are highly recommended
Takstang Monastery Hike– ( 2 to 3 hrs one way)
The most popular hike in the country and quintessential, that lead to the cultural icon of Bhutan – Tiger's Nest Monastery. It's easily  one of the country's must see attractions for its sheer weight on its beauty, gravity defying locations, historical legacies and scenic trails that overlooks  extended verdant Paro valley.
From the trail heads, the gradual uphills through the conifers, across the small chorten takes to 1st view point. Along the way, you will see some chorten, and colourful ritual offerings in caves.   Prayer wheels adorn the 1st view point and also some roadside makeshift shops selling some souvenirs.
Following the trail further, you will reach 2nd view point, you will be greeted with riot of colourful prayer flags and also astounding vista of northern fringes of extended Paro valley and also up and  close view of Taksang Monastery in other side, however, separated by deep chasm.
Further, in the chasm, it takes  steep downhills turn though narrow steps are paved all the way.  In the midway, the sight of waterfall cascading through high rocks is quite beautiful and dramatically, it turns uphill to reach the Taksang Monastery
Time Taken – 2 to 3 hrs each way.
Takstang Hike.
Sonagasa Hike or Extended Kamsum Namgyal Chorten Hike
It's a scenic sub-tropical hike in Punakha valley. Approx 20 minutes drive north from main town, across Punakha Dzong, takes you to the starting point of the hike in Sirigang village. It begins with crossing the suspension bridge over Mo Chhu, following the ridge of narrow trail through furrowed paddy field for over few meters bring it to the gradual uphill, further few meters of hike take you to the typical rest house – with wooden seats and also encompassing massive solitary prayer wheel, offering a scenic vista of terrace rice field below. Following the trail for almost 40 minutes, through the farm houses en-route, it ultimately bring to Kamsum Namgyal  Chorten. From the rooftop of the Chorten, it offers astounding view of northern edge of the valley.
While returning back, we follow the same trail back till the rest house and take a light northward diversion, it also entails a walk through the ridge of the terrace rice field for a few meters until we meet the paved road but with hardly any sign of traffic. The hike is more simple and steady and it runs parallel to Mochu river. En-route, we can take a leisurely look at former winter palace from distance, and probably meet some villagers along the way, ending the hiking in front of beautiful Punakha Dzong.
Trashigang Gompa – The hike to reach Trashingang Gompa goes through one of trail popularly called Lungchuste Trail. This trail was adopted by Wind Horse Tours  and its maintenance and cleanliness work are undertaken by Wind Horse on regular basis as a part of Corporate Environmental Responsibility. On clear day, it offer breathe taking picture postcard view of eastern Himalayas peaks. And also trail is surrounded by varied rhododendrons species as big as trees complemented much by conifers as well.
Aprox time 3 to  4 hours. It can done from Thimphu or Punakha.
Lungchutze Hike
Kila Gompa Nunnery & Chele la Hike –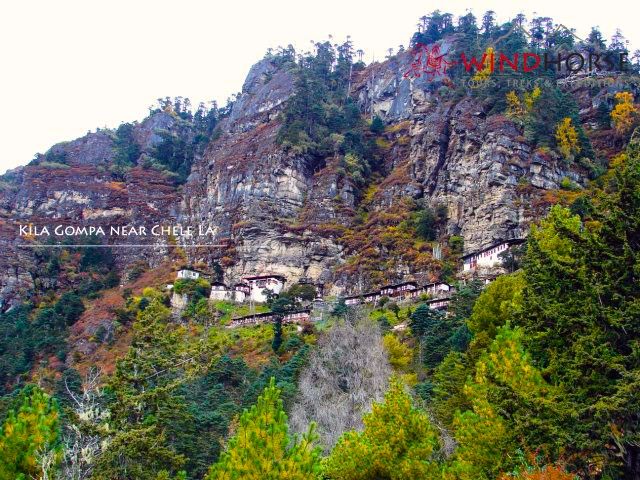 This can be done as an excursion from Paro or along the way between Paro and Haa. Generally we propose to those guests  who wants to skip Taksang Monastery hike for some reasons or this hike can be done  from  Haa also. Chele La pass connect Paro valley with Haa. During season, you will be greeted with blossoming of varied Rhonderondon species. Further hike from the Chele la pass takes you to Kila Gompa, one of the oldest nunnery in Bhutan.
Time Taken: 2 to 3 hours each way,
Ura Valley Hike –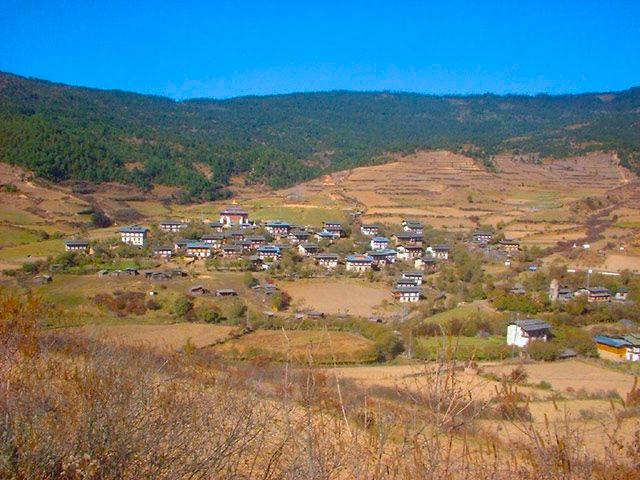 It is one of  the principal valley among four that constitute Bumthang – Cultural Heartland of Bhutan. It is known for its spectacular landscapes and quaint ambience. Passing through the farm house and scattered houses can provide  an opportunities to interact with people and to explore and learn of its charming village.
Time Taken: Approx time 1 hour.  each way.
Gangtey Nature Trail–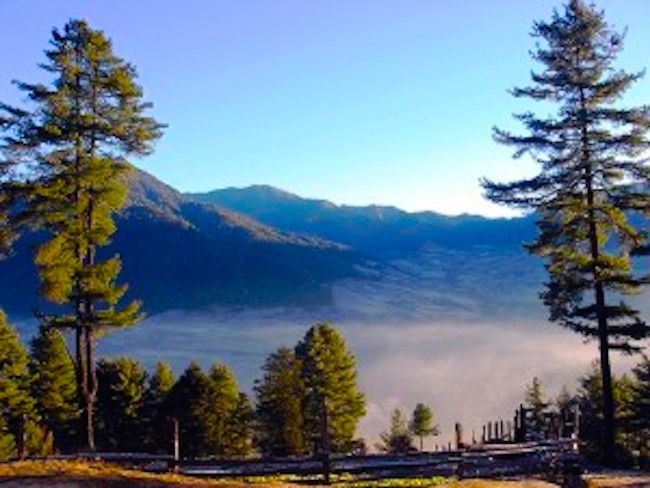 Located in the beautiful, broad and U shaped glacial valley of Phobjika. It is know for its scenic splendour and cultural uniquenessIt is the most beautiful and shortest of the existing nature trails in Bhutan. From the small hilltop overlooking Gangtey Goemba, head downhill through flower meadows to Semchubara village and from here through beautiful forests and into the open valley. After passing a chorten and Khewa Lhakhang, the trail ends at the local community school; this involves a 30 minute walk up to the start of town. The Nature Trail can be combined with a visit to Gangtey Goemba and the local school. Gangtey Goemba is a 16th century monastery situated picturesquely at the hilltop at the edge of Gangtey village, making it the landmark structure of Phobjikha valley. 2 hrs approx time, in Phobjika.
Gangtey Nature Trail – Phobjika Valley

Bhutan Adventures
[cmwizard menu=519]