Customize Nature Tour to Bhutan
Nature Tour to Bhutan
Customize Nature Tour to Bhutan and explore the rich and diverse flora and fauna. Once named 'the land of Medicinal Herbs,' you can still witness natural environment in undisturbed and pristine form. Meet the real people who live in each area and experience several different eco-system. Design your own activities and add to our suggestions for your nature tour. Hike, bike or drive across the mountain ranges and enjoy spectacular landscape, forest and exotic plants. Make it more adventurous and float down a river with riverbanks full of nature, birds, plants and animals. Go deeper into the wilderness and examine extremely well camouflaged birds and animals.
The ecosystem in Bhutan is diverse, because of its location, great geographical and climatic variations. Bhutan's high, rugged mountains and deep valleys are rich with spectacular biodiversity, Tour to view some of the 5,500 species, including 300 species of medicinal plants and over 50 species of rhododendrons. See more than 600 species of orchid, most are commonly found up to 2,100m, although some hardy species thrive even above 3,700m.
Take a trip through tropical vegetation of the lower zones in dark forests of oak, birch, maple, magnolia and laurel. Rise up to 2,400m altitude to touch and smell spruce, yew, weeping cypress, and the East Himalayan fir. Between the tree line and the snow line at about 5,500m are low shrubs, rhododendrons, Himalayan grasses and flowering herbs. Hike up to 3,500 to 4,500 meters in elevation to see Blue Poppy, which is the national flower of Bhutan. Keep your eyes open for over 770 species of birds while you hike, walk and rest. In the summer, go through the sub-alpine forests and meadows above 3,700m and check out Takin, the national animal of Bhutan. In autumn, you can go and watch some endangered species of cranes that migrate from Tibet. In the winter, explore the lowland Jungles of Manas National Park, Jigme Singye National Park and sight some of the rarest primates, birds and many wildlife, at the same time enjoy the pleasant weather.
Deluxe Camping
Combine your trip with our Deluxe Camp. Our custom tents made from mix of heavy duty cotton and poly fabric with proper beds and dinning, keep you warm and cozy while being surrounded by nature at it best.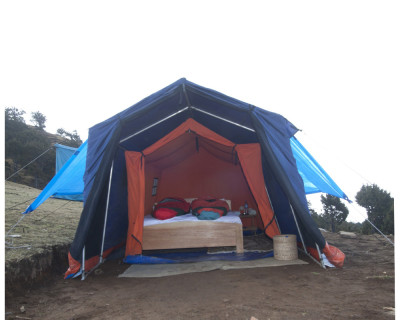 List of customize Trips to Bhutan
[cmwizard menu=515]