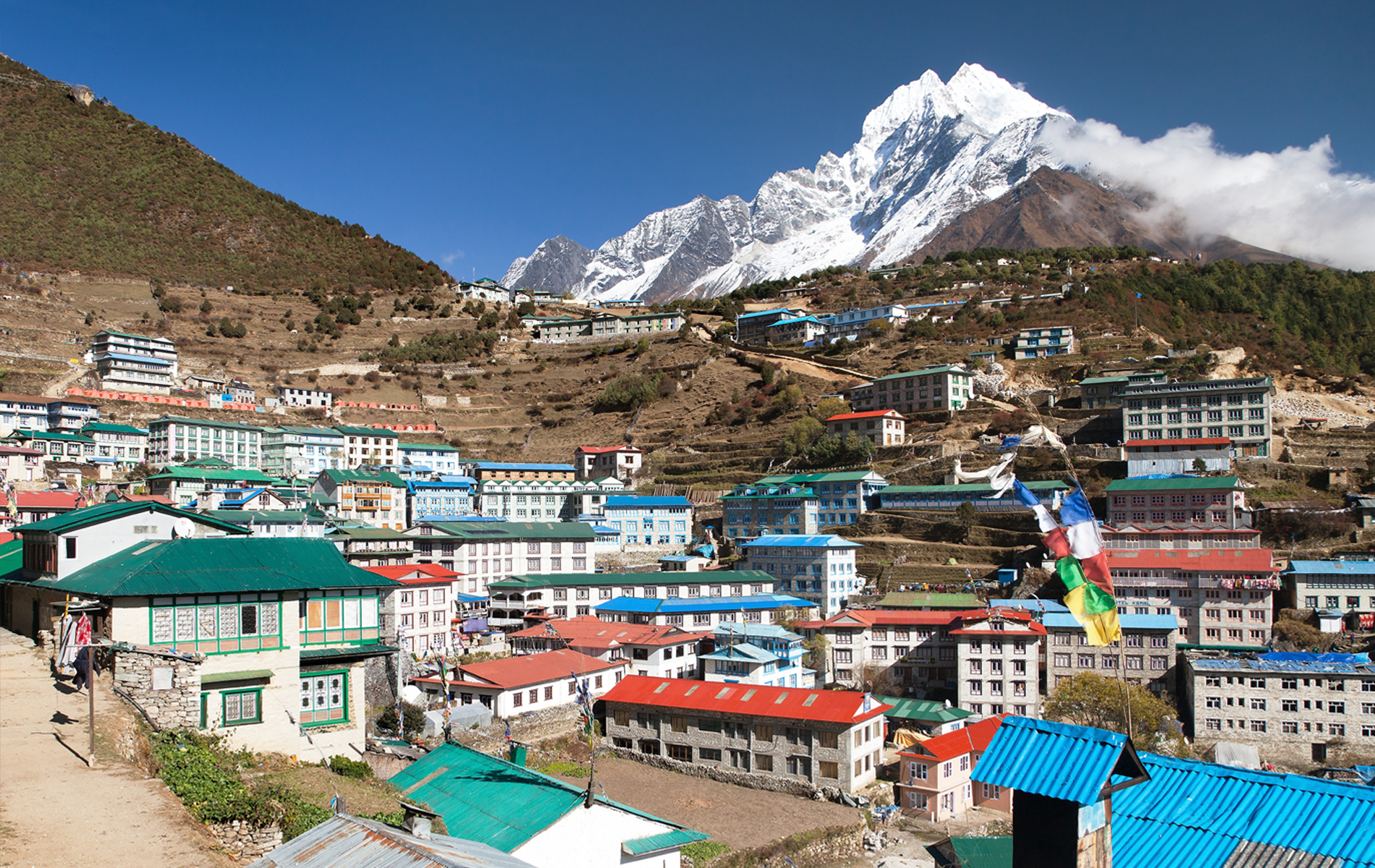 Everest View Walking Tour with Comfort Lodges
A walking holiday in sight of Everest staying in the best accommodation
10 Days
The Everest View walking tour with comfort lodges is an exceptional journey that provides an extraordinary blend of adventure and comfort amidst the stunning Himalayas. Unlike the regular tea house trek, this tour offers more comfortable lodges akin to 3-4* category city hotels. The amalgamation of these upscale lodges and the breathtaking Himalayan scenery renders this trek an appealing option for individuals in search of a less strenuous yet fulfilling experience, distinct from the challenging Everest Base Camp Trek. This particular trek strikes a harmonious balance between the serenity of nature and the luxury of comfort. It's an ideal choice for hikers who prefer a touch of luxury and enhanced comfort during their trekking escapades.
The Everest View Walking Tour with comfort lodges offers an outstanding opportunity to delve into the cultural richness of Sherpa villages while reveling in the breathtaking vistas of Everest. This trek ensures a delightful stay at comfortable lodges that flawlessly blend modern amenities with an authentic Himalayan ambiance, providing travelers with an opportunity to unwind and revitalize amidst the awe-inspiring surroundings. Additionally, this trek maintains a manageable altitude of 3880m, allowing ample time for rest and acclimatization while journeying to Namche Bazaar, minimizing concerns about altitude sickness. Furthermore, this trek doesn't demand a high fitness level or any prior trekking experience.
The journey begins with an exhilarating flight to Lukla, known for its challenging airstrip and breathtaking views of the Himalayas, which in itself is a lifetime adventure. The trek from Lukla to Namche Bazaar is a remarkable experience. Passing through Sherpa villages allows one to witness the unique culture and hospitality of the Sherpa people. The two-day hike to Namche Bazaar, following the Dudh Koshi Canyon, offers a blend of natural beauty with lush forests of pine and rhododendron, creating a picturesque setting for the hike. Each step offers stunning vistas, encouraging travelers to pause and capture the majestic panoramas.
One of the highlights of this trek is the opportunity to witness iconic Himalayan peaks such as Mt. Everest, Ama Dablam, Lhotse, Kongde Ri, and Kusum Kanguru from vantage points like the Everest View Hotel in Syangboche and Khumjung village. These panoramic views offer a glimpse into the awe-inspiring majesty of the region and create lasting memories for trekkers from all walks of life.
The appeal of the trip rests not solely in its natural beauty but also in its accessibility. The well-maintained paths are designed for individuals lacking prior trekking experience, rendering this journey appropriate for adventurers with diverse skill levels. The meticulously organized itinerary guarantees a harmonious blend of adventure, sightseeing, and relaxation, enabling participants to completely relish the Himalayan experience.
In conclusion, the Everest View walking tour with comfortable lodges offers an unforgettable journey replete with mesmerizing landscapes, cultural encounters, comfortable accommodations, and the chance to forge lasting memories in Nepal's Everest region.
Outline Itinerary 
Day 1: Arrival in Kathmandu
Day 2: In Kathmandu
Day 3: Fly to Lukla & trek to Phakding
Day 4: Trek to Namche Bazaar
Day 5: Trek to Syangboche
Day 6: Trek to Monjo
Day 7: Trek to Lukla
Day 8: Fly to Kathmandu
Day 9: Free day in Kathmandu
Day 10: Departure
This Everest view walking tour with comfort lodges is a perfect introduction to trekking in Nepal for first-time trekkers, as it offers high-standard quality lodgings in the Everest region.
Trip Highlights
Sightseeing tour of UNESCO world heritage sites in Kathmandu.
Scenic flight to Lukla from Kathmandu.
Walking in Mt. Everest National Park, Natural World Heritage site.
Enjoy the superb mountain views of Everest and surrounding peaks.
Visit Sherpa villages and Buddhist monasteries along the way.
Experience the lifestyle and traditions of people living in the Himalayas.
Stay in the historic Hotel Everest View, placed in the Guinness Book of World Records as the highest-placed hotel in the world.
Detailed Itinerary
Expand All
Day 1:
Arrival in Kathmandu
Upon your arrival at Kathmandu airport, a representative from Wind Horse will greet you and transport you to the hotel. The remainder of the day is yours to enjoy at your leisure until the evening. Later that evening, there will be a brief orientation session followed by dinner, accompanied by a cultural performance, at an authentic Nepalese restaurant. Overnight in Kathmandu.
MEALS:
Altitude:
1350m
Today, we will visit three UNESCO World Heritage Sites in the Kathmandu Valley: Kathmandu Durbar Square, Boudhanath Stupa, and Pashupatinath Temple.
At Kathmandu Durbar Square, we will explore the area around the former palace of the kings of Nepal, viewing various temples and monuments. Following that, we will drive to Boudhanath Stupa, the largest Buddhist stupa in Nepal. Here, we will circumambulate with pilgrims and visit the surrounding monasteries. Afterward, we will proceed to the holiest Hindu temple in Nepal, Pashupatinath Temple. The evening is free for you to shop for any last supplies or gear needed for your upcoming trek. Overnight in Kathmandu.
MEALS:
Duration:
5-6hrs
Day 3:
Fly to Lukla-Trek to Phakding
The mountain flight into Lukla is spectacular, and the landing is an exciting experience. One end of the runway is 60 meters higher than the other. The flight is typically on a small Dornier or Twin Otter aircraft, with a duration of around 25–30 minutes.
Upon arrival at Lukla (2800m), you will meet your Sherpa guides and porters before commencing the trek towards Phakding. Your permits will be entered and checked at the park entrance. Begin the trek by descending gradually for about 2 hours to Thado Koshi, then gradually ascend, crossing several suspension bridges, passing through villages, and finally arriving at Phakding (2610m).
Overnight in Phakding
Please be advised that during the high season (March, April, May, October, and November), flights to Lukla are routed through Ramechhap (Manthali) airport, approximately a 4-5 hours' drive away from Kathmandu. To accommodate this, you must start early (several hours before dawn around 2AM).
MEALS:
Altitude:
Lukla at 2860m/Phakding at 2610m
Duration:
3-4hrs, Approx. 8kms.
Day 4:
Trek to Namche Bazaar
Follow the Dudh Koshi River, passing through Sherpa settlements like Bengkar and Chumao, before entering Sagarmatha National Park at Monjo. Cross a long Hillary Hanging Bridge, and as you continue the steep climb uphill, reach a resting point called Chautara, where you can catch a first glimpse of Everest through the trees. Continue the ascent, and eventually, you'll arrive at the bustling Namche Bazaar (3440m). This serves as the heart of the Sherpa community, providing lodges, cafes, and shops selling souvenirs and trekking gear. If you've forgotten anything, you can find it here. Spend the remainder of the day in Namche Bazaar acclimatizing to the altitude.
Overnight in Namche Bazaar.
MEALS:
Altitude:
3440m
Duration:
5-6hrs, Approx. 11kms. Elevation gain - 820m
Day 5:
Trek to Syangboche
You will explore the Museum of Sherpa Culture which offers a fascinating insight into the rich heritage and traditions of the Sherpa community, and  you will also visit the Everest Photo Gallery. After that you will proceed to ascend the hill towards the Hotel Everest View. Hotel Everest View would be an adventure in itself, given its remarkable location and the stunning vistas it offers of Everest and the surrounding Himalayan peaks. The hotel's amenities and accommodations, especially the balconies with panoramic views, promise an unforgettable stay.
Upon settling into the hotel, we will take ahike and discover the nearby Khumjung and Kunde villages to gain insight into village life. Khumjung and Kunde villages presents a unique opportunity to immerse oneself in the local way of life. Visiting the school, Khumjung monastery, and seeing the legendary Yeti scalp would provide intriguing insights into the local beliefs and history. Additionally, experiencing the medical center initiated by the Sir Edmund Hillary Trust showcases the remarkable contributions and support extended to the Sherpa community. Overnight in Syangboche.
MEALS:
Altitude:
3960m
Duration:
2-3hrs to Everest view hotel, Altitude gain 520m
From the hotel, we will marvel at the breathtaking sight of the sunrise illuminating the snow-capped peak of the mountain. After enjoying a hearty breakfast while admiring the stunning mountain views, we will start our journey towards Monjo. If you wish, there is a chance to revisit the villages of Khumjung and Kunde for a short exploration before gradually descending through the Dudh Koshi Valley towards Monjo. This charming village is located on the outskirts of Everest National Park, with around 30 households, and it is nestled between the Thamserku and Dudh Kosi rivers, creating a picturesque setting. Overnight in Monjo.
From mid-March to May and from October to November, you can charter or share a helicopter ride to Kalapatthar viewpoint, at an additional cost. This service can also be used to get from Syangboche to Lukla, thereby saving two days that would be spent trekking.
MEALS:
Altitude:
2835m
Duration:
4-5hrs, Approx. 7kms, Descent : Approx. 1125m
Today is the final day of our trek. We will descend through the Dudh Koshi valley, following the river until we reach Ghat. From there, we'll face a steep ascent to the village of Phakding before finally arriving at Lukla. Overnight in Lukla.
MEALS:
Altitude:
2860m
Duration:
5-6hrs
With a stroke of luck and favorable weather, we shouldn't encounter any issues catching our flight back to Kathmandu. The rest of the afternoon is yours to indulge in your interests at your own pace.
Overnight in Kathmandu.
MEALS:
Day 9:
Free day in Kathmandu
Today has been designated as a contingency day in case the flight from Lukla is canceled due to the unpredictable mountain weather, which unfortunately occurs quite frequently. In the event that everything proceeds as scheduled, you are free to spend this day as you wish. You might opt to go souvenir shopping or, if you prefer, you can arrange for a sightseeing tour of the Kathmandu Valley.
Overnight in Kathmandu.
MEALS:
Transfer to the airport in time for your departure flight homewards.
MEALS:
Departure Dates
Start Date
End Date
Status
Remarks
Cost Information
Our cost is based on the number of participants to offer the best possible rate.
Join-in/small group is available for March, April, May, Sept, Oct & Nov.
This trip also can be taken privately with your own dates.
Included
All airport & hotel transfers by private vehicle.
4 nights accommodation in 5* category hotels in Kathmandu.
5 nights' accommodation in comfortable lodges comparable to 3-4* city hotels during the trek.
Only breakfast during the stay in Kathmandu.
Breakfast, lunch, and dinner along with coffee/tea during the trek.
One welcome or farewell dinner with a cultural performance in Kathmandu.
1 full day guided city tour in Kathmandu.
English-speaking licensed trekking guide along with a porter (1 porter for every two trekkers).
Round trip airfare between Kathmandu/Manthali-Lukla.
First aid kit, duffel bag, trekking map, and trip completion certificate.
Trekking staff accommodation, wages, meals, trekking gears, and insurance.
All necessary paperwork and permits for the trek (TIMS/National Park Fee/Rural Municipal Fee).
All government tax and service charges.
Not included
Nepal Visa(available at the airport on arrival)
International airfare.
Meals other than listed (lunch and dinner) in Kathmandu.
Personal expenses (laundry, telephone, bar, beverages).
Bottled/boiled water, battery recharge and Wi-Fi and hot showers during the trek.
Tips and gratuities to Guide, Porter and driver.
Travel medical insurance covering rescue and emergency evacuation.
Personal trekking gears and equipment's.
Trip cancellation cost due to your health, weather condition, political situation, and any other unforeseen events.
Any other expenses other than the listed above.
Traveller Review
The planning and execution of this trip by Heera and my guide Samjhana was excellent. All accommodations were clean and comfortable with delicious food. My drivers were safe and professional. I was able to see and experience so much of Nepal in just two weeks. They took good care of me as a solo female traveler and filled my time with wonderful experiences and memories. I highly recommend Wind Horse Tours and Treks for travel to Nepal.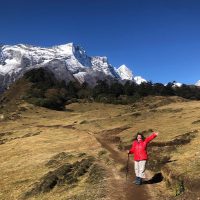 Stephanie
10th - 26th October, 2022
Facebook Review
Guides
Trip Photos