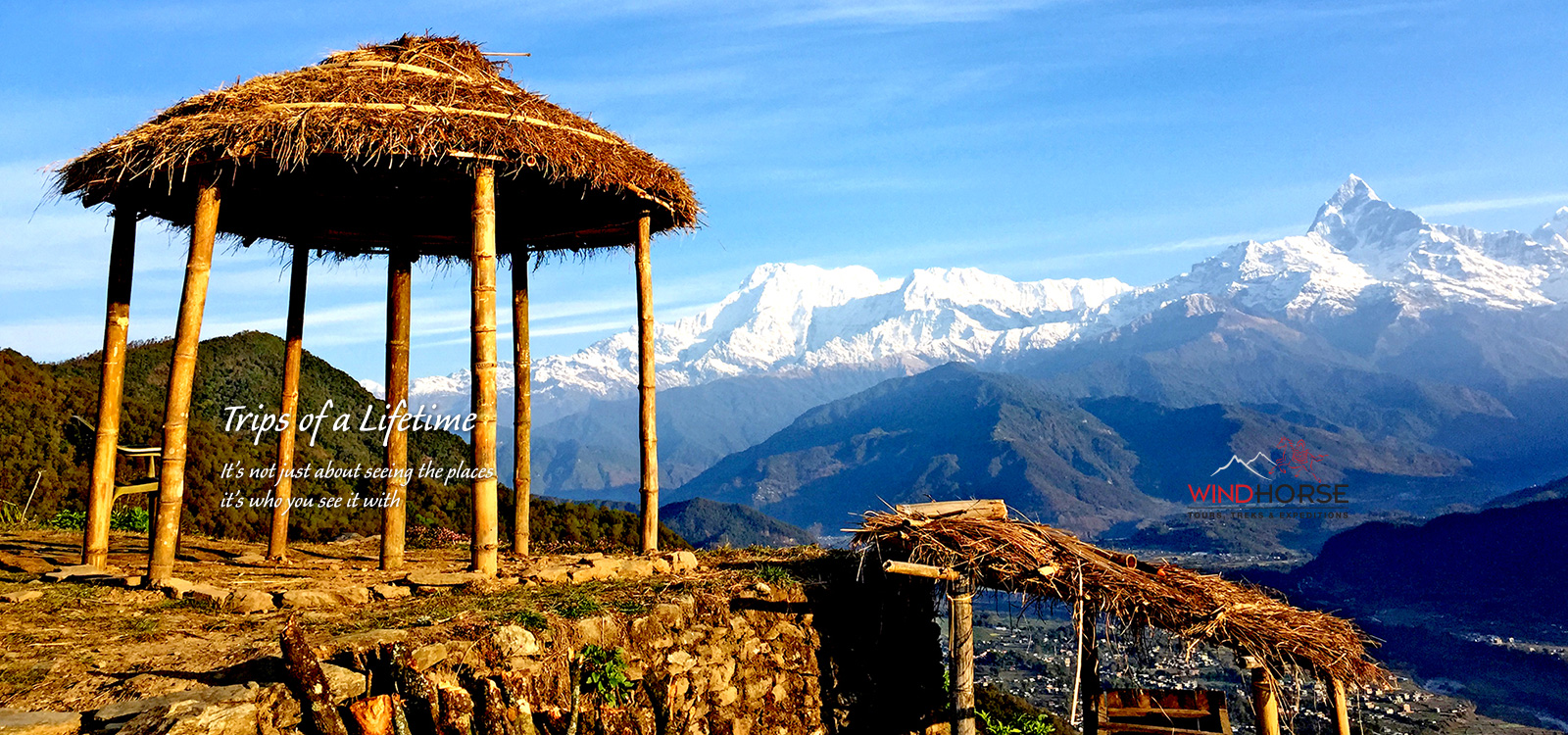 Hilltops and Village Tour of Nepal
Walk among the mid hills and villages in Kathmandu & Pokhara
8 Days
Village Tours
To most, Nepal conjures up the image of mighty Mt Everest and other peaks, but its charm, forte, and appeal don't merely rest on these aspects alone. It spreads to a broader arena – its historical monuments, cultural diversities, charming mid-hills and villages, flora, fauna, gentle people, and more. This revised itinerary of Hilltops and village tour of Nepal, where we smoothen rough edges and added changes evolving with the flow, bring forth these essences of Nepal.
In this swashbuckling trip, which entails a generous dose of leisurely light day walks, affording greater purpose and opportunities to get insights into quaint villages and deeper interaction with the people, we explore landmarks, attractions, and, villages in the constant backdrop of majestic peaks.
The Hilltops and Village tour of Nepal begins with discovering notable sites in Kathmandu Valley, after which the focus shifts readily to the historical renaissance city of Bhaktapur, where every carved wooden structure has its own story to tell. Navigating further, we are closer to the essence of this trip, visiting the least explored villages of Namo Buddha and Pokhara Valley. In Pokhara, we spend two nights on the higher ridge near Sarangkot. From where we can get better views and cooler climes. Our journey continues to the historic Bandipur village, where time seems to stand still, life is unhurried, and people radiate warmth and hospitality.
To give an extra dimension to your experience in the villages, we use a boutique/ village Inn, where traditional ambiance and rural flavor are the order of the day. While in Kathmandu and Pokhara, you stay in modern hotels with a swimming pool.
Outline Itinerary
Day 1: Arrival in Kathmandu(1350m)
Day 2: Kathmandu – Bhaktapur – Namobuddha(1750m/6-7hrs)
Day 3: Around Namobuddha
Day 4: Fly to Pokhara(30m) & Drive to Sarangkot(10kms/30min)
Day 5: In Pokhara(822m)
Day 6: Pokhara-Bandipur(1030m/3hrs)
Day 7: Drive to Kathmandu(148kms/5-6hrs)
Day 8: Departure
Trip Highlights
See the real Nepal; go beyond the beaten track and discover the least touched villages.
Enjoy the spectacular views from every village on this tour.
Stay at Boutique hotels and Eco Resorts in villages and modern hotels with swimming pools while in Kathmandu and Sarangkot. Each hotel is thoughtfully selected, for experience, comfort, and great food.
Visit UNESCO world heritage sites in Kathmandu, Bhaktapur, and Patan.
Relax and enjoy the peace and serenity in villages where life is unhurried, people are friendly, and views are amazing.
A close encounter with locals with an opportunity to learn, and share experiences.
Enjoy gentle walks that keep you active and outdoor.
Detailed Itinerary
Expand All
Day 1:
Arrival in Kathmandu
Upon arrival at Kathmandu airport, meet our representative/guide and transfer to the hotel. Towards late afternoon, visit Kathmandu Durbar Square. Then take a short walk to Thamel via Indra Chowk and Asan markets, rubbing shoulders with locals through the alleyways. After strolling around Thamel, enjoy a welcome dinner with a Cultural Performance. Overnight in Kathmandu
MEALS:
Altitude:
1350 m
Day 2:
Kathmandu-Bhaktapur-Namobuddha
Drive east to the outskirts of Kathmandu to Bhaktapur, a medieval walled city filled with ancient red brick buildings with narrow streets. Full of temples, intricately carved statues, and architecture, devoid of traffic and pollution. Although many buildings were destroyed in the 2015 earthquake, the main attraction remains as it ever was. In Bhaktapur, we will visit the Durbar Square, a conglomeration of stone, metal, and wood carving, the palace of fifty-five windows, and Pottery Square. We can see potters working with their traditional wooden wheels giving various shapes and sizes to clay. After the visit, we continue our journey to Namobuddha. We will stop at Dhulikhel (1500m) for a panoramic view of mountain peaks and drive to Nomobuddha, one of the three most important Buddhist pilgrimage sites in Nepal. Known to Buddhists as Tamangligi, the spot where Buddha, in one of his previous birth, fed himself to a starving tigress that was close to death from starvation and unable to feed its cubs. Overnight in Namobuddha.
MEALS:
Altitude:
1750 m
Duration:
6-7 hrs
After breakfast, we will take a short hike to visit the local villages around Namobuddha, visiting homes, meet people, and learn about their way of life. Enjoy the magnificent views of the surrounding area, an immense array of terraced fields surrounded by lush green hills, with a glimpse of the snowy peaks in the distance. After the visit, return to the resort for lunch. After lunch, visit the sprawling Namobuddha Thrangu Tashi Yangtsi monastery and take a short half-hour ridge walk (optional) with views of the valley. In the evening, enjoy the sunset view over the mountains.
Overnight in Namobuddha.
MEALS:
Altitude:
1750 m
Duration:
6-7 hrs
Day 4:
Fly to Pokhara(30min)-Drive to Sarangkot(30min)
After an early breakfast, drive for about 1.5 hours to the domestic airport to take the morning flight to Pokhara(30m). The flight to Pokhara provides breathtaking views of mountains like Langtang, Ganesh Himal, Manaslu, Lamjung Himal, Annapurna, and Machhapuchre. On arrival, our guide will pick you up from the airport and drive to Phewa Lake, enjoy an hour of boat ride in Phewa Lake, and after the boat ride, take a hike to the World Peace Pagoda, from where we get a stunning view of the Phewa lake and the Pokhara valley. After the visit, meet our vehicle and drive to our hotel at Sarangkot. Sarangkot is a popular tourist spot for beautiful sunrise and sunset views of the rays changing color over the Annapurna, Dhaulagiri, and Machhapuchre. The evening is free for you to rest and enjoy the views, or if you are looking for adventure, Sarangkot is the launching pad for Paragliding, Zipline launches, and Bungee Jump. Overnight in Sarangkot.
MEALS:
Altitude:
1600 m
Duration:
7-8 hrs
Day 5:
Excursion to Pokhara
Early morning take a walk to the viewpoint of Sarangkot(1590m) for a beautiful sunrise view. Spend some time at the summit taking pictures and enjoying the sweeping view. After breakfast, walk downhill for about 2hrs to Pokhara across Methlang and other villages. Meet the vehicle and have a full day of sightseeing around Pokhara. We will visit the Devis Falls, Gupteshwor Cave, and the Tibetan Refugee Centre. In the afternoon, we will visit the International Mountain Museum, where you will see a collection of the lifestyle of mountain people and their culture and tradition. After the visit, drive to the lakeside, where you will have free time to stroll through Phewa lakeside and browse the souvenir shop and cafes. Our guide and driver will be on standby to take you back to your hotel. Overnight in Sarangkot.
MEALS:
Duration:
6-7 hrs
After breakfast, drive along the Pokhara Kathmandu highway, and take a diversion at Dumre toward the historic village of Bandipur(3hrs). Bandipur is a living museum of Newari culture, beautifully preserved with winding narrow lanes lined with tall 18th century sturdily built mansions that have stood firm along with time and serve as tea house shops, cafes, and lodgings. With the absence of motorized vehicles, restaurant tables laid out in the bazaar give the feeling that time seems to have stood still. After lunch, walk through the cobblestone streets and explore the architectural heritage in colorful houses of the villages, experience the impact of Newari architecture, visit the temples, or take a walk to the viewpoint where you can get a picturesque view of the Annapurna range, the Langtang peaks to the east and Dhaulagiri in the west and the valley below. Overnight in Bandipur.
MEALS:
Altitude:
1030 m
Duration:
3 hrs
Day 7:
Drive to Kathmandu
After breakfast, drive to Kathmandu following the Pokhara Kathmandu highway(4-5hrs). The drive is scenic across several villages and small towns along the Trishuli River. Upon arrival, check into the hotel, and the rest of the evening is free to rest and relax. Overnight in Kathmandu.
MEALS:
Duration:
148 kms/5-6 hrs
Transfer to the airport according to your flight schedule.
MEALS:
Altitude:
1350 m
Departure Dates
Start Date
End Date
Status
Remarks
Cost Information
The cost is based on the group size to offer the lowest possible cost.
8 members: US$745 per person.
6 members: US$835 per person.
4 members: US$920 per person.
2 members: US$1205 per person.
Single traveler: US$1640.
Single room supplementary: US$255.
The trip is available for daily join-in group departure with a maximum of 8 members or travel independently with any group size.
Contact us for any further information:
Included
•    Accommodations as listed.
•    Daily breakfast and dinner in the hotels.
•    All land transfers by good quality vehicle
•    English speaking local guide.
•    Sightseeing admission fees.
•    Kathmandu-Pokhara airfare.
Not included
International flight
Nepal Visa fee
Travel & Medical insurance
 All lunches, bar/beverages, drinks, laundry, telephone, tips and other personal expenses.
 Any extra expenses incurred as a result of your health, or due to weather, political situation, and other unforeseen events.
Traveller Review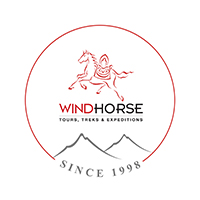 Lucie
Nov 21 - 27, 2019
Facebook Review
Guides
Trip Photos