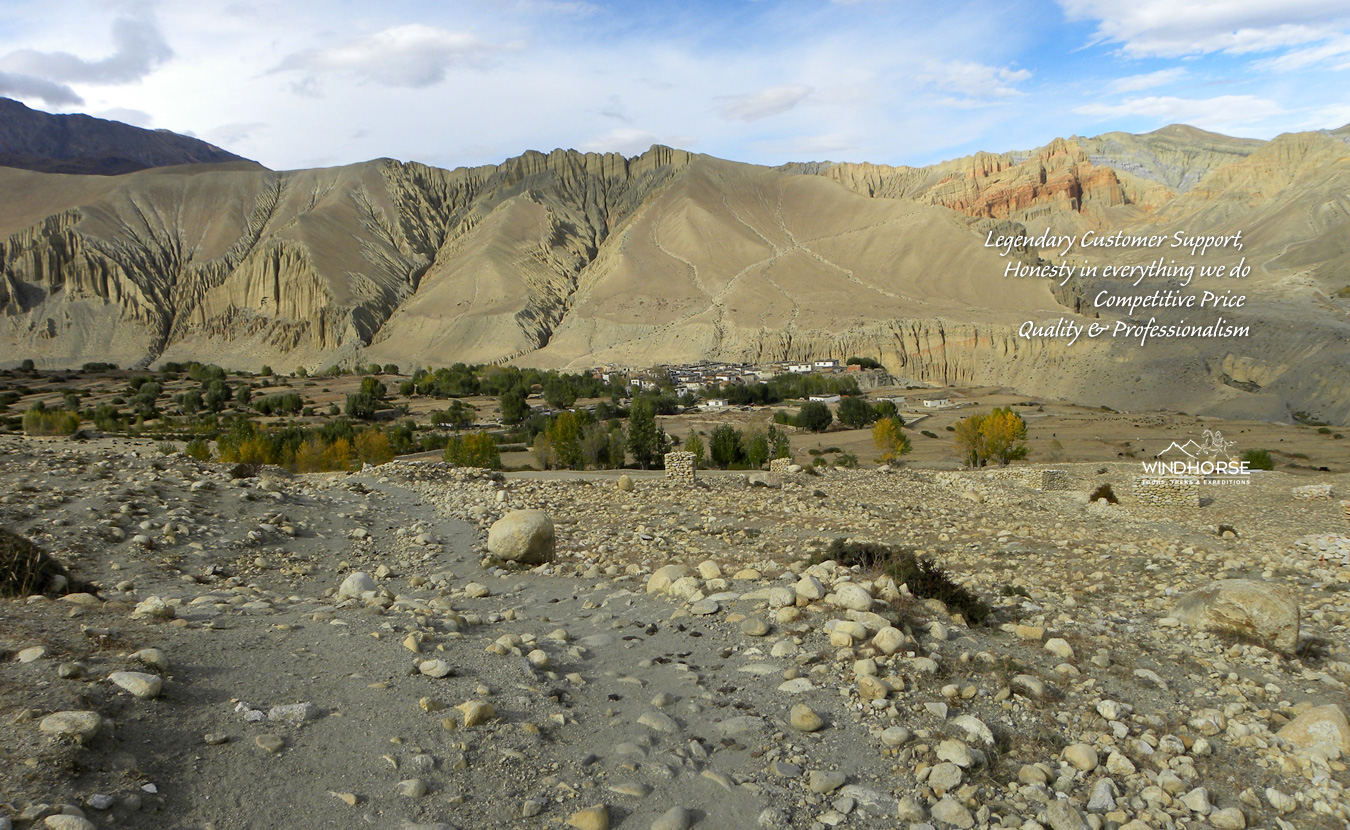 Forbidden Kingdom of Upper Mustang Trek
Trek to the lost Kingdom of Lo
17 Days
Trekking
Culture Tours
Formerly the Kingdom of Lo, the last forbidden Kingdom of Nepal is an adventure trek in the trans-Himalayan region of Nepal, exploring a vibrant mix of Bon and Buddhist culture lying to the northwest of the Annapurna region. Mustang has developed its distinct cultural and geographical traits, making it an attraction not only for ordinary people. But also for anthropologists, archaeologists, and geologists. Until 1950, Mustang was a separate kingdom within the borders of Nepal. The Government of Nepal opened Mustang to the outside world only in 1992.
Forbidden Kingdom of Upper Mustang trek moves through the deepest gorge of the earth made by the Kali Gandaki River, Kagbeni – Lo-Manthang, the cultural capital of Upper Mustang. We will have the opportunity to explore the numerous monasteries dating back hundreds of years. The trail goes past majestic Himalayan ranges, the pretty village of Kagbeni, on the bank of the Kaligandaki River, primitive Tibetan culture, the longest Mani walls in Upper Mustang, the Mountain Desert & mystic valley. Red Gompa and the spiritual gate of Chorten, Lomanthang (the capital city of Mustang), Kings Palace, and Prince of Upper Mustang are also the attractions of this trek.
The Forbidden Kingdom of Mustang Trek starts from Kathmandu with a drive to Pokhara. Then take a flight to Jomsom and hike up to Kagbeni. Present the special permit at Kagbeni and proceed to Chele. Once you reach Lo Manthang, you can explore the surrounding areas on horseback. Then we descend back to Jomsom, Pokhara, and Kathmandu and end the trip. The entire trek is a fantastic combination of the unique culture in Nepal and natural landscapes with panoramic views of Nilgiri, Annapurna, Machhapuchhre, and Dhaulagiri Mountain.
Once known as the Forbidden Kingdom is now changing due to the construction of a new road over the old Trade route to Tibet. Trekking to the upper Mustang region goes over the newly constructed road for at least part of the journey to Lo Manthang. Yet, the forbidden kingdom retains its old charm due to its topography, ecological diversity, ancient caves, monasteries, and desert-like landscape. Visiting Upper Mustang even today gives the feeling that you have stepped back in time.
Outline Itinerary
Day 1: Arrive in Kathmandu(1350m).
Day 2: In Kathmandu.
Day 3: Drive Kathmandu to Pokhara(820m/6hrs).
Day 4: Fly to Jomsom(20m) & trek to Kagbeni(2,804m/3-4hrs).
Day 5: Kagbeni to Chele(3050m/5-6hrs).
Day 6: Chele to Syangbochen(3475m/6-7hrs).
Day 7: Syangbochen to Ghami(3520m/5-6hrs).
Day 8: Ghami to Charang(3560m/4-5hrs).
Day 9: Charang to Lo-Manthang(3800m/5-6hrs).
Day 10: Explore Lo-Manthang.
Day 11: Lo-Manthang to Dhakmar(3810m/6-7hrs).
Day 12: Dhakmar to Ghiling(3570m/5-6hrs).
Day 13: Ghiling to Chhuksang(2980m/5-6hrs).
Day 14: Chhuksang to Jomsom(2743m/6-7hrs).
Day 15: Fly to Pokhara.
Day 16: Drive to Kathmandu.
Day 17: Departure.
Trip Highlights
Explore the UNESCO world heritage sites in Kathmandu.
Experience a stunning trek in the trans-Himalayan region of Nepal.
Enjoy the warm hospitality of the Thakali people and their culture.
Observe the mixed Tibetan Buddhism and Bon culture in the Upper Mustang region.
Explore the Lo-Manthang mountain area, primitive Tibetan influence village culture, ancient monasteries, and cave hermitages.
Enjoy the spectacular scenery of the alpine forest and red mud mountain.
Explore the walled city of Mustang to observe King's Palace, many monasteries, and Himalayan ranges.
Detailed Itinerary
Expand All
Day 1:
Arrival in Kathmandu
The Forbidden Kingdom of Upper Mustang Trek starts with arrival in Kathmandu, meet greet, and transfer to the hotel. Today afternoon, you may stroll around the ancient traditional local markets of Asan, Indra Chowk, and Thamel, the center of tourist activity. There will be a welcome dinner in a typical Nepali restaurant with cultural performances. Overnight in Kathmandu.
MEALS:
Altitude:
1350 m
After breakfast, a sightseeing tour covering Kathmandu Durbar Square, Swambhunath Stupa, and Boudhanath Stupa. Kathmandu Durbar Square presents various arts and crafts from the 16 to 18th centuries. Next, drive north of Kathmandu and visit the Swayambhunath Stupa. The Swayambhunath stupa provides a panoramic view of Kathmandu Valley. Next, we will visit the Boudanath Stupa, the oldest stupa in Nepal. In the evening, there will be a short discussion regarding the trek. Overnight in Kathmandu.
MEALS:
Duration:
6-7 hrs
After breakfast, we shall drive to Pokhara (208 km/6-7 hrs) via the Prithvi Highway. The highway follows a series of deep river valleys, passing ancient villages and arrive Pokhara in the afternoon. Check into the hotel and rest for a while. In the evening, take a stroll around the popular lakeside area. Overnight in Pokhara.
MEALS:
Altitude:
822 m
Duration:
6-7 hrs
Day 4:
Fly to Jomsom-Trek to Kagbeni
After breakfast, transfer to the airport for your early morning flight to Jomsom. It is a scenic adventure of 20 minutes that will take you over the Annapurna and Dhaulagiri mountains. On arriving at Jomsom, we start our trek toward Kagbeni. Kagbeni is a fascinating windswept village on the banks of the Kali Gandaki River. Kagbeni is also the entry point to the Upper Mustang region. Overnight in Kagbeni.
MEALS:
Altitude:
2804 m
Duration:
3-4 hrs

Village Lodge/Tea House
Our forbidden kingdom of the Upper Mustang trek starts with the special permit check at Kagbeni. We start early as the weather becomes windy and dusty in the afternoon. The trail passes the Hamlet of Tangbe(3060m) with the picturesque scenic field view of barley, wheat, and apple farms. The path further descends gradually to the riverbed, well-known for its fossils. The broad valley terminates abruptly at an upward rock. Then we traverse a bridge over the Kali Gandaki River, which flows via the natural tunnel in the cliff. The valley narrows further north. A steep trail leads us to a small pleasant hamlet of Chele with a magnificent view of the Himalayan ranges. Overnight in Chele.
MEALS:
Altitude:
3050 m
Duration:
5-6 hrs

Village Lodge/Tea House
Day 6:
Trek to Syangbochen
We start trekking a bit early as the afternoon will be windy. The trail goes past Eklo Bhatti and Taklam La Pass (3624m) with views of Tilicho Peak, Yakawa Kang, and Damodar Danda, through a forest of small trees and green hinterlands, which can persist in the narrow gorge because the high perpendicular walls that keep them moist. Overnight in Syangbochen.
MEALS:
Altitude:
3475 m
Duration:
6-7 hrs

Village Lodge/Tea House
After early breakfast, we trek from Syangbochen to Ghami. The trail goes uphill to the Yamada La (3,850m) – past a few teahouses, Chortens, and local villages with Tibetan-style houses with open Varanda. We then cross a mountain pass and an avenue of poplar trees and fields of Barley, then descends steadily towards the Ghami La pass with the view of a rundown, deserted village downstream. A broad valley appears to the left-hand side, and in its center is Ghami, the third-largest town in the Mustang district. Overnight in Ghami.
MEALS:
Altitude:
3520 m
Duration:
5-6 hrs

Village Lodge/Tea House
The trek from Ghami to Charang takes about 4-5 hours. After crossing the Ghami Khola, the trail goes past a sacred stone mani wall – made by the Buddhist followers. The trail heads east towards the village of Charang with a maze of fields, a white Dzong, Ghar- Gompa, and Red Gompa. Overnight in Charang.
MEALS:
Altitude:
3560 m
Duration:
4-5 hrs

Village Lodge/Tea House
Day 9:
Trek to Lo Manthang
Today we trek to Lo-Manthang with a magnificent view of Nilgiri, Tilicho, Bhrikuti Peak, and Annapurna. The trail descends to Charang Chu Canyon and then ascends after crossing the river. You can see the Lo-Manthang valley and enjoy the spectacular, magnificent views of the walled city near the Tibetan Border. Overnight in Lomanthang
MEALS:
Altitude:
3800 m
Duration:
5-6 hrs

Village Lodge/Tea House
Day 10:
Explore Lo Manthang
Enjoy exploring the surrounding areas of Lo-Manthang. Visit Tingkhar and Namgyal Gompa. Namgyal Gompa serves as an important monastery in the local community. After visiting Namgyal Gompa continue to Tingkhar, the last main village to the northwest of Lo-Manthang, and stroll back to the hotel. Here, you have another option to visit the main attraction of this town, the Tall Champa Lakhang(God House), the red Thugchen Gompa, Chyodi Gompa, and the four-story building of the Royal Palace. And also enjoy the surrounding panoramic views of the Trans-Himalaya Mountain region. Overnight in Lo- Mangthang
There is an option to explore Lo Manthang on horseback that will cost you extra if you are interested.
MEALS:
Altitude:
3800 m

Village Lodge/Tea House
Our last destination is Lo-Manthang mountain village and surrounding places. After exploring Lo-Manthang, we return via Dhakmar. We return taking a slightly different route via Ghyakar. We will explore the local area and more than 1200 years old Ghar Gompa with Guru Rinpoche as the main deity. The Gompa is also famous for its rock paintings. Overnight in Dhakmar.
MEALS:
Altitude:
3810 m
Duration:
6-7 hrs

Village Lodge/Tea House
Start our trek early in the morning as the weather will be dusty and windy in the afternoon. We will explore Ghiling to observe the culture, heritage, and lifestyle.  Overnight in Ghiling.
MEALS:
Altitude:
3570 m
Duration:
5-6 hrs

village Lodge/Tea House
Day 13:
Trek to Chhuksang
Trek from Ghiling to Chuksang will take about 5- 6 hours. We enjoy the spectacular view of the Himalayas along the way. Relish the last hours in this remote and unique area before the sun sets over Chhuksang. Overnight in Chhuksang.
MEALS:
Altitude:
2980 m
Duration:
5-6 hrs

Village Lodge/Tea House
Today is the last day of the trek. After an early breakfast, we begin through a rocky trail until Tangbe, then continue along the bank of the Kaligandaki River until we reach Kagbeni for lunch. After lunch, we continue our journey to Jomsom. Overnight in Jomsom.
MEALS:
Altitude:
2473 m
Duration:
6-7 hrs

Village Lodge/Tea House
Take the early morning flight to Pokhara. On arrival, check in to your hotel. Rest and relax for a couple of hours. Stroll around the Phewa Lake, enjoy a boat ride, and visit the Tal Barahi temple. Overnight in Pokhara.
MEALS:
Altitude:
822 m
Duration:
20 minutes
Day 16:
Drive to Kathmandu
After an early breakfast drive to Kathmandu. Upon arrival in Kathmandu, transfer to the hotel, and the rest of the day is free. Overnight in Kathmandu.
MEALS:
Altitude:
1350 m
Transfer to the airport for your departure flight.
MEALS:
Altitude:
1350 m
Whats Included/Excluded
Included
All airport transfer and sightseeing by private vehicle.
Transfer from Kathmandu-Pokhara-Kathmandu in a tourist coach.
Accommodation in 3-4* category hotels in Kathmandu and Pokhara.
Accommodation in trekkers lodge/tea house along the way during the trek.
Only breakfast in Kathmandu and Pokhara while all meals are included during the trek.
One welcome dinner with typical Nepali cultural show
Sightseeing as per itinerary with entrance fees
Round trip domestic flight: Pokhara-Jomsom-Pokhara.
English-speaking trekking guide with porter(one porter for every two members).
A comprehensive medical first aid kit box
All necessary paper work and permits (ACAP/RAP).
Not included
Nepal Visa fee.
International airfare to and from Kathmandu.
Excess baggage charges.
Meals other than those listed (lunch and dinner in Kathmandu & Pokhara are not included).
Battery charge, extra porters, mineral water or boiled water & hot shower.
Personal expenses. (Tips, Laundry, Telephone, bar, beverages).
Travel & rescue Insurance.
Extra night accommodation in Kathmandu and Pokhara in case of early arrival, late departure, and early return from the trekking (due to any reason) than the scheduled itinerary
All other personal expenses not listed in the included section
Cost Information
Tier priced (per person in US$) based on the number of participants and type of hotels.
8 members = US$ 1870 per person
6 members = US$ 1950 per person
4 members = US$ 2050 per person
2 members = US$ 2225 per person
Single room supplement =US$ 220
Using 4 Star Deluxe Hotel in Kathmandu/Pokhara.
Single person cost includes single-room supplements
To offer the lowest possible cost, our trips are tier priced according to the number of members on the trip. Costs are based on double occupancy. If you wish to have a single room, you must pay the single supplement fee. If you are willing to share accommodations, we will match you with a roommate if one is available. If we cannot match you with a roommate, the single supplement will apply.  
Guides
Nepal Visa
If you are traveling to Nepal, you require a visa to enter the country. All foreign nationals (except Indian Nationals) require a visa to enter Nepal. An on-arrival tourist visa is available at the Tribhuvan International Airport in Kathmandu. The Department of Immigration at the Tribhuvan International Airport provides on-arrival tourist visas. The visa application fee is US$ 30/50/125 for 15/30/90 days.
An on-arrival visa is the quickest way to receive an entry visa, but sometimes during peak season, you might have to wait in long queues. To avoid this, you can also apply for a tourist visa before you arrive from Nepalese Diplomatic Missions abroad. After you receive the Visa: you must enter Nepal within six months from the issue date. Your stay in Nepal begins from the day you arrive in Nepal.
Trekking Gear
The following lists are the essential trekking gear recommended for trekking in Nepal. Several shops are selling trekking clothes and other pieces of equipment in Kathmandu. You can easily buy the required equipment and clothing at a very convenient price.
Thermal tops.
Fleece jacket/pullover.
Windcheater – waterproof shell jacket.
Down jacket.
Comfortable Fleece/wool trousers.
Trekking pants(at least two pairs).
Mittens/woolen gloves.
Warm Hiking socks.
Standard hiking boots.
Pair of flip-flops.
Underwears.
Cotton trousers/t-shirts.
Sun hat/scarf.
Sunglasses.
Trekking poles.
Day pack.
1 set- Headlamp(flash light).
Water bottle.
Water purification tablets.
Wash towel.
Toiletries include (wet tissue, quick-drying towel, toilet paper, sanitary pads, moisturizers, lip balms, sunscreens, sanitary pads, hand sanitizer, nail clipper, small mirror, toothpaste, and brush).
Basic personal first aid kit.
Health & Safety
Nepal is home to the eight highest mountains on earth and some of the most beautiful landscapes ranging from the plains to the High Himalayan ranges. Nepal offers an array of trekking trails, ranging from short relaxed hikes to challenging weeklong treks over high passes. Trekking in Nepal is a dream of every adventure traveler around the world. But the foremost thing while trekking is your health and safety. It is always wiser to be safer than sorry.
Below are a few tips that can help you plan a trek in Nepal:
Beginning your trek early will help you to cover more distance and provide more time to enjoy the views.
Since it is cold in the Himalayas, it is wise to layer yourself with extra clothing to keep warm.
Drink plenty of water to keep you hydrated throughout the trek.
Do not travel alone while trekking in the Himalayas. Always take the service of an experienced trekking Guide.
Do not ascend too quickly. Taking proper rest will help your body acclimatize to the environment.
Always carry a first aid kit to take care of minor injuries. Carry a water-purifying tablet(iodine/chlorine based), sunscreen lotion, and Diamox tablet for high altitude sickness.
Do not ascend further if you show signs of AMS, HACE, or HAPE. Stay at the same altitude or descend until the condition becomes stable.
The weather in the mountains is unpredictable. Check the weather conditions before beginning your trek.
Get travel insurance covering rescue and helicopter evacuation in case of emergency.
Always remain at the side of the mountain when you encounter mule and yak trains and let them pass first to avoid any unprecedented accident.
Alcoholic beverages will dehydrate you and increase the risk of altitude sickness, so prohibit using alcoholic drinks on the trek.
If you are a patient with anemia, pulmonary hypertension, obesity, and Congenital Heart difficulty, do not risk the trip.