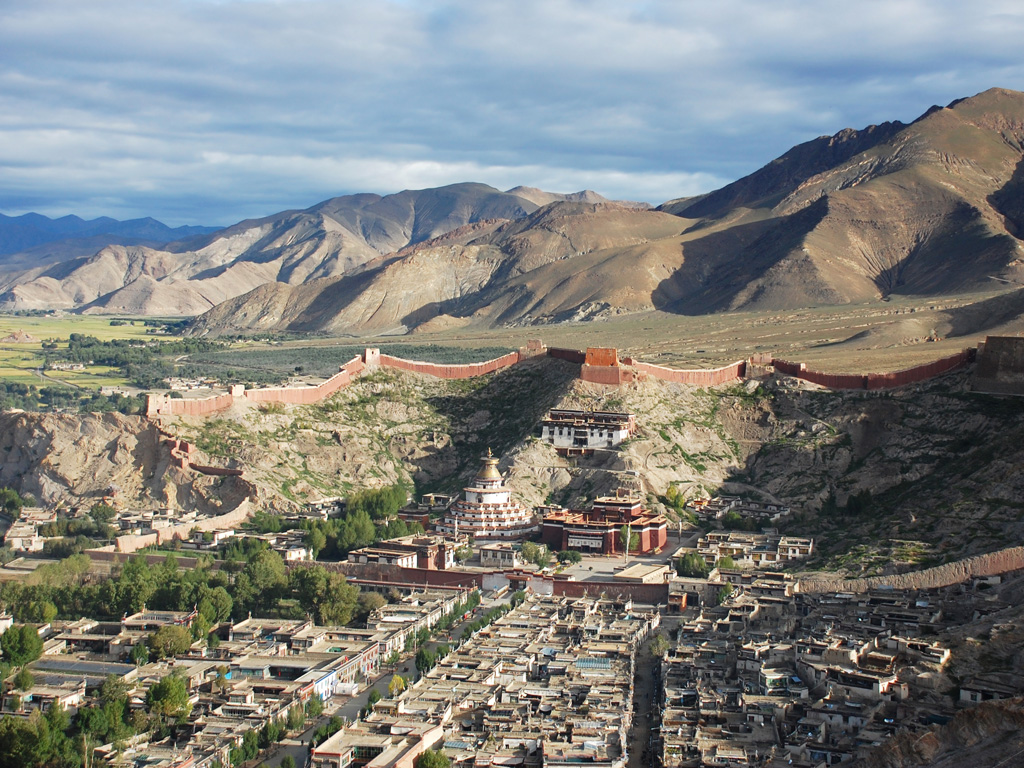 Gyantse Horse Racing Festival Tour
An opportunity to witness Tibetan festival and culture.
8 Days
Culture Tours
Festival Tours
This trip highlights two of the major festivals of Tibet, along with other traditional sightseeing. We will fly into Lhasa, the capital city of Tibet, where we will visit its highlights such as palaces of Dalai Lamas and major Gelugpa monasteries of Drepung and Sera. From Lhasa, we drive, following the bank of Yarlungdzangbo River (The Northern Friendship Highway) to Shigatse-Tibets second largest city where we will visit Tashilunbo Monastery and attend the Budha Unfolding Celebration. In this festival, immense silk appliqu Koku banners of Tusum Sangye, the Buddhas of the Three Times: (Opame-Amitabha Buddha, Shakyamuni Buddha and Gyelwa Jampa-the Maitryaa or Future Buddha) are displayed on three consecutive days at Tashi Lhunpo. Cham dances are performed in the monasterys lower courtyard. Lamas chant scriptures and prayers for rain and prosperity.

From Shigatse, we head east towards Gyantse, the third largest city of Tibet, Lhasa and Shigatse being the largest and second largest respectively, where we attend the Horse Racing Festival. Horse race and archery are popular events in Tibet, and Gyantse enjoys the prestige of being the earliest in history to start this festival in 1408. Contests in early times included horserace, archery, and Shooting on gallop followed by a few days' entertainment or picnicking. Presently, ball games, track and field events, folk songs and dances, barter trade are in addition to the above.

From Gyantse, we drive along Southern Friendship Highway, along the banks of beautiful Yamdrok Tso Lake towards Tsedang-the gateway to the ancient Yarlung Valley Civilization. The drive involves motoring over two high passes that rewards us with spectacular views of the Himalayas, the Tibetan plateau and the lake.
With base in Tsedang, we visit the Samye Monastery-the first Buddhist Monastery of Tibet, ruins of Yambulakhang Palace-the first building of Tibet, the ancient Tradruk Temple and also take excursion of Chongye Valley where we will see the tombs of ancient Tibetan Kings. The trip concludes in Tsedang and you will be transferred to Lhasa airport for your flight to next destination.
In this trip, we will enjoy nature as well as religion and culture. We will see the white snow-peaks of the Himalayas, high barren Tibetan plateau, beautiful lake, temples and monasteries and attend the festivals with local Tibetans. We will have often opportunity to meet the locals and interact with them and peek into their lifestyles.
Outline Itinerary
Day 1: Arrival in Lhasa (D)
Upon arrival at Lhasa airport, we are met by your Tibetan Guide and driver and transferred to hotel in Lhasa City (1hr). Today, we take rest for acclimatization.
Overnight in Lhasa, Shambala Hotel.
Day 2: In Lhasa (B)
Full day sightseeing of Drepung Monastery and Sera Monastery.
Overnight in Lhasa, Shambala Hotel.
Day 3: In Lhasa (B)
Full day sightseeing of Potala Palace, Norbulingkha Monastery, Jorkhang Temple, Mentsekhang and Barkhor Street.
Overnight in Lhasa, Shambala Hotel.
Day 4: Drive to Shigatse (B) (5 hrs)
We follow the Northern Friendship Highway to Shigatse. Upon arrival, check in hotel and attend Buddha Unfolding Festival. From here on we are escorted to Tashilunbo Monastery to attend the festival.
Overnight in Shigatse, Hotel Manasarovar.
Day 5: In Shigatse (B)
We have a whole day here to attend the Buddha Unfolding Festival. Optional trips can be arranged if you do not want to be in the festival ground for all day.
Overnight in Shigatse, Hotel Manasarovar.
Day 6: Drive to Gyantse (B)
Attend the festival in the morning and afternoon, drive to Gyantse. About 13 miles from Gyantse, visit Shalu Monastery . We retrace drive to the Highway and continue to Gyantse-the least Chinese cities of Tibet.
Overnight in Gyantse, Gyantse Hotel.
Day 7: Drive to Tsedang (B)
Continue our drive through Southern Friendship Highway towards east. We drive along the bank of beautiful Yamdrok Tso Lake and enjoy the spectacular views of the Himalayas from the high passes of Karo La and Kamba Las. At Chusur, the road forks and the left branch go towards Lhasa while we continue on the right towards Tsedang.
Overnight in Tsedang, Yulong Holiday Hotel.
Day 8: Depart (B)
We are transferred to the airport for flight to our next destination.
Trip Highlights
Buddha Unfolding Festival of Shigatse and Horse Racing Festival of Gyantse.
Dalai Lama's palaces and major monasteries of central Tibet
Yamdrok Tso Lake.
High passes with spectacular views of the snow peaked mountains of the Himalayas.
Whats Included/Excluded
Included
All accommodation in standard hotel with 1 twin sharing room basis and breakfast inside hotel.
1 welcome dinner with Tibetan performance upon arrival in Lhasa.
All transportations in Tibet by tourist standard vehicle
English speaking Tibetan guide.
Entrance fees for sightseeing in Tibet.
All necessary Tibet Permits.
Not included
•    Accommodation and services in gateway cities Beijing,Chengdu,Bangkok,Kathmandu.
•    Airfares to Lhasa and return.
•    Lunch and dinner.
•    Expenses of personal nature such as drinks, tip, laundry, phone etc.
•    Extra expenses due to nature and unforeseen events.
•    Travel insurance and emergency medical evacuation expenses.
•    International airfares.
Cost Information
Tier priced (starts from US$ 1200 per person) based on number of participants and type of hotels.
Cost Information On request
Guides