Bhutan Birding Tour – across the kingdom
16 Days
Bhutan Birding Tour
Trip Grade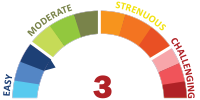 Trip Price From US$ 3015 | See Details
Trip Accommodation6 nights camping. Rest in hotels. The included hotels are best available standard tourist catagory hotels. They are comparable to three star in most cases with exception of those in Trashigang and S See Details
Group SizePrivate with your own group
MealsAll meals in Bhutan.
Trip TypeBirding Tour
Trip SeasonsBest from late Feb till May and from October till Nov. Can be done for most part of the year.
Best MonthsMarch, April, October, November
Good MonthsJanuary, February, May, December
Lean MonthsJune, July, August, September
Trip highlights
Birding, wildlife, nature & culture
Bhutan has now opened its doors to visitors allowing us to travel through magnificent scenery with mighty Himalayan peaks towering in the distance, the mountain kingdom of Bhutan is unlike any other destination in the world.
The great mountain passes with fluttering prayer flags give way to vast countrysides often dominated by massive dzongs (temple-fortresses) serving as a central place of worship for the Buddhist religion that characterizes the country.
We will have an opportunity to visit several of these dzongs, admire its traditional construction techniques and impressive artwork. Beginning in the west and we travel across the breadth of this remarkable country, on the only road traversing the country.
The birds and mammals are extravagant with a brilliant array of colors and seldom seen rarities including species that are unlikely to be seen outside of this pristine Kingdom including Himalayan Monal, Satyr Tragopan, Ward's Trogon, Rufous-necked Hornbill, Beautiful Nuthatch, Golden Langur, Yellow-throated Marten and Serow.
As there are still very few hotels in Bhutan, our travels necessitate several nights of camping and many picnics. All this will be taken care of by our excellent ground crew. The experience is not only very comfortable, it also enable us to camp right at the spot of some of the best birding locations in the country.
Join us on this adventure through a paradise of culture, mammals, birds and scenic vistas as we explore the heavenly riches of Bhutan before it opens up to the general Public!
Outline Itinerary
Day 1: Arrive Paro (L/D) Upon arrival in Paro airport, meet your guide and driver and transfer to the hotel nearby. After lunch birding along the riverbank of Paro Chu where we may see Ibis bill. They are found in this area throughout the year. Continue following Paro River towards Drukgyel Dzong, where we may find Black faced laughing thrush, brown dipper, spotted laughingthrush, Fire capped Tit, etc.
Overnight in hotel.
Day 2: Paro-Thimphu (B/L/D) Morning drive to Chele La Pass (3950M), which is about one and half hour – birding in mixed coniferous areas. It's quite popular for spotting Kalij pheasant, Blood Pheasant, Himalayan monal, Satyr Tragopan etc. Later drive to Thimphu for little more than an hour. En-route you may see many Cormorants along the riverbanks.
Option: If you wish, you can visit Takstang by a day hike instead of above. Along the way to Takstang, you will also see some birds.
Overnight in hotel.
Day 3: Thimphu-Punakha(Tashithang) (B/L/D) In the morning, we drive up to spectacular Dochu La (3100M) with panoramic views of snowcapped peaks of eastern Himalayas. Explore mixed coniferous forests, rich and diverse in vegetation. In this area we may see Satyr Tragopan, Spotted Nutcracker, Large Hawk Cuckoo, Darjeeling Woodpecker, Yellow billed Magpie, Chestnut Tailed Minla, Collard Blackbird, Ultramarine Flycatcher, Brown Bullfinch, etc. In the afternoon, do some birding in upper Punakha valley. Punakha and Wangdue valley enjoys sub-tropical climate, with Punatsangchu river comprising of Phochu and Mochu rivers running through it. Tonight we will camp in the dense forest along the bank of Mochu river in upper Punakha.
Overnight in Camping (tent).
Day 4: Punakha (B/L/D) This morning, we will do birding in warm broad-leaved forest following the swift Mo Chu River. Here we will search for the localized White-bellied Heron, Great Barbet, Barred Cuckoo Dove, Magpie Robin, Green Magpie, Pallas's Fish Eagle, Osprey, River Lapwing, Ruddy Shelduck, Eurasian Wigeon, Common Merganser, Pied Kingfisher, Red-vented Bulbul, etc.
Tonight spend the night in a hotel near Wangdue.
Day 5: Wangdue-Trongsa (B/L/D) (140Km) Drive to Trongsa through warm/cold broad-leaved forests. We will be crossing the Black Mountains range called as Pele La at 3400 meters . Some of the birds we will be looking out for are Scarlet Finch, Black Drongo, Chestnut bellied Nuthatch, Slaty backed Forktail, Gorgeted Flycatcher, White throated Laughingthrush, Eurasian Jay, Wedge Tailed Green Pigeon, Mountain Imperial Pigeon, Verditer Flycatcher, etc. Along the way, we may also take a excursion to Phobjikha valley during the period, when black-necked cranes are around.
Overnight in hotel.
Day 6: Trongsa-Shemgang-Tingtibi (B/L/D) (130 KM ) Located in central Bhutan, Trongsa is the site of one of the most magnificent Dzongs (Fortress) in the entire kingdom. Drive south and do some birding in Yeshi Zam, which is probably one of the best place for spotting Yellow-rumped honey guide. Along the way, we also look for Birds in cold broad-leaved forests. Beautiful Nuthatch are often seen about 5km from Shemgang.
Overnight camping in lovely campsite near Tingtibi.
Day 7: Shemgang /Tingtibi (B/L/D) In the morning, drive on Gongphu road. We do Birding in these rarely visited warm broad-leaved forests, where we might find such goodies as Ggolden langur, Yellow-throated martin, Giant squirrel etc. birds – Rufous-necked Hornbill, Blue throated bee-eater,Collared Falconet, Maroon Oriole, Racket tailed Drongo, Red headed Trogon, Grey Treepie, Grey Nightjar, Hill Prinia, Asian Emerald Cuckoo etc.
Overnight in Camping.
Day 8: Shemgang-Trongsa (B/L/D) ( 190 KM ) Retrace our drive back to Trongsa, birding along the way. Visit Trongsa Dzong, the largest in Bhutan and built in 1647 which houses the local administration and the Monastic body. Then visit Ta Dzong, an ancient watchtower that is converted to rich museum dedicated to the monarchs of Bhutan.
Overnight in hotel.
Day 9: Trongsa-Jakar (B/L/D) Drive to Bumthang, which takes about three-hours across Yotong La pass (3450M). On the way stop at Chume weaving centre, typical woolen product from Bumthang valley. En-route birding along in bamboo and coniferous forests. You may see Great Parrotbill, Fulvous Parrotbill, Black billed Magpie, Red billed Chough, Eurasian Hobby, White-winged Grosbeak, etc. Red Panda is sighted frequently along this road.
Overnight in hotel.
Day 10: Jakar-Yonkola (B/L/D) Today we have another spectacular drive to eastern Bhutan across Thrumshingla pass with ever changing landscape and vegetation as we drive past Thrumshingla National Park. Along the way, may see Beautiful Rosefinch, Gold-naped Finch, little Forktail, White capped Redstart, Chestnut bellied Rock Thrush, Coal Tit, Green-tailed Sunbird, Longtailed Minivet, etc. We also have good chances to come across Red Panda in dense bamboo forests between Ura and Thrumshing La.
Overnight in Camping.
Day 11: Yonkola (B/L/D) In the morning, return to Namling for birding in cold broad-leaved forests. These areas possess best-unexplored forest in Bhutan. You may see Ward's Trogon, Satyr Tragopan, Grey chinned Minivet, Chestnut breasted Partridge, Striated Laughingthrush, Rufous-necked Hornbill.
Namling is considered one of the best birding in the entire Kingdom and bird lovers can spend weeks here.
Overnight in Camping.
Day 12: Yonkola-Mongar (B/L/D) Along the way to Mongar, in the subtropical forests of Lingmithang, we may see the Blue throated bee-eater, Maroon Oriole, Racket tailed Drongo, Red headed Trogon, Grey Treepie, Grey Nightjar, Hill Prinia, Asian Emerald Cuckoo, etc. In the evening stroll around the township of Mongar.
Overnight in hotel.
Day 13: Mongar-Trashigang (B/L/D) Along the way, we spend time birding, especially in the area between Korila pass and Ngatsang village. We also take a short excursion along the feeder-road for birding opportunities in Korila area. In the evening, stroll around Trashigang township and may be even visit its Dzong.
Overnight in simple hotel.
Day 14: Trashigang -Morong (B/L/D) Making our way south on a road that clings tightly to the cliff face, we will pass through amazing rhododendron forests and breathtaking scenery on a clear day, with a high probability of seeing rare birds like Beautiful Nuthatch, Rufous-Necked Hornbill and Sultan Tit.
Overnight in camping.
Day 15: Morong-Samdrup Jongkha (B/L/D) Continuing south into the warmer foothills, we have high probability of seeing rare birds such as Violet Cuckoo, Blyth's Kingfisher and Dark rumped Swift.
Overnight in hotel.
Day 16: Samdrup Jongkhar-Guwahati(India)(B) Today we will bid farewell to the richess of Bhutan and drive to Guwahati – about three hours. As you travel through Assam, we are likely to come across small bazaars that cater to villagers. These are fascinating sight to villagers coming to buy /sell produce and daily needs.
End of services or Extension tour to Arunachal Pardesh. From Guwahati, you can fly back to Delhi/Kolkata/Bagdoga and connect with flight home from there or arrange interesting North East Tour.