Bhutan Festival & Sikkim Tour
17 Days
Sikkim Darjeeling Tour with Festival in Bhutan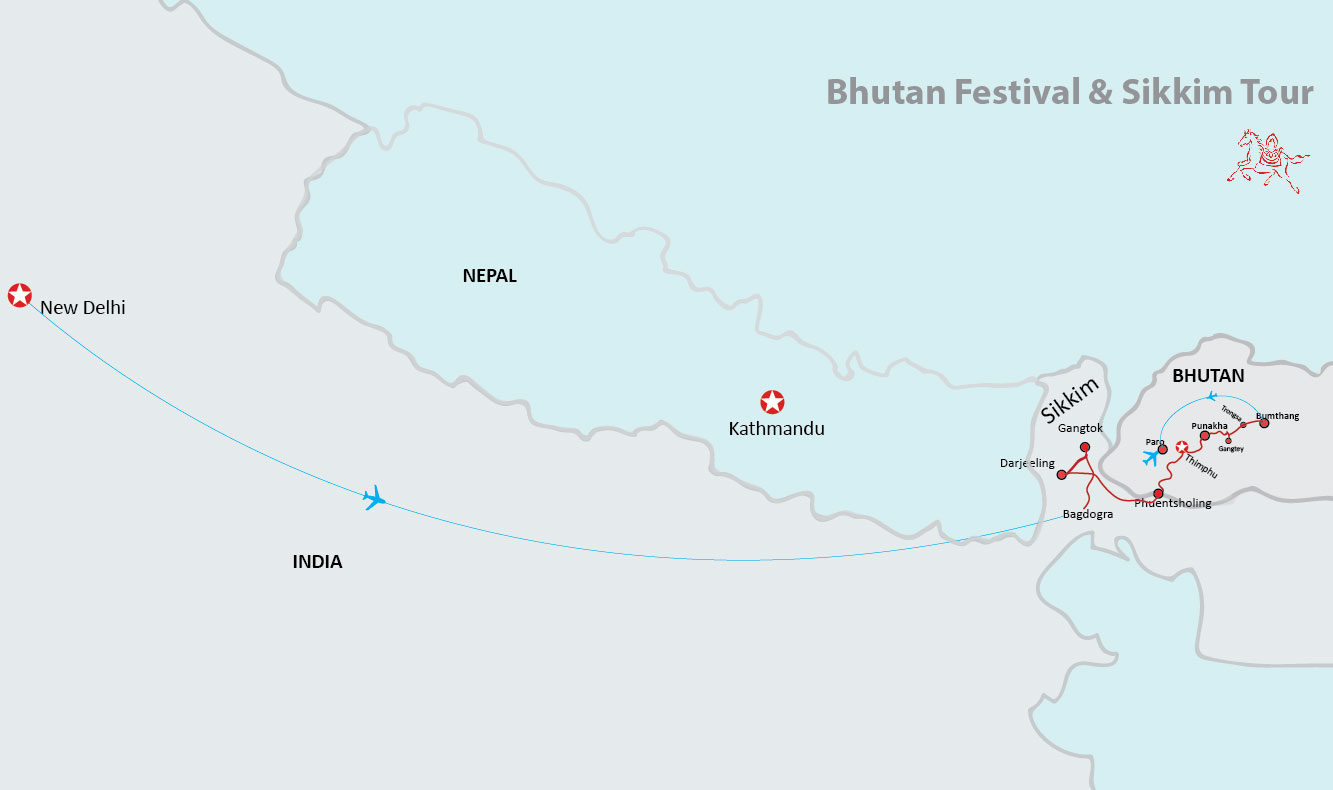 Trip Grade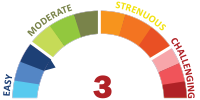 Trip Price From US$ 3800 | See Details
Group Size Max. 9
MealsAll meals (except in Delhi, where only breakfast is included)
RouteDelhi, Bagdogra, Gangtok, Darjeeling, Phuntsholing, Thimphu, Punakha, Gangtey, Bumthang and Paro

Trip TypeCultural Tour
Best MonthsMarch, April, October, November
Good MonthsJanuary, February, May, September, December
Lean MonthsJune, July, August
Trip highlights
Famous hill stations of Sikkim and Darjeeling
Tea plantations
Absorb diverse Buddhist traditions
Journey between India and Bhutan to appreciate the natural and cultural diversities
Wander in bazaars, villages and towns
Meet monks, nuns, farmers, and children and interact with them
Join-in the celebration of colorful festival or two
Try out local foods
Hike to famous Tiger's nest Monastery
Enjoy spectacular views of snow capped Himalayas from several locations on this trip
Bhutan Festival and Sikkim is a journey of Geographical and cultural contrasts, as you travel from rich mixture of ecosystems ranging from sub-tropical to the high mountain ranges, and across unique cultures and traditions. Join us on this life-changing journey that begins in the Indian state of Sikkim, where you'll explore mountain monasteries, sip tea beneath the Himalayan peaks at the Raj-era hill hotel in Darjeeling, then cross the vast plains of Dooars to the magical Kingdom of Bhutan.
Amid verdant valleys dotted with historic fortresses and shrines, delve into Bhutan's rich culture, discovering how happiness is woven into the fabric of everyday life. As you travel into the heart of Kingdom's Bumthang district, meet with monks, nuns, farmers, children and artisans. Explore villages, historic monuments and sacred sights. On this trip, we also join in the celebration of one or more than one Tsechus, an extremely colorful local festival where local community come together to witness religious mask dances, receive blessings and socialize.
Wind Horse has been operating this tour for last 10 years with small modification each year. In the past, we used to start the tour in Bhutan, but this year, we are starting the tour from Sikkim. We have also have added a flight from Bumthang to Paro, in order to cope with changing road conditions.
Outline Itinerary
Day 1: Arrive in Delhi
Meet and transfer to the hotel in Aero city. Free to pursue your own interests.
Day 2 & 3: Gangtok, Sikkim
Meet the group during the breakfast. Transfer to the airport in time for morning flight to Bagdogra airport, near Siliguri. Meet our local Guide and drive to Gangtok, where you spend two nights.  Visit monasteries, view points, Flower Exhibits,  local market and other attractions (sme places will be covered on foot). Overnights in a hotel.
Day 4 & 5: In Darjeeling 
Explore the queen of the hills, spread over the ridges, surrounded by emerald-green tea plantations and towered over by majestic Khangchendzonga. Spend two nights in a comfortable Raj-era hotel.
Day 6 : Phuentsholing, Bhutan 
En-route to Phuentsholing, we have an opportunity to meet the natives of Dooars working in Tea Estates. Immigration formalities and enter the Bhutanese frontier town.
Day 7 & 8: Thimphu, the capital of Bhutan
Journey up the hills, through changing vegetation, past villages and waterfalls to the bucolic capital of Bhutan.
Day 9 & 10: In Punakha  /Wangdue valley
Cross the spectacular Dochula pass with the panorama of Bhutanese peaks and descend into semi-tropical valley, covered by terraced rice-fields.
Day 11: Gangtey, Phobjikha valley
Climb up to the alpine setting of Phobjikha valley (2900m), the highest night halt on your journey. For some departures, we visit Gangtey and stay in Trongsa.
Day 12 & 13: In Bumthang
Visit Trongsa Dzong, perhaps the most spectacularly sited Dzong (fortress cum monastery) in Bhutan. Then cross into Bumthang, the spiritual and cultural heartland of the Kingdom. Spend two nights in valley of buckwheat fields, apple orchards, and chalet-like houses, surrounded by pine forested hills.
Day 14, 15 & 16: In Paro valley and hike to Takstang 
This 20-min scenic flight whisks  you to Paro, avoiding long winding road back. You have one and half day to explore serene Paro valley and  a day dedicated in hike to iconic Taktsang (tigers nest) monastery.
Day 17: Departure
Transfer to the airport in time for your departure flight. You could return to Delhi or go to Kathmandu, Kolkata, Bangkok and some days even to Singapore.