Bhutan Festival & Sikkim Tour
17 Days
Attend one or more colourful festival of Bhutan with Sikkim, Darjeeling Tour
Trip Grade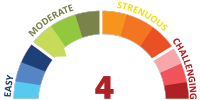 Trip Price From US$ 3250 | See Details
Trip Accommodation3-4 star type hotels in Bhutan, 4 star type hotels through-out Sikkim/Darjeeling and Delhi. See Details
Group Size Max. 8 (Min 2) (Guaranteed)
MealsAll meals in Bhutan, Sikkim & Darjeeling. Only breakfast when in Delhi. As specified in the included section and related documents.
RouteBhutan, Phuntsholing, Gangtok, Darjeeling & Delhi
Trip TypeCultural Tour
Trip SeasonsSpring Month (March - May) & Fall Months (Sept - Nov) are ideal time. Not just weather but also some prominent festival falls during this time.
Best MonthsMarch, April, October, November
Good MonthsJanuary, February, May, September, December
Lean MonthsJune, July, August
Trip highlights
One or more of the Bhutan's colourful festival.
Visit prominent Bhutan's  attraction that is part of your wish list in places of interest
Visits to villages, local market, try hand at archery, interaction with locales in Bhutan
Hike to Famous Taktsang
Exciting overland journey from Bhutan to Sikkim through Dooars
Visit landmark attractions and sights  that defines Sikkim and Darjeeling
Festival in Bhutan is the integral part of Bhutanese life. Its a celebration of their  culture, religion,  Buddhist values, most importantly life. From toddler to old and  irrespective of social strata, people in their colourful attire and joyful mood comes together. Besides the ritual of different forms of dances, religious observations in festival, on a closer look, one can find profound insights into Bhutan's age old tradition and culture. Also provide ample opportunities to interact with ever friendly locales.
In early spring, you can attend  Punakha  festival, later Dzongdrakha and Paro Festival. Fall is the time for grand Thimphu festival. Also during fall season, sometime it aligns with prominent hindu festivals in Sikkim and Darjeeling.
On this specially designed trip, you will visit at least one of the colorful festivals in Bhutan, tour it's serene countryside, visit its ancient Dzong's (fortresses), monasteries, colorful markets, villages, and meet with its friendly people. At the end of our 10-day Bhutan tour in temperate central valleys, descend through area of rain forests – waterfalls and mountainscapes, into warm sub-tropical frontier town of Phuentsholing.
Cross into India, through vast stretches of lush tea gardens, deep jungles and climb up hills to Gangtok, the capital of Sikkim. We tour this what was once an independent Buddhist Kingdom until 1974. Our final stop in this region is at the quintessential hill resort of Darjeeling, once a British sanatorium and retreat for the officer of Raj. Finally we fly to Delhi, the capital of India, from where you can extend your tour or return home. We have done this tour for over 8 consecutive years and so we can say that we have turned every stone and know every bit of what can be best done on this trip.
Outline Itinerary
Day 1 : Arrive by flight to Paro, Thimphu
Upon arrival in Paro by flight, meet and transfer to capital Thimphu, if your travel date is during fall, then Tashichho Dzong courtyard is the venue for the colourful Thimphu festival. Primary focus would be to watch different aspects of festival.  Explore festival in afternoon. Subsequently, visit weekend market, archery match in nearby ground.   Overnight in hotel.
Day 2. Full Day Thimphu Tour.
Full Day tour of Thimphu valley. Ideally, our first visit would be festival arena – explore and learn more about festival. Beside festival there are many landmark attractions and sights in Thimphu. After festival, we will pay visit to these attractions such as Giant Buddha statue, Takin Reserve, Memorial Chorten, Painting school, traditional medical institute, Changhkha Temple et al. Overnight in Thimphu.
Day 3:Thimphu – Gangtey, Phobjikha.
Drive east across spectacular Dochu La, a 10,000-foot to beautiful Phobjikha valley. The valley is one of the protected areas within Jigme Singye W National Park. Its a glacial, quaint and serene valley and also home to migratory Black Neck Cranes (Oct -March). The valley is also laced with some  beautiful day hikes.
Overnight in Phobjikha
Day 4: Gangtey – Trongsa -Jakar (Bumthang Valley)
Traverse 11,300-foot Pele La pass, and descend to Trongsa, After visiting Trongsa, continues toward Jakar in Bumthang district, across Yotong La pass. En-route visit the weavers in Chumey valley. Overnight in a hotel in Jakar.
Day 5: Full day tour of Jakar (Bumthang)
Full day tour of Bumthang (Jakar), It is rightly called as the cultural and spiritual  heartland of Bhutan as the valley is dotted with many historical edifies, sights and its pristine environ make it to wish list of most travellers.Some short walks, close by villages, village temple, small cottage industries  adds to the experience.
Overnight in the hotel, in Jakar.
Day 6 & 7: Bumthang – Wangdue/Punakha
Retrace your long drive back across Yutongla pass to Trongsa and then across Pele la pass to descend into semi-tropical Punakha – Wangdue valley. Along the way, stop in some of the villages and sights missed earlier. Next day, we have a full day tour of Punakha and Wangdue valley.
Overnights in the hotel.
Day 8: Punakha – Thimphu – Paro
Head back to Thimphu, re-crossing the magnificent Dochu La Pass. Then continue to Paro, where we spend the rest of the afternoon touring beautiful Paro valley.
Overnight in Paro.
Day 9: Paro Valley
Paro valley is one of the loveliest in Bhutan. We'll tour to see its many attractions such the Ta Dzong watchtower Museum, Rinphung Dzong, beautiful 7th century Kichu Lhakhang and also cover Dumtse Lhakhang temple, known hold some of the finest murals in the kingdom. Visit local village.
Overnight in Paro.
Day 10: Paro (Hike to Takstang)
Hike to the most famous pilgrimage site in Bhutan: Taktsang Goempa (tiger's nest) monastery. It is one of the most amazing and important pieces of architecture in Bhutan. If for some reason, some of the members wish to skip hike to Taktsang, our Guide and driver can arrange other interesting alternatives for them. You can also hire pony for the uphill part, till the view point but you must be able to walk back downhill. While some will probably not make it all the way to the monastery, but even to get to the first view point is really worth a try to experience the magic of the place. Return to Paro, where we may have more time for stroll around the town.
Overnight in Paro.
On the April trip, you will be provided an option to wake up early (at dawn) to see the unfurling of giant Thongdrol Thangka
Day 11: Phuntsholing
Six-hour drive makes twists and turns, and descends down to the warm frontier town with India. Along the way, you will pass small towns, and see great views of mountains, gorges and waterfalls. Stroll around the town.
Overnight Druk hotel or similar.
Day 12 : Drive to Gangtok (Sikkim)
Cross the border into India (visa required). Drive through the Duar Plain, passing vast tea estates. Approximately one quarter of India's tea is grown in West Bengal state. On arrival there will be time for a wander in the town, MG Marg and Lal Bazaar market.
Overnight in Gangtok.
Day 13: In Gangtok
Gangtok is a bustling, friendly hill station, and the capital of the state of Sikkim. The name Gangtok is derived from the Tibetan word for 'hillside,' and the city currently has a population of around 100,000 – a mixture of indigenous Sikkimese and people of Nepalese and Tibetan ancestry. Full day for touring local monasteries, view points, hindu temple, flower Expo, Musuem, Cottage industry workshop, showroom, orchid nursery etc.
Overnight in Gangtok.
Day 14: Gangtok – Rumtek -Darjeeling
In the morning, visit large Karmapa monastery in Rumtek, located on ridge top, opposite of Gangtok. Continue our scenic hill drive, through tea plantations to Darjeeling. We may be able to stop and visit local tea estate along the way. After enjoying high tea with views of Mt Kanchenjunga massif (weather permitting) in your British Raj style hotel, head out for stroll on Chowrasta Mall and lower market.
Overnight in Darjeeling.
Day 15: In Darjeeling
Early this morning (before dawn), you can take an optional drive to the visit Tiger Hill, for sunrise view over the Himalayan peaks. After breakfast in the hotel, we have a full day to explore Darjeeling. Visit Himalayan Mountaineering Institute, and along the same way you can visit Zoological park too. Walk downhill or transfer to the Tibetan Self Help Center. Later visit Dali Gompa and others as per available time. You will also take a short joy ride on the famous 'toy train' till Ghoom. Visit old Ghoom monastery and return to your hotel. Your guide will improvise itinerary as per your interests. If you have not seen tea-estate (factory), you can visit today! Overnight in Darjeeling.
Day 16: Delhi  Transfer to  Bagdogra airport (2 -3 hrs),  fly to Delhi.
You may choose stay longer in Darjeeling, depart for Nepal, Kolkata or other destinations after Darjeeling. Upon arrival in Delhi airport, meet and transfer to your hotel, which is located in the heart of New Delhi in Connought Place area. You may also choose to connect with your international flight back home. If are doing this, remember to keep flight after late evening – say after 8pm.
Day 17: Delhi -Departure (B) Departure transfer to the airport in time for your flight.