Bhutan Tour & Short trek
9 Days
Tour of Western Bhutan with Tsaluna Trek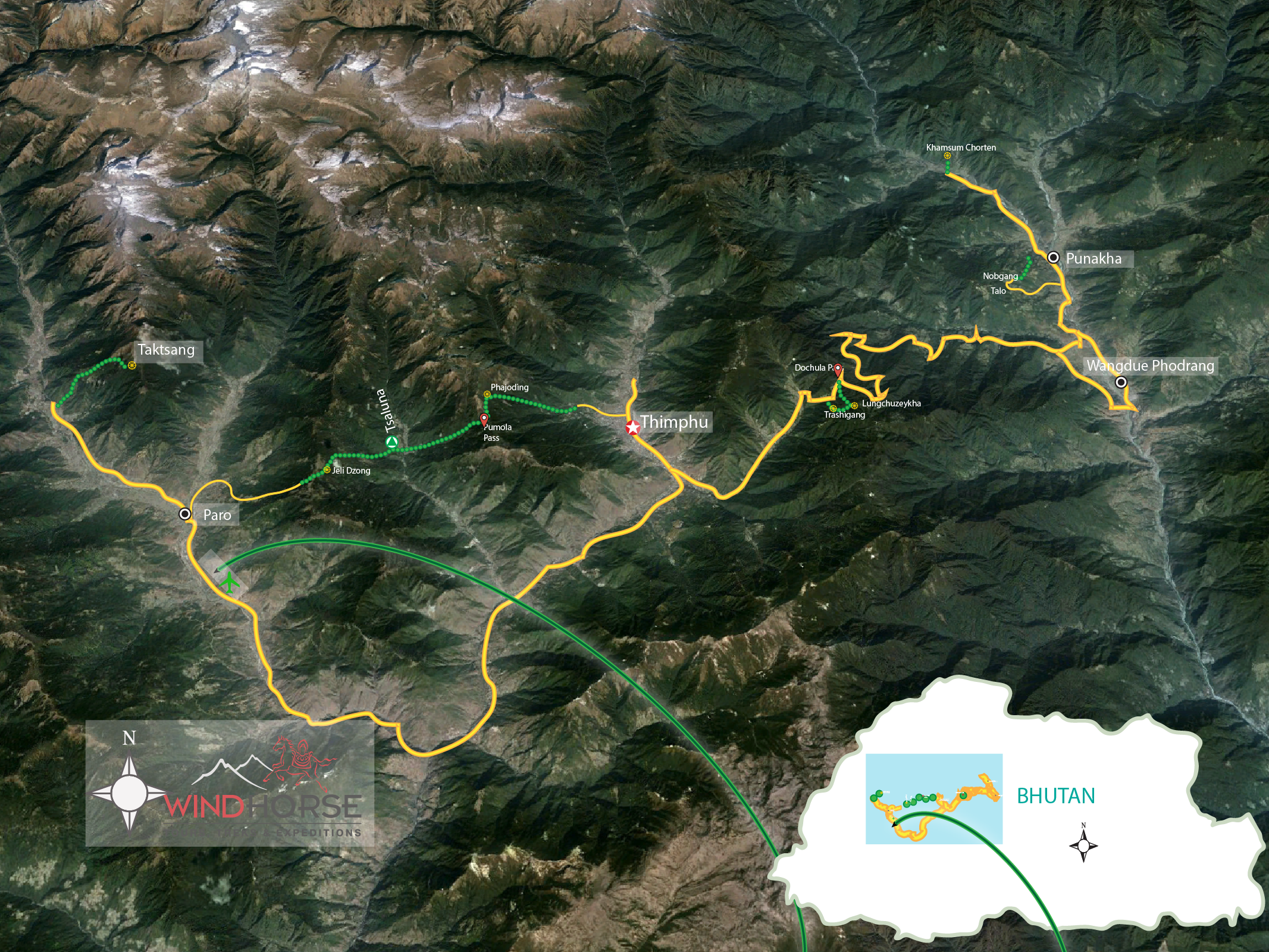 Trip Grade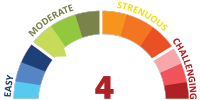 Trip AccommodationTourist Standard 2* to 3* hotel.
As for trek, state of art trekking tent along with other equipments. See Details
Group SizeAny group Size
MealsFull board - For cultural tour as well as camp meals in Trek.
RouteParo - Punakha
Punakha - Thimphu.
Trek to Phojoding - Pumola pass - Tsaluna
Trek to Jay Dikha - Jele Dzong -Paro
Trip TypeCultural & Trekking
Trip SeasonsEspecially for trek portion, December & January are not recommended as particularily enroute Jillila pass (3550 m) remain close with snow and it is very cold during these period.And also sometime it can get wet due to monsoon specifically in July and August.And as for the cultural tour it is good throughout the year.
Best MonthsMarch, April, October, November
Good MonthsFebruary, May, September
Lean MonthsJanuary, June, July, August, December
Trip highlights
This tours integrate cultural highlights of verdant valleys of Thimphu, Punakha & Paro  with trekking in western Bhutan. The trek is reverse and concise version of popular Druk Path trek. Arguably, the best platform to see Bhutan in its valley (culture) and vegetation( Trek)
Bhutan Tour & Short trek as it says is a 9-days trip that takes you on the odyssey of western Bhutan, expressing itself through its cultural delights with its sights and attractions in historical valleys of  Thimphu, Punakha & Paro and also blending with its hiking and trekking grandeur. The trekking portion marks coverage of  pristine  vegetation on foot through beautiful yet weather beaten trails, cow herder camps,  some villages and Himalayan vista.
As for the cultural aspects, Thimphu, Punakha and Paro valleys harbour some of the contemporary and conventional attractions and sights.  Civilization had flourished in these valleys for centuries. Some of the monuments inspire awe not merely for its aesthetic beauty but also  for for the state of pristineness and spirit of natural form. The trek portion is on ancient trail between Thimphu and Paro, passing through Tsaluna and Jay Dekha villages, crossing the Jele Dzong (ancient fort/tower), that kept vigil far for any invaders coming from afar.
Summing up, this trip speaks volume of the blend of both world – cultural highlights & trekking grandeur. As its cultural highlights are as soulful as its prisitine vegetation that flourishes untamely on trek. In a sense it portray a complete frameworks where the complete ethos of Bhutan is captured vividly on its canvass.
This trip examines the best of both worlds – cultural delights and trekking grandeur within the best possible time.
Outline Itinerary
Day 1 : Arrival in Paro  Upon arrival meet Wind Horse Guide and transfer to the hotel. This afternoon, as per available time, visit National Museum and Rinphung Dzong. In the evening, wander in the small, but charming Paro town. Overnight in hotel
Day 2: Paro – Punakha After breakfast drive for about 4-5hrs to Punakha/Wangdue valley. The first 1hr drive follows the Pachu river downstream and then north following the bends of Thimphu river towards Thimphu. Next, the road climbs up for about 45 minutes to Dochu-la pass (3100m). The pass provides spectacular mountain vista on a clear day and even on a misty day it is quite beautiful with 108 chortens, a beautiful temple and prayer flags fluttering across the pass. Short distance below the pass is Lamperi Natural Park. Descend downhill  through ever changing vegetation for 2hrs or so to arrive in sub-tropical Punakha-Wangdue valley. Visit Chimi Lhakhang temple dedicated to 15 century saint Drukpa Kuenley, popularly known as 'the divine madman, a folk hero and a cultural icon around whom countless yarns of facts and fiction, stories and legends have been spun.  Wander in the small township Punakha, located at Khuruthang. Overnight in hotel.
Day 3: In Punakha & Wangdue  Compared to Thimphu and Paro or valleys of central Bhutan, Punakha-Wangdue is at much lower elevation of about 1250m. Therefore it enjoys subtropical climate with warm summers and pleasant winters.
Drive north through the idyllic countryside and hike uphill for about 40 minutes through rice terraces and forests to Khamsum Yulley Namgyal Chorten. The temple is spectacularly situated temple, and we get a sweeping views of the valley below. Visit Punakha Dzong, an elaborate fortress/monastery straddling at the confluence of the Pho (male) and Mo (female) Riverthe architectural wonders of the 17th century Punakha Dzong, straddling at the confluence of Pho and Mo rivers (male & female). Its proper name is Punthang Dechenphodrang meaning 'Palace of Great Happiness'. This Dzong was once Bhutan's winter capital, the tradition that is still followed by the head monk and the monks of central monastic body.
Towards afternoon, drive up the hill to Nobgang and Talo villages. Depending on the time of the year and your interest, we can spend time visiting the villages and temple or take a nice  3-hr walk from Nobgang village towards Punakha. The walk goes gently downhill, through the fields, forests, along the ridge, passing small villages and finishes up near Punakha Dzong. Overnights hotel in Punakha.
Day 4: Punakha -Thimphu (Hike along the way) Drive from the sub-tropical Punakha valley to 10,500ft at Dochula pass in about 2.5hrs. After enjoying the spectacular panoramic views of Bhutan's snow capped peaks along the Tibet border over cuppa and snacks at Dochula, begin 2hr ridge top walk to Lungchuzekha temple/ retreat center. The trail is through rich vegetation of moss laden birch, hemlock and rhododendrons trees, with excellent views of peaks and the valleys. This trail is adopted by Wind Horse since 2009. Our guides clean and maintain this trail. Picnic at the monastery. Instead of returning to Dochula, walk 1hr downhill to another retreat and monastic center of Trashigang located on a hilltop, from where we meet our vehicle and drive short distance to Thimphu. Towards evening, visit the great Tashicho Dzong, and the giant Buddha statue as the sunsets in the valley. Overnight hotel in Thimphu.

Day 5: In Capital Thimphu We have a full day to tour and visit the capital of Bhutan as per interests. You can visit Memorial Chorten, Takin Preserve, Zilukha nunnery, Traditional Art School, Hospital for traditional medicine, National Library, Textile Academy and Museum, Changlimithang ground where you may see Archery, Centennial farmers' market, which is more vibrant over the weekend (Fri-Sun) or you can spend half day hiking to Cheri or Tango Monastery north of Thimphu. You can decide these activities with you guide when you are here. Overnight hotel in Thimphu
Day 6: Trek to Phajoding and cross Pumola into Tsaluna (Approx. 15km/6-7 hrs ).  Start your trek above Takin Preserve (2700m) near Motithang. The trail climbs up steeply for about 6km to Phajoding group of monasteries (3640m).  Phajoding is associated with 13th Century  Lama, Phajo Drugom Zhigpo who spread the Drukpa Kagyu teachings of Buddhism in Bhutan. Although most of the buildings were built later in 18th century, these group of temples, monastery and meditation houses hold some of the important Buddhist relics, such as the statues and paintings. The view from Phajoding is amazing as you look down into Thimphu valley, surrounded by mountains. The trails cuts across with short ascends and descends for about 2.5km (40min) to Pumo-la pass (3750m). After crossing Pumola, it is a long descend through Pine and Rhododendron forests into Tsaluna village (6km/2hrs). Your campsite is short distance above the village in a quiet meadows at 2900m. Overnight in Lungta Comfort Camp (with Safari style tents and beds). Options available to upgrade to Lungta Deluxe.
Day 7 : Trek Jay-dikha -Jele Dzong-Paro    After about an hour gradual climb you will arrive at a small village of Jaydelkha. Continuing the gradual climb uphill for about 2.5hrs through spruce, hemlock, fir and giant rhododendron forests, arrive at Jili Dzong, atop a promontory at 3570m, that gives sweeping views of both Paro valley and Tsaluna valley. On a clear day, you can see Mt. Chomolhari, Mt. Jichu Drake and other snow-capped peaks in the distance. Jele Dzong is a small monastery with impressive tall Buddha statue. It was a small fortress built strategically on a ridge early in the 16th century to cater for the travellers who journey between Paro & Thimphu, actively used before the road was built in 1960s. Descend downhill for about 2hrs (4kms) through the cedar forests and through pine trees to arrive in apple orchards and farmland near Damchoe Gongma (2900m), where the vehicle meets you and drive downhill for another half hours to arrive in Paro. (Total Approx. 11Km/6hrs). In the evening, visit beautiful 7th century Kichu lhakhang temple complex.
Day 8: Taktsang Hike Finally your journey culminate into a hike to iconic Taktsang (tiger's nest) monastery located some 600m above the valley. It is one of the most amazing and important pieces of architecture in Bhutan, along with being one of the most sacred. The hike to the first view point or cafeteria (at 2940m) takes between 1-2hrs (about 300m ascent). From here it is another half hour or so to higher spectacular lookout point after ascending another 250m that puts you eyeball to eyeball with the monastery. From this vantage point, Takstang seems close enough to touch but in fact it on other side of deep chasm, which takes another 40 minutes or so to the monastery.  As you have trekked, you should be able to make it easily and have more time to visit some of temples higher up atop promontory, which provides spectacular view. Return to Paro, where you can have  for Overnight.tel.
Day 9: Departure  If you flight departs late, we will cover any remaining sights in Paro. Transfer to the airport, in time for departure flight out of Paro.
Customise this trip with your preferred date and duration. Based on travel dates and duration, the itinerary can be worked in varied ways, incorporating your interests. For instance we can shorten by skipping Punakha, trek in reverse direction, or fit in traditional Druk Path Trek  if you wish for longer trek.