Bumthang Owl Trek
12 Days
Cultural Tour and three day trek in Bhutan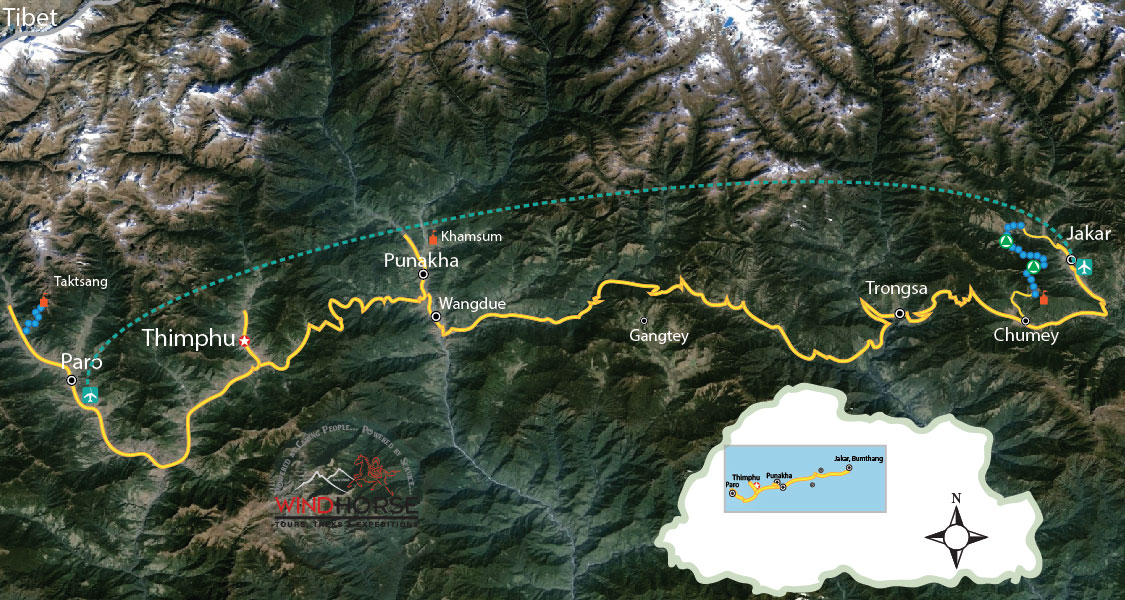 Trip Grade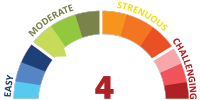 Trip AccommodationWe use best tourist Standard hotels and whenever available, we automatically avail relative upgrade such as Hotel Druk & Tashi Namgay Resort (both 4* deluxe) in Thimphu and Paro respectively. In regards to trek portion there is option to do with Wind Horse's special - deluxe camping/ Lungta deluxe instead of regular camp. Deluxe camping comes with added amenities in addition to safari style tent and bed. To add a new dimension to your experiences, you can also choose to stay for a night in Farm house in Punakha (clean and Hygienic) with the local family. See Details
Group SizePrivate Group
MealsAll meals including tea. Food are largely mixture of Local, indian and continental in buffet style.
RouteArrive in Paro
Fly to Bumthang
Bumthang Owl Trek
Trongsa to Gangtey to Punakha.
Punakha to Thimphu
Thimphu to Paro

Trip SeasonsSpring ( March -May) and Fall (Spetember -Nov) are the best time. Even lean season from dec, Jan and Feb are good with bright and warm sun during day time however it can get cold at night so for trekking it can get cold.
Best MonthsMarch, April, May, October, November
Good MonthsJune, September, December
Lean MonthsJanuary, February, July, August
Trip highlights
Visit major cultural landmarks sites  enveloping western and central Bhutan (Bumthang). Besides the trek, as many day hikes incorporated so that you can interact with locales, farm house visit -insights into  daily life  at walking pace. Pristine environments, some wild life whilst in trek etc. Also farm house stay in Punakha (Clean and Hygienic)  and deluxe camping that brims with amenities can add zing to your experience.
Bumthang Owl Trek in Bhutan is one of the popular and easy trek. Three day Bumthang Owl Trek offers an invigorating experience of the culture and environment of the country. It is an easy to moderate 3-day hiking starting from Menchugang, north of Jakar and ends at Tharpaling Monastery located on the ridge top above Chumey valley, all in Bumthang district. The trail has an abundance of flora and fauna, and the panoramic views of the valleys beneath the hill tops and the Himalayas spread over a broad horizon will be an experience that one shall cherish for a lifetime. This trek could be a substitute for the Bumthang Cultural Trek that has been deteriorated to a great degree by the farm road constructions.
On this trek you have the opportunity to see village life in Dhur. The virgin temperate forest of blue pine, hemlock, fir, spruce, juniper with under growth of bamboo spices, rhododendrons, birch, maple, chestnut and many others. In spring the rhododendrons flowers are in bloom that beautifies the whole trek route. The valley views and the Himalayan snow capped mountains in the north are quite beautiful. Birds of different spices, among them the big monal pheasants can be sighted around the second camp and Tharpaling area during mornings and evenings. You will also be able to see Monasteries, retreat centers in Tharpaling, Choedak and Zhambala, the area that is highly venerated as pilgrimage site for Bhutanese. Longchen Rabjam, the great philosopher of the Dzogchen, a religious movement of the Nyingmapa school spent almost 10 years here in the 14 century.
Note
Due to road extension work in progress from Punakha till Bumthang, in some sections of roads the ride may get bumpy. Considering this, it is best to make useful domestic flight from Paro – Bumthang or other way round rather than travelling both way by road.
Some pertinent links
Deluxe Camping 
Typical Trekking Day 
Camping and Gear provided 
Food on Trek 
Outline Itinerary
Day 1: Arrive in Paro
Upon arrival in Paro, meet, tour/walk for the remaining day. If you wish, you can visit farm houses – a typical agrarian houses forming a quaint village nearby town and your hotel.  Overnight in hotel.
Day 2: Fly to Jakar, Bumthang
Note: Flight operates only on certain days. Bumthang is considered as spiritual heartland of Bhutan, vindicating,  it is dotted with many religious edifices, attractions and also some scenic short hike. Based on your inclination, tour/walk around for the remaining time in and around Jakar. Overnight in hotel
Day 3: In Jakar, Bumthang
Depending on your interest, we can incorporate visit to prominent  cultural attractions and mainstay and more hikes that can set tone for your trek  or combination. Overnight in hotel
Day 4:   Begin Trek: Jakar- Menchugang-Dhur-Schonath (3450m/ approx. 6- 7 km/Walk &Visit 2- 3 hours, Trek – 2-3 hours)
Transfer to trail head, trek start from Menchugang. Visit Dhur (2900m) – biggest village in Bumthang. It consists of 75 households with diverse populations based on their local dialects. Above the villages offer a beautiful view overlooking village and far off mountains.   Water driven flourmill is one of the highlights. Continue trek uphill through blue pine forest and reach the campsite at Schonath (3450 m) amidst hemlock and juniper forest. Howling of owl is quite common at night thus derives the name of this trek. Overnight in regular tent camp/Deluxe Camping.
Day 5: Trek to Kitiphu ((3870 m/3 hrs/ 5 -6 km)
Trek through verdant and virgin forest of spruce, hemlock, fir, birch and rhododendron species. Spring spells Technicolor bloom of rhododendron species. After 2 hours, you will reach Drangela pass (3600 m). Descent the pass and climb Kitiphu ridge campsite (3870 m). Climb further uphill for 30 -40 min at Kitiphu ridge summit for panoramic view of valley and mountain peaks – mainly Gangkar Phuensum (7541 m) – highest mountain of Bhutan. Overnight in regular tent camp/ Deluxe Camping.
Day 6: Trek end and drive to Trongsa (trek downhill – 2 hour/trek distance- 3-4 km downhill)
Climb down to the monasteries of Zambhalha, Chuedak and Tharpaling which brings you to the religious life of monk hood.  After visiting the temples, monasteries, meet the vehicle and drive to Chumey valley (30 minutes downhill) and drive over the Yontongla pass to Trongsa (2hrs), where you can spend rest of the day visiting Trongsa Dzong and tower of Trongsa musuem.
From Tharpaling, there is a option to do a 3hr trek along the ridge to Kikila following the ancient trail and later drive for about 2.5hrs to Trongsa. This option is for those who want longer hiking. Overnight hotel in Trongsa.
Day 7: Drive to Punakha
The spectacular road passing many villages, with great views and ever changing vegetation as the road crosses Pelela pass and descends into subtropical Punakha-Wangdue area. Depending on the road condition, you could also take a side trip to Gangtey, Phobjikha valley, which takes additional 2hrs. Overnight hotel in Punakha/ Deluxe camping on river bank/ Typical Farm House Stay.
Day 8: In Punakha & Wangdue
Spend full day for tours, short hikes in Punakha Wangdue valley. You can also choose to stay in typical ancient farm house/deluxe camping on river Bank/ overnight in hotel.
Day 9: Punakha – Thimphu
Drive to Thimphu (3-4hrs) across spectacular Dochula pass. Option for a scenic hike from Dochula pass to Lungchuzekha and Trashigang. Overnight comfortable hotel in Thimphu
Day 10: Thimphu – Paro
Spend most part of the day for visiting sites in the capital, which has lots of monuments and other attractions that can be covered based on your interests. Then towards late afternoon, drive to Paro (1hr) and try to cover some sights missed on the first day in Bhutan. Overnight hotel in Paro.
Day 11: In Paro (Hike to Taktsang)
Dedicate a full day for hike to famous Tiger's nest (Taktsang) monastery. As you have trekked, and covered much ground on foot, our guide can also bring you to sites above Takstang that are rarely visited and are as interesting. Overnight hotel in Paro
Day 12: Departure
Transfer to airport for your outbound Journey 

Please note this trip can be also done in reverse order; travelling overland to Bumthang and flying back from there at the end.