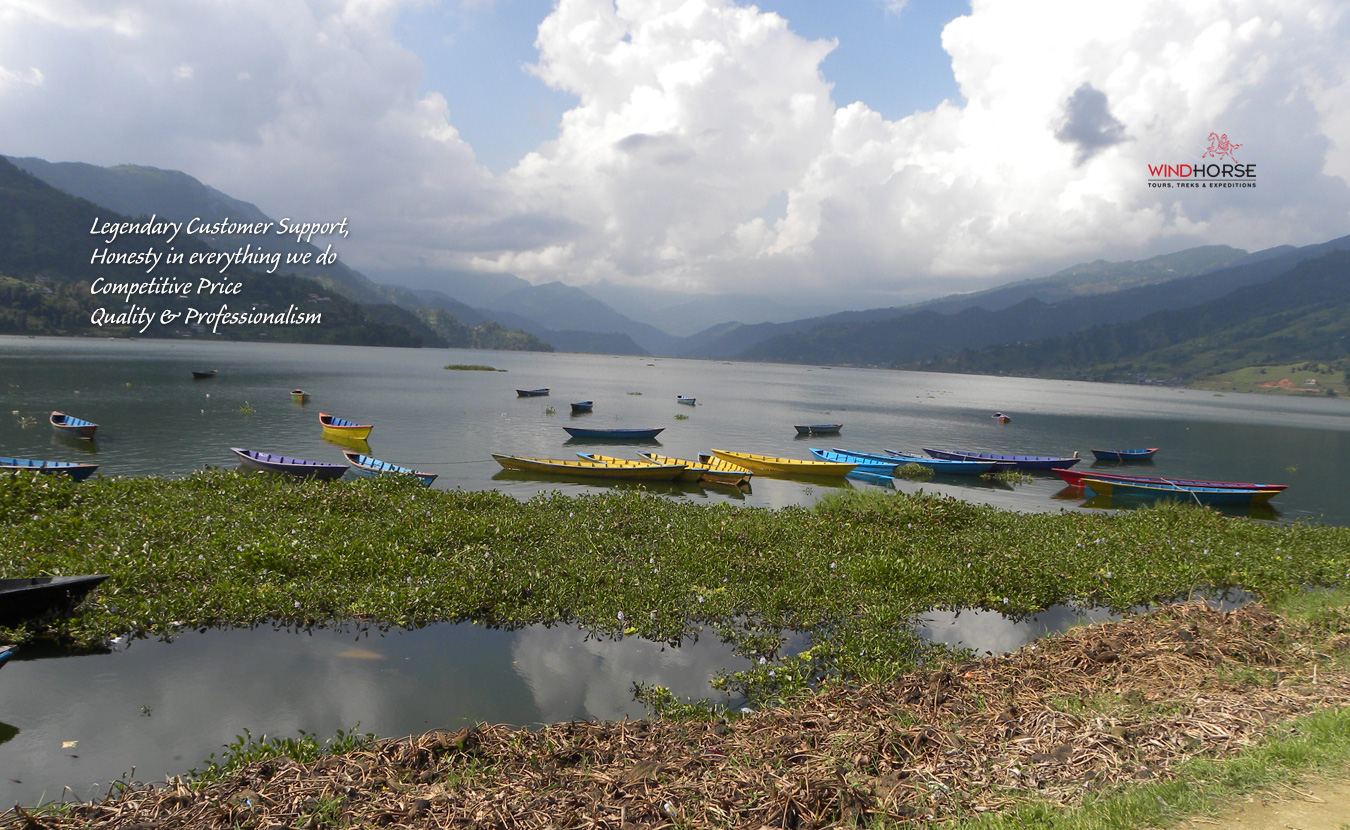 Trip highlights
World Heritage sites in Kathmandu valley
Introduction to a gentle trek in the foothills with views of snow-clad peaks
Visiting rural areas and villages on the trek
Opportunity to meet and interact with locals from different ethnic groups
Spectacular260' Panorama of Peaks from Poonhill
See the diverse flora and fauna in Annapurna region
Explore the Jungle and Natural World Heritage site of Chitwan National Park
Classic Nepal Tour takes an intimate look into aspects that embody Nepal as a complete traveler's destination. It incorporates the highlights of Nepal, the wildlife, and a gentle trek to Poon Hill in the lower Annapurna region. In Kathmandu valley, visit the religious edifices fortified with rich historical pedigree. And then an easy walk through the foothills of Annapurna Sanctuary, an inconsistent backdrop of awe-inspiring Himalayan mountain ranges. Enjoy and relax in the natural beauty of Pokhara valley, and then take on a wildlife safari in Chitwan National Park.
Covering the Kathmandu valley's cultural themes will set the tone for the trek, that climbs through the foothills, past villages, hills, and terraced rice fields, with a backdrop of snow-clad peaks. The pace of hiking affords insights into life in rural Nepal and interaction with people. At the end of the 4-day trek, relax in the tranquil ambiance of Pokhara valley, where we also see lakes, caves, and some outstanding attractions. Finally, we journey south to Chitwan, where you will get into the world of wildlife and Jungle.
This trip provides a perfect symmetry of cultural delight with trekking opulence within the given time frame.
Detail Itinerary
Day 1 & 2: Arrival in Kathmandu
Arrival and transfer to the hotel, welcome dinner with cultural performance, briefing, and optional tour on the first day. The next day we have a full-day tour that takes on the highlights in and around Kathmandu. Overnight in a hotel.
Day 3: Fly to Pokhara and Trek Kimche to Ghandruk
After a 20-min flight into Pokhara valley, transfer to the trailhead and begin trekking from the sub-tropical area to Gandruk village (1990m), which should take less than 3hrs (350m ascent). A porter and also guide will accompany you throughout the trek. We will have time to explore the village. Overnight in a decent lodge with an attached bathroom.
Day 4: Trek to Tadapani
With more time to visit Gandruk village in the morning. We begin our second day of walking through the forests filled with rhododendron and magnolia trees for about 3-4hrs to arrive in Tadapani (2700m). The lodge here does not have an attached bathroom, and toilets are located just outside the room. It is necessary to stop here to break our long journey. Overnight in a basic lodge.
Day 5: Trek Tadapani to Ghorepani
Leaving Tadapani, we descend and ascend several times with great views, passing many small villages. It takes between 3-and 5 hours, depending on one's ability. It is around 710m ascent & 550m descent, and we should arrive in the afternoon with enough time to visit Poon Hill today(if you wish). Overnight in a trekkers lodge.
Day 6: Poon Hill & Trek to Ulleri – Hile (Trek End) & drive to Pokhara
Early this morning (before dawn), you have an option to embark on the hike to Poon Hill. For most, you may choose not to, either because you have already been there the previous day or seen similar views yesterday en route. Then we have a long downhill (1350m) hike, which takes between 4-6 hrs. At the end of the trek, meet our vehicle and transfer to the hotel in Pokhara. Overnight in a hotel.
Day 7: Full day in Pokhara
We have a full day to relax and tour in tranquil Pokhara valley, surrounded by green hills in the shadows of mighty snowcapped peaks. Overnight in a hotel.
Day 8 & 9: In Chitwan National Park
Journey south by road through the southern foothills to the jungles of Terai plains, where the country's famous Chitwan National park is located. Check into your hotel, where you will spend the next two nights on full board (with all meals). There are several activities that you can participate in Chitwan: such as a village tour, ox-cart ride, slide presentation, Jungle Safaris by Elephant/Jeep, Canoe trip, Cultural show, Nature walk to see the birds, and also visit gharial breeding center. Overnight in a resort.
Day 10: Fly to Kathmandu
After breakfast, transfer to the nearby Bharatpur airport in time for your flight to Kathmandu. On arrival, transfer to your designated hotel. Overnight in a hotel.
The option to drive to Kathmandu is also available (170km/5-6hrs). 
Day 11: Departure
Transfer to the airport by private vehicle according to your flight schedule.
Full detail of the program will be available upon request.
Group SizeNo Max. or no Min

MealsOnly breakfast in Kathmandu and Pokhara while all meals are included in Chitwan and during the trek.

Trip AccommodationChoice of hotels available in Kathmandu, Pokhara and Chitwan

RouteKathmandu-Pokhara Gandruk -Tadapani-Gorepani-Pokhara-Chitwan-Kathmandu

Trip Type Trekking
Cultural Tour
Village Tour


Trip SeasonsThis trip can be done throughout the year except during the monsoon season. The best is when it is cooler from October till April.

Best MonthsFebruary, March, April, October, November

Good MonthsJanuary, September, December

Lean MonthsMay, June, July, August
Prices & Dates
Cost Information:
Cost range from US$1000 -to $2000 per person depending on the number of participant and the type of hotel you choose in Chitwan, Kathmandu & Pokhara and also sometimes varies by travel dates. Details are available upon request.
Included
Accommodations in hotels for 7 nights and in trek lodges for 3 nights.
All meals (except in Kathmandu and Pokhara, where only breakfasts are provided).
All land transfers and transportation by private vehicle.
Flights Kathmandu to Pokhara and Chitwan to Kathmandu.
Private tours and sightseeing with entrance fees.
All required paperwork and permits(Tims/ACAP).
English-speaking local Guide.
Not included
International airfare to and from Kathmandu
Nepal Visa fees.
Accommodations
Choice of hotels available in Kathmandu, Pokhara and Chitwan but during the trek for 3 nights, basic trekking lodges are provided.
---
Trip Guide/Leader
---
×

Hem Raj Bastola is a permanent inhabitant of Pokhara-25.  He has been working as a  tour and trekking guide  since 2010. Formerly he has worked as a guest service agent at the hotel Pokara Grande. He started his career as a Cave guide,  ticket sales man at Gupteshwor Mahadev Cave in Pokhara. So must of his working experience is related to tourism and hospitality industry. Beside his guiding profession, he enjoys reading and writing poetry. His poets have been published in different forums and medias.  When get free time loves to work in the field as well.

×

Min Bahadur Singh was born in 1977 in Bajura district, far western development region of Nepal and later on he moved to Pokhara, permanent resident of Kristi-3 Kaski, Pokhara. He is Trek and City Tour Guide in Pokhara city, Nepal, a city of natural beauty and on the lap of the Himalayas. He has completed his intermediate education level and various training related to the travel and tourism industry. He started his career in the hospitality industry since 1992. He's worked in the tourism sector for 24 years and has 12 years of guiding experience involving in different travel and trekking agencies in Nepal. Min has joined to this company since 2014, and he does city tour guide in Pokhara and Annapurna region Trekking as well.On top of that, he is also bird watching specialised in the mountain region of Nepal. Min speaks English very well and has been the beloved guide for English speaking tourist. He loves to travel, meet new people and share his ideas and experiences to other people.