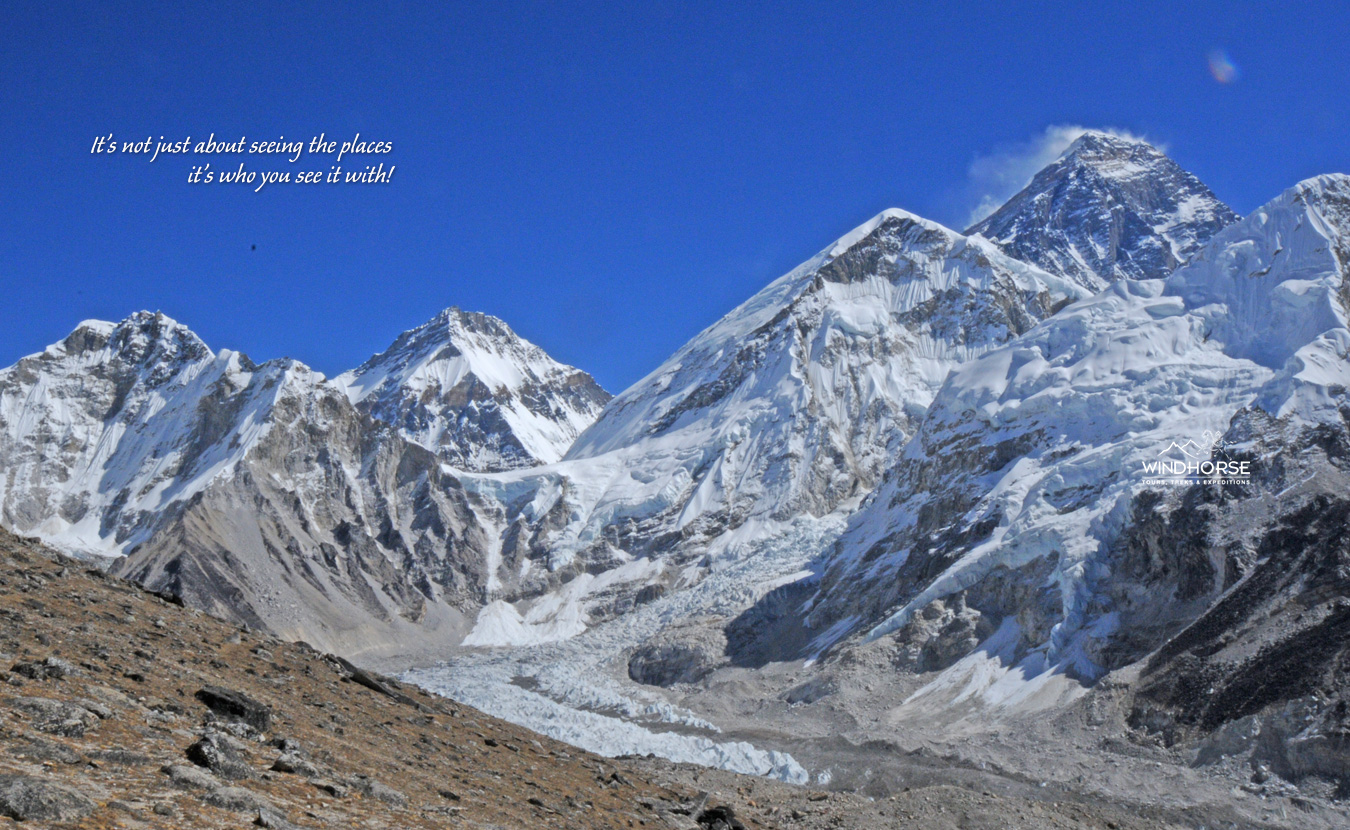 Trip highlights
Scenic, breathtaking mountain flight from Kathmandu to Lukla to Kathmandu.
Explore the Namche Bazaar, the capital of Sherpa people & gateway of Mt. Everest & interact with residents.
Explore the Everest National Park (National Park situated the highest altitude in the world) and diverse flora and fauna in this area
Observe Sherpa Buddhist culture and village lifestyle in the heart of the Himalaya of Khumbu region of Nepal
Explore the Everest and surrounding mountain's panoramic view from Namche, Syangboche, and Kalapatthar
Explore the Tengboche monastery, one of the biggest Monasteries in the Everest region
Trek along the bank of Dudh Kosi River & explore the local villages
Hike to Kalapathar (5550m), one of the highest altitude of this trek and ultimate destination to have the great panoramic mountain view from very close distance
Visit highest mountain base camp in the world situated at 5364m.
Remarkable view of Khumbu ice fall and Glacier in Khumbu region of Nepal
Why Everest Base Camp Trek?
Everest Base Camp Trek is one of the most popular trekking destinations in Nepal. It is no doubt one of the best treks in Nepal due to its exceptional features like a distinct landscape, remarkable natural beauty, traditional Sherpa culture, and diverse flora and fauna. Moreover, the Everest Base Camp trek offers travelers an exciting opportunity to explore the Base Camp of the highest mountain Mt. Everest(8848m). Everest Base Camp Trek has been a popular destination ever since the successful completion of the expedition to summit Mt. Everest by Sir Edmund Hillary and Tenzing Norgay Sherpa in 1953. Since then, the EBC trek has become a trekker's dream to set foot at the Everest Base Camp. The journey originates in the Khumbu region of Nepal, filled with its distinct landscape, natural beauty, diverse flora and fauna, friendly Sherpa people, and one of the best opportunities to view the world's highest peak from so nearby.

The Everest Base Camp trek begins with a short spectacular mountain flight to Lukla, one of the highest airports in the world. From Lukla, the trail follows the bank of the Dudh Koshi rivers towards Phakding. From Phakding, we continue towards Namche Bazaar, the gateway to Everest Base Camp and the center of the Sherpa culture. Namche Bazaar is a perfect place to rest and acclimatize; you will spend two nights here before proceeding further. From here, the trail ascends, traversing through alpine woodlands and rhododendron forest, winding along steep ridgelines and river gorges. Across several overnights stops like Tengboche, Dingboche, and Lobuche with amazing views of the mountain peaks along the way until Gorakshep. We hike to Everest Base Camp the same day and return to Gorakshep., The following morning hike to Kalapatthar (5550m) to experience sunrise and mountain views. Then we descend through Pheriche, Namche, and Bengkar and end our Trek at Lukla.
How difficult is Everest Base Camp Trek?
Everest Base Camp Trek is a moderate to strenuous trek, where trekkers should have previous experience and good physical fitness. If you are a beginner and looking for a short and easy trek in Nepal, some of our short programs below may fit your choice. These treks do not require previous training and are suitable for every age group. Everest View Comfort Trek, Everest Sherpa Cultural Trek, Langtang Valley Trek, Ghorepani Poon Hill Trek, and Mardi Himal Trek.
When is the best time to do the Everest Base Camp Trek?
The best time to do the Everest Base Camp Trek is when the weather is favorable and the mountain views are clear.  There are two most preferred seasons to visit the Everest Base Camp: spring and autumn season. 

The spring (March-May) is the best to do the Everest Base Camp Trek. The days are warm, and the skies are clear with blue skies with unobstructed panoramic views of the mountain. The forests are filled with blooming rhododendrons all over the mountains.

The next best season is the autumn season (late September-early November). Although the nights are colder, the views are clear and stunning.
Winter (December and January) can also be a good season to visit the Everest base Camp. This is the coldest season in Nepal, the weather is dry with mild days, but the nights can be extremely cold, with temperatures ranging from -20 to -30 degrees in the mountains. The trekking trail is less crowded compared to other seasons. This can be the best season for those who can take up the challenge with appropriate clothing and equipment. 
June-august is the monsoon season, and we do not recommend traveling to the Everest Base Camp during monsoon. The trails get often blocked by landslides, the views are concealed behind the clouds, and there is always the risk of rainfall.
Detail Itinerary
Day 1. Arrival in Kathmandu.
Upon arrival, meet our representative and transfer to the hotel. Depending on your arrival time, you can either relax at your hotel or take a short walk to visit the Thamel area. Evening dinner at a traditional Nepali Restaurant. Overnight in hotel.
Day 2. In Kathmandu (trek preparation).
Today in the first half, we will visit some of the major UNESCO World Heritage Sites within the city that include: Pashupatinath temple, Bouddhanath Stupa, and Kathmandu Durbar Square. In the later part, we will prepare and plan for the trek the next day. Overnight in hotel.
Day 3. Fly to Lukla-Trek to Phakding(2610m/3hrs).
This morning we will take a short spectacular 30-minute flight to Lukla, which offers good views of the mountain peaks. On arrival, we gather our gear and head for Phakding(3hrs). The trail goes through scenic landscapes and local villages. Overnight in trekkers lodge.
Day 4. Phakding – Namche Bazaar (3440m/6hrs).
The trek from Phakding goes through beautiful pine and rhododendron forest along the bank of Dudh Koshi River to Monjo. At Monjo, we enter the Sagarmatha National Park and cross over the Hillary Suspension bridge. The trail passes through several settlements and reaches Chautara from where we get the first glimpse of Mt. Everest and hereafter it is a steep uphill hike until Namche Bazaar. Overnight in trekkers lodge.
Day 5. In Namche Bazaar.
Namche Bazaar is the center of the Sherpa Community and the most vibrant town in the Himalayas. This day is for acclimatization and altitude adaptation. There are several options for how you wish to spend the day. We can suggest a short hike up to Everest View Hotel past through Syangboche airstrip or visit the Sherpa Culture Private Museum and the Everest Photo Gallery. Overnight in Trekkers lodge.
Day 6. Namche Bazaar – Tengboche(3860m/5hrs).
From Namche, it is an easy uphill hike through woodlands towards Tengboche, the home of the famous Tengboche monastery. The trail passes by the Imja Khola (Imja River), through rhododendron-laden hamlets and emerald pastures with the majestic view of peaks like Mt. Everest, Mt. Nuptse, Mt. Lhotse, Mt. Ama Dablam, and Thamserku along the way. On arrival, we shall visit the Tengboche monastery and pay our respect to the mother goddess. Overnight in trekkers lodge.
Day 7. Tengboche – Dingboche (via Pangboche) (4410m/5hrs).
Our next stop on the trek is Dingboche, also known as the summer valley. From Tengboche, it is a downhill hike past some lovely pine forests and crosses over the Imja Khola. From here it is an uphill and then descends to Pangboche village. The trail goes across several suspension bridges and passes through several small villages. From today we will find a remarkable change in the vegetation, the mountain vegetation changes to short bushy alpine vegetation. Along the way, we come across occasional stone walls carved with prayers and colorful prayer flags swaying in the Himalayan breeze. Upon reaching Dingboche, we can relax and enjoy the breathtaking views of the Amadablam, Cholatse, and Nuptse peaks. Overnight in trekkers lodge.
Day 8. Acclimatization Day - hike to Nagarjuna (Nangkartshang) hill viewpoint (5073 m) (3-4hs).
This is another day reserved for acclimatization. Today we hike up the Nagarjuna (Nangkartshang)Hill, the hike is uphill and strenuous, but the effort is worth the journey. From the top, we can have a panoramic view of the Imja valley and the majestic peaks like the Ama Dablam, Lhotse, Lobuche, and surrounding peaks. Overnight in a trekkers lodge.
Day 9. Dingboche - Lobuche (4940m/5hrs).
Today we head towards Lobuche, a small Sherpa settlement with the Lobuche Peaks looming in the background. From Dingboche, it is an uphill climb toward Lobuche with beautiful views of the surrounding mountains. Along the way, we pass through Thukla and the Khumbu Glacier along a memorial yard to those Sherpas and climbers who had lost their lives on the quest of conquering Mt. Everest. The trek goes past pasture lands with a noticeable change in the vegetation to the lush forest to sparsely dotted alpine shrubs with Nuptse and Pumori at each side. Overnight in trekker's lodge.
Day 10. Lobuche-Gorakshep (5164m)-Everest Base Camp (5364m)-Gorakshep (8hrs).
Today is one of the most anticipated days of the trek. We head towards Gorakshep, the last human settlement we encounter on the way to EBC. In the beginning, it is a flat gradual walk and then it is a gradual uphill hike past rock fields and glaciers and arrives at Gorakshep along the side of the Khumbu glacier. After lunch at Gorakshep, we hike alongside the Khumbu glacier moraine towards the base camp. Enjoy the astounding landscape surrounded by snow-covered peaks and rocks and then return to Gorakshep for the night. Overnight in a trekkers lodge.
Day 11. Gorakshep – Kala patthar(5643m)-Pheriche(4371m) (7hrs).
Wake up early at 4 am and start the hike to Kala Patthar, one of the best vantage points for spectacular sunrise and the best panoramic views of Everest, Nuptse, and the entire Everest range. After enjoying the breathtaking views, trek back to Gorakshep for breakfast and then descend to Pheriche (4210m) via Lobuche and Thukla. Overnight in trekkers lodge.
Day 12. Pheriche-Namche(6-7hrs).
Today we descend the Pheriche valley with views of Ama Dablam and join the main Imja Khola valley and then down past Pangboche, Tengboche, and finally to Namche Bazaar. Overnight in trekkers lodge.
Day 13. Namche-Lukla(6-7hrs).
Today we have a long day to hike from Namche Bazaar to Lukla retracing our route past Phakding. We will spend our last night in Lukla celebrating the adventure of our lifetime. Overnight in trekkers lodge.
Day 14. Lukla-Kathmandu.
In the first hour in the morning fly back to Kathmandu. The rest of the afternoon is free to rest and relax or pursue your interest. Overnight in hotel.
Day 15. In Kathmandu.
This day is reserved for any delays in the Lukla-Kathmandu flight (frequent cancellations due to unpredictable mountain weather). Free day in Kathmandu, you can request a local sightseeing tour around the valley. Overnight in a hotel.
Day 16. Departure.
Transfer to the airport for departure homeward.
Group SizeMinimum 2 Pax.

MealsOnly breakfast during the stay in Kathmandu and three standard meals while on trek

Trip Accommodation3-4 star hotel in Kathmandu & local village lodge/tea house during the trek

RouteKathmandu- Lukla- Namche Bazar- Tengboche- Dingboche-Lobuchhe- Gorak Shep- Everest Base Camp- Kalapatthar- Pheriche- Namche-Lukla- Kathmandu

Trip Type Trekking


Trip SeasonsMarch-June and September-November


Best MonthsMarch, April, May, October

Good MonthsJune, September, November

Lean MonthsJuly, August

Not RecommendJanuary, February, December
Prices & Dates
Our costs are based on the number of participants to offer the lowest possible cost:
8 members = US$ 1435 per person
6 members = US$ 1510 per person
4 members = US$ 1615 per person
2 members = US$ 1840 per person
Single traveler = US$: 2565 (including single room supplement)
Single room supplement = US$ 125
Costs are based on a double sharing basis. If you wish to have a single room, you must pay the single supplement fee. If you are willing to share accommodations, we will match you with a roommate if one is available. If we cannot match you with a roommate, the single supplement fee will apply.
Included
All airport & hotel transfers by private vehicle.
Accommodation in 3-4* category in Kathmandu and in local village lodge/tea house during the trek.
Only breakfast during the stay in Kathmandu, and all meals included during the trek days.
One welcome or farewell dinner with cultural performance in Kathmandu
Sightseeing as per itinerary with entrance fees.
English-speaking local trekking guide along with a porter(1 porter for every two-member).
Domestic flight Kathmandu-Lukla-Kathmandu.
Necessary paperwork and permits (TIMS card/National Park fee)
Not included
Nepal Visa.
Meals other than listed (lunch and dinner are not included in Kathmandu and also in the case of early return from trekking than the scheduled itinerary).
Personal expenses (Tips, Laundry, Telephone, bar, beverages, battery recharge, bottle or boiled water, shower, etc.).
Rescue & travel insurance effects (we strongly advise buying a travel insurance policy).
Trip cancellation costs, accident or health emergency, evacuation, loss, theft, or damage to baggage and personal belongings.
International flights from and to Kathmandu.
All other personal expenses are not listed in the included section.
Accommodations
Kathmandu(4*) category hotels: Hotel Shambala or similar
During the Trek: Best available local village lodge/tea house along the way
Upgrade of the hotel is available at an extra cost.
---
Hotels in Kathmandu
It is a premier five-star deluxe oasis in the heart of Kathmandu, Nepal. Modern day sophistication greets cultural heritage in the ample grounds of the 100-year-old palace and newly designed structure of the hotel. Find refuge among antique fountains...

The hotel is located close to all major embassies, airline offices, banks, immigration office and the famous shopping centers of Thamel. It is only 8km from the Tribhuvan International Airport. ...

Hotel Shambala, a contemporary Tibetan themed boutique hotel in Kathmandu, Nepal offers unparalleled comfort and luxury with the best in Tibetan and Nepalese hospitality. Inspired by Tibetan art and architecture, all 65 rooms feature beautiful handma...
Trip Guide/Leader
---
×

Min Bahadur Singh was born in 1977 in Bajura district, far western development region of Nepal and later on he moved to Pokhara, permanent resident of Kristi-3 Kaski, Pokhara. He is Trek and City Tour Guide in Pokhara city, Nepal, a city of natural beauty and on the lap of the Himalayas. He has completed his intermediate education level and various training related to the travel and tourism industry. He started his career in the hospitality industry since 1992. He's worked in the tourism sector for 24 years and has 12 years of guiding experience involving in different travel and trekking agencies in Nepal. Min has joined to this company since 2014, and he does city tour guide in Pokhara and Annapurna region Trekking as well.On top of that, he is also bird watching specialised in the mountain region of Nepal. Min speaks English very well and has been the beloved guide for English speaking tourist. He loves to travel, meet new people and share his ideas and experiences to other people.

×

Hem Raj Bastola is a permanent inhabitant of Pokhara-25.  He has been working as a  tour and trekking guide  since 2010. Formerly he has worked as a guest service agent at the hotel Pokara Grande. He started his career as a Cave guide,  ticket sales man at Gupteshwor Mahadev Cave in Pokhara. So must of his working experience is related to tourism and hospitality industry. Beside his guiding profession, he enjoys reading and writing poetry. His poets have been published in different forums and medias.  When get free time loves to work in the field as well.