Everest View Comfort Trek
11 Days
A walking holiday in sight of Everest staying in the best accommodation

Trip Grade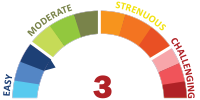 Trip Price From US$ 1500 | See Details
Trip AccommodationComfort lodges with attached bath during the trek, City hotels with swimming pool in Kathmandu See Details
MealsAll meals during the trek, one welcome dinner and daily breakfast in Kathmandu
RouteKathmandu, Phakding, Namche Bazaar, Syangboche, Monjo, Lukla, Kathmandu
Trip TypeEasy Trek with Culture
Trip SeasonsBest in March, April, May, Oct & Nov. Also good in Dec, Jan & February. As such the trek can be done through-out the year
Best MonthsMarch, April, May, October, November
Good MonthsFebruary, June, September
Lean MonthsJanuary, July, August, December
Trip highlights
• Sightseeing tour of UNESCO world heritage sites in Kathmandu
• Scenic flight to Lukla from Kathmandu
• Walking in Mt. Everest National Park, Natural World Heritage site
• Superb mountain views of Everest and surrounding peaks
• Visit to Sherpa villages and Buddhist monasteries along the way.
• Stay in historic Everest View hotel, placed in Guinness Book of World Record
This itinerary is a good introduction to trekking in Nepal, while staying at the high standard quality lodges of the Everest region, suitable even for first time trekkers
Everest View comfort trek Nepal is a five-day easy to moderate trek using comfortable lodges that are comparable to city hotel. Mount Everest National Park is the one of most popular destination for trekkers and climbers alike. Up until now trekking in this beautiful area involved either camping or staying at basic tea houses. Now it is possible to trek to this region using comfortable lodges with all the modern conveniences of attached bathrooms with running hot and cold water. They are also located well to give you a magnificent panorama of the Himalayas from the lodge itself.
Beginning with the sightseeing tour in Kathmandu, take an exciting flight in a Twin Otter plane to the mountain airstrip at Lukla, from where we begin walking gradually to Phakding, then to Namche Bazaar and finally to Everest View Hotel in Khumbu, listed on the Guinness Book of World Records (2004) as the highest placed luxury hotel in the world.
The trek from Lukla to the colorful and vibrant center of Sherpa culture at Namche Bazaar is through many Sherpa villages is well graded and on well-established paths, making it suitable even for novice. Trekking through pine, rhododendron forests, with outstanding views at every turn, culminating in an awesome view of the world's highest peak, will have your camera permanently in hand.
Outline Itinerary
Day 1 & 2 : In Kathmandu.Flying into Kathmandu on a clear day is in itself an unforgettable experience, with the entire Nepalese Himalaya sprawling out below you. Upon arrival meet and transfer to the hotel. On the first evening visit Kathmandu Durbar Square and walk to Thamel through Indrachowk market. Welcome dinner and briefing. Next day, we have a full day sightseeing covering the World Heritage sites of Kathmandu valley sites such as Boudanath, Syambhunath, Patan Durbar Sqaure and market. In the evening free time to shop and prepare for the trek.
Overnight hotel in Kathmandu
Day 3: Fly to Lukla (2840m) & trek to Phakding (2650m) Our morning flight (40min) by Twin Otter aircraft brings us Lukla to the most renowned mountain airstrip in the world in. On the flight we watch the rugged foothills give way to the snowline of the Himalaya; many of the world's highest mountains. After giving the porters a chance to load up we depart Lukla. The walk takes us through pastoral lands of the Sherpas, passing several small villages and individual farms. After about 3 hours of trekking we finally meet the river and reach our first lodge at Phakding at 2610m (lower than Lukla)- located beside the tumbling Dudh Koshi. Overnight Royal Sherpa or similar (basic lodge with attached bath)
Day 4: Phakding to Namche Bazaar (3440m) Approx. 12km/ 6hrs trek. Ascent 1300m – descent 500m
Today will be the most challenging day physically on your trek, so we'll take it slowly.
A very pleasant walk by the river through pine forest leads to a short climb to escape a narrow gorge section, passing several villages and lodges. Cross Monjo and arrive at the entrance to the Everest National Park, where details of our permits are recorded. Continue trekking past Jorsalle village, then drop down again to the river which we cross on a suspension bridge. Continue up the wooded valley on a good trail and cross the river again before reaching a confluence of rivers, one coming down from Thame and the other from main Khumbu Valley. We make a final crossing on tremendously impressive suspension bridge, spanning a deep chasm and then begin an hour and half long ascent to Namche on a wide switch back trail. This sting of the trail is the steepest in todays' hike on otherwise gentle ascent day. An hour below Namche, near Chutara, we gain views of Everest. Eventually after about 6hrs of hike, pull into Namche Bazaar, the Sherpa capital with its houses built one above the other on the steep sides of a sloping mountain bowl. The narrow streets at its centre are a mixture of cyber cafés souvenir shops. Namche is a bustling market where goods as far away as Tibet were and still traded and the hub of everything that goes on in the Everest region. Rest of the day free to relax or explore. Overnight in Panorma Lodge. (or in Sherpaland Deluxe rooms)
Day 5: Namche Bazaar – Shyangboche (3880m) Approx. 2.5km/2hr walk to Everest View hotel.
Visit the internationally known Museum of Sherpa Culture nearby. Our stay in Namche naturally helps in acclimating to altitude and so we begin another 1-2 hrs stiff climb up to Everest View Hotel, passing Syangboche airstrip along the way. Opened in 1971, Guinness Book of World Records (2004) accords Everest View Hotel, the status of Highest Placed Hotel in the world. View Everest from every room and enjoy 360' panoramic view from the hotel sun deck, sipping coffee, and not from some windy crag. Rooms are spacious with attached bathroom, includes a sitting area and access to balconies. In case of altitude sickness, Oxygen bottle, Gamow bag, rescue helicopters are available.
Relax and enjoy the rest of the day in this historic hotel or walk to nearby Khumjung and Kunde village, where you may be able to visit local families, Sir Edmund Hillary's school, and Khumjung monastery with a scalp that purportedly comes from a Yeti. The village of Khunde is a short walk further on and contains the famous medical centre instigated by the Sir Edmund Hillary Trust. Overnight in Everest View hotel.
Day 6: Shyangboche – Namche -Monjo (2840m) Approx. 8km/ 4hrs trek. Ascent 360m – descent 1400m. As the first rays of the sun rises from behind the tallest mountain on earth, wake up to this amazing views and enjoy the moment. After leisurely breakfast, once again you have option to visit Khumjung and Kunde this morning or head down to reabsorb the market scene of Namche Bazaar, which is just one hour downhill. From Namche bazaar, retrace downhill on a steep descent to Dudh Koshi valley. Cross the suspension bridge, and walk along gradual ascend and descending path to Monjo.
Monjo is a picturesque village at the edge of Everest National Park, comprising of about 30 houses, in narrow valley at the junction of Thamserku & Dudh Kosi river surrounded by mountains. Overnight at Everest Summit Lodge.
Day 7: Monjo to Lukla (2850m) Approx. 13km/ 4 -5hrs trek. Our last day of trekking is gradually downhill till Phakding. You have a chance to visit Gumila monastery from Phakding by walking little more than half hour from the main trail. From Phakding continue following the river valley for a bit and then climb of the side of the ridge to Lukla. Free to stroll or enjoy relaxing afternoon at the hotel.
Overnight at Everest Summit Lodge
Day 8 & 9: In Kathmandu (B) The 40 minutes' flight from Lukla brings you back to Kathmandu. Upon arrival, meet and transfer to the hotel. Free to pursue your own interests. Next day is also free day. An extra contingent day in case of flight cancellation/delay from Lukla which does happen frequently. If the flight arrives as planned, you can easily do some tours out of Kathmandu valley. You accommodation and breakfast are included in Kathmandu.
Day 10: Final Departure (B) Private transfer to the airport according to your flight schedule.