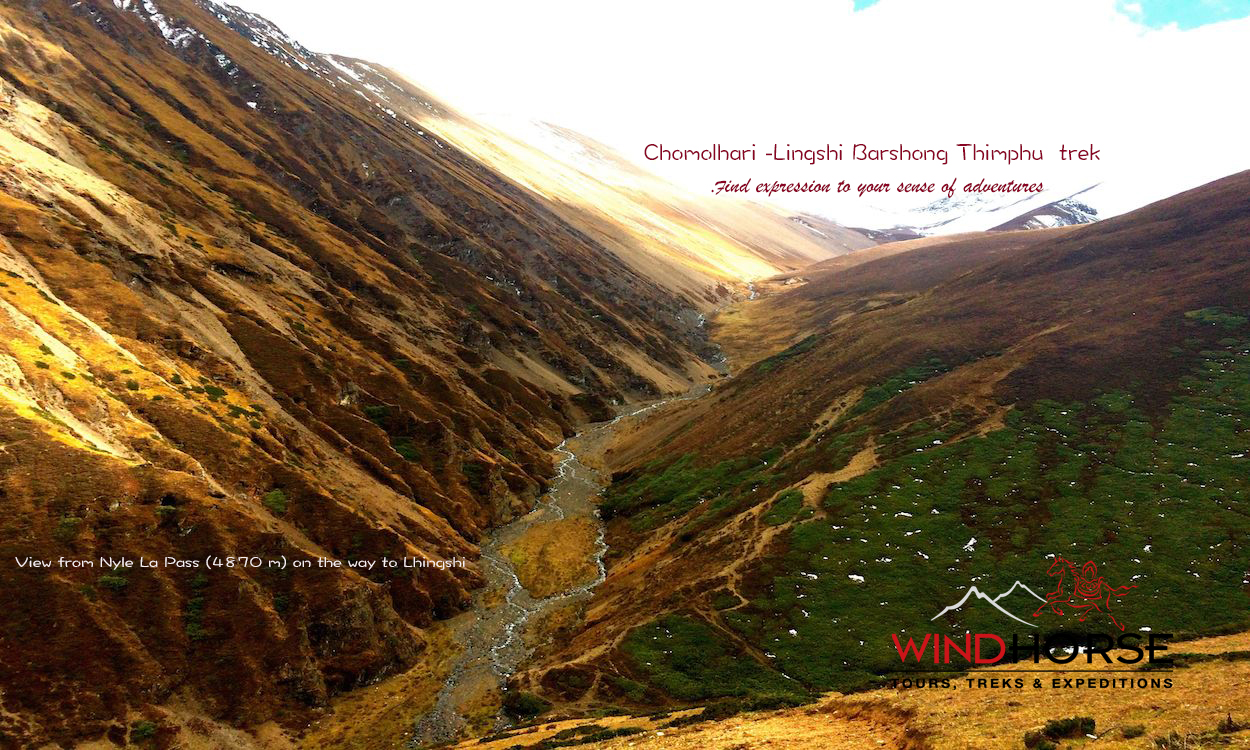 One of Bhutan's most popular trek, it offers spectacular views of 7314m high Jumolhari, its companion Jitchu Drake, Tserim Kang and the adjoining peaks. Mt. Jhomolhari is spelt as Chomolhari, Jumolhari or Jomolhari but they are all the same. Bhutan's deeply venerated guardian peak, rises on the Tibet-Bhutan border near the major ancient trade route from India into Tibet's Phari Valley. It is thought by many to be the most beautiful mountain in the whole length of the Himalayas. The trek passes through Bhutan's little-visited villages, valley's and forests, with opportunities to see blue sheep, along with a huge variety of bird life. In the spring, Rhododendrons, Azaleas, and masses of wildflowers carpet the high meadows, and pear and apple trees blossom in the valleys. In the fall, rice paddies ripen to a golden brown, and Yak herders bring their charges down from high summer pastures.  
Detailed Itinerary
Day 1: Arrive in Paro (2200 m)
Upon arrival at Paro (Bhutan) airport, you are met and transferred to the Hotel. Depending on the arrival time, you may be able to see few places in the late afternoon or evening, along with a familiarisation tour of Paro town.Overnight in hotel.
Day 2 & 3: Paro valley & Hike to Taktsang (3120 m)
During this two full days, we will spend one for touring and short walks around serene Paro valley and also hike up to the famous Taktsang (Tiger's nest) monastery. These two days should provide the required acclimatization before the trek.
Overnight in hotel.
Day 4, 5 & 6: Begin trek from Shana Zam (2860 m)
Drive north of Drugyal Dzong for about 2to 3hrs along the new farm road and begin trek from Shana into Jigme Dorji Wangchuk National Park. From Shana the trail runs parallel upstream Paro river with relatively small gain in height till Jangothang  base camp. First night is in Thongduzam (3200m/11 km/3 hours) . Second days follow similar trail pattern, overnight in Soi Thangthankhag (3575m/ 4 hrs/16 km) . Third day trek is  to Jangothang (4080m/ 15km/ 6 hrs), it follows a similar pattern like last 2 days till the army post from where the valley widen up.  Jangothang base camp area  is a beautiful grassy meadow beneath the enormous east face of Chomolhari.  This part of the trek is same as our Snowleopard trek. Overnight in Tent camp.
Day 7: Jangothang Rest day
Today is a scheduled rest day, intended to aid acclimatisation before crossing of the high passes. Jangothang is one of the most spectacular camping places in the entire Himalayas. On this rest day, you can choose to rest the entire day and explore yak herder community and  visit school . Alternatively,  you can also opt to visit Tshophu Lake  or walk toward Jhomolari to see moraines and glaciers. Overnight in Tent.
Day 8: Trek to Lingshi (4010 m/18 km/7 hrs)
By now, you will have well acclimated, but if you feel any attitude sickness, it is a best point from where to return back towards Paro instead of continuing on.
Climb steeply up with the views of Jichu Drake, Jumolhari, Tserimkhang and the adjoining peaks into a glacial valley with many moraines, above the tree lines. You may be able to spot blue sheep on the hillsides and see mountain marmots. Cross Nyile La pass (15,970'/4870m). descend steeply to camp beside the stream near Lingshi. Overnight in Tent.
Day 9: In Lingshi halt
Full day for exploration of Lingshi village, Lingshi Dzong etc; visit comunity school, medicinal plant collection center and surrounding mountains.Overnight in Tent.
Day 10: Lingshi to Shodu(4080 m/22 km/8 hrs)
After breakfast, trek south towards Shodu with gradual walk on the first phase. Our trail climbs up towards a small white chorten on a ridge above the camp, then turns south up the deep Mo Chu valley. The trail stays on the West side of this largely treeless valley, climbing steadily a short distance above the Mo Chu. It then crosses the river, and climbs steeply for two hours to Yeli-La (4820m). On clear day you can see Chomolhari, Gangchenta, Tserimgang and Masagang from this pass. The trail then descends alongside a stream to a rock shelter in a cliff face. It then continues on downstream until reaching Shodu (4100m)
Overnight at Tent camp.
Day 11: Trek to Barshong (3720m/14 km/5 hrs)
Our path follows the course of the Thimphu Chu, descending through Rhododendron, Juniper and mixed alpine forests. There are stunning views along the way. We stop at the riverside for a hot lunch. Then the trail takes us gradually upwards to the ruins of Barshong Dzong (3600m), near which we camp for the night.
Day 12: Trek to Dalamkencho-Dodena-Thimphu (2300m/22 km/8 hrs)
The trail descends gently through a dense forest of Rhododendron, Birch and conifers, then drops steeply to meet the Thimphu Chu. The trail runs along the left bank of the river, climbing over ridges and descending into gullies where side streams run down into the river. The final stage of the trail descend to Dodena village around a cliff face high above the Thimphu Chu. From Dodena transfer to Thimphu.
Overnight in Hotel
Day 13: Thimphu sightseeing.
Full day visiting cultural sights in Thimphu includes visit Memorial Chorten,Changangka Lhakhang, Tallest Buddha statue,Takin santurary,Zilukha Nunnery, Tashichodzong, School of art and craft,Weekend market as per available time.Overnight in Hotel.
Day 14:In Thimphu
Option for full day excursion-drive to Punakha & Wangdue (1350 m) and return to Thimphu in the evening. Or stay in Thimphu for further tour and to take it easy. Overnight in Hotel
Day 15: Departure
Transfer to Paro airport in time for your flight. If you are short on time, we can remove the rest day in Lingshi or the day 14 excursions to Punakha.
Group SizeWith your own group

MealsFull board for culture as well as trek.

Trip AccommodationFor culture portion we use best tourist standard hotel, even relative upgrade wherever possible. For instance hotel Druk and Tashi Namgay Resort (4 star deluxe) in Thimphu and Paro respectively. For trek portion, we use best trekking equipments and gears. Moreover we constantly upgrade our trekking gears, so we are fairly updated.

RouteArrive Paro
Trek (Drive to Shana -trek to Thongduzam
Thongduzam - Soi Thangthangkha
Soi Thangthangkh - Jangothang.
Jangothang - Lhingshi
Lhingshi - Shodu
Shodu - Barshong
Barshong -Dodema -Thimphu.
Thimphu -Paro (Departure)

Trip Type Cultural Tour


Trip Seasons Spring (March- May) and fall season from September - 1st week of Nov are the best time to do this trek. Passes are closed with snow during winter and sporadic rain in some places make it slippery and unsafe during monsoon.

Best MonthsMarch, April, May, October, November

Good MonthsSeptember

Lean MonthsAugust

Not RecommendJanuary, February, June, July, December
Prices & Dates
Cost is based on the number of participants. For details contact us.
Included:
•    Bhutan royalties, Visa, taxes and permits.
•    All transfers and transportation by good quality private vehicle.
•    English Speaking Guide through-out.
•    Accommodation in standard tourist hotels during tours and in tent camps during the trek.
•    All meals, including evening tea.
•    During the trek: fully organized trek with Tents, Thermal Pads, Blow pillow, Hot-water bag, Pack animals/porters to carry luggage. Basic Medical Kit, Cook and assistants. Beverages such as Juices, Tea, Alcoholic spirits are also provided during the trek.
Not Included:
•    Flights in and out of Bhutan. Booking will be done by us.
•    Travel/Medical Insurance – optional
•    Personal trekking gears such as sleeping bag, clothing, shoes etc.
•    Personal expenses such as Tips and gratuities (optional), bar/beverages, laundry, telephone and others not listed in the included section.
Included
Bhutan Royalties, tourists fees, Visa fees and taxes.
Accommodations in listed or similar hotels (pleasant hotels 3-4 star type) during the tour and in tents during the trek.
All meals, including evening tea/coffee etc through-out the trip.
All land transfers, sightseeing with entrance fees.
Experienced English Speaking Bhutanese Tour Guide.
Bottled water in the vehicle and other Comp. services.
During the trek:
Fully-serviced camping trek
Provided during the trek: tents (sleeping, dining Kitchen and toilet tents), trekking mattresses, small air pillow, Hot-water bag, Pressured Altitude Bag for altitude emergencies, Pack animals to carry luggage and additional riding pony for emergency. Basic Medical Kit. Trekking Guide, Cook and assistants accompany the group. All meals, beverages and snacks are provided.
Sleeping bag is available for nominal cleaning charges.
Also available to borrow for free: Walking Sticks (trekking poles), Umbrella/Pancho, Water Bottle
We are constantly upgrading our trekking equipment and gears, so you can be assured that you will receive the best and latest. We use the best sleeping tents available out there for this trek.
Not included
  Flights in and out of Bhutan.
   Personal trekking gears such as sleeping bag, clothing, shoes etc.
   Sleeping bags are available for rental.
  Any Item not listed in included section
Accommodations
---
Hotels in Thimphu
Hotel Druk a luxury four-star hotel is a part of the Tashi Group and has been in operation since 1985. Over the years, it has been renovated to give it a chic and modern edge that is powerfully felt in uncluttered spaces. Each floor, differently insp...

Namgay Heritage Hotel is one of the finest luxuries that Bhutan has to offer to its tourists. Located just a walking distance from the heart of Thimphu city. The property houses 4 different structures which are the main building, the Conference hall,...
Hotels in Paro
Hotel Olathang was established in 1974 for guests invited to the coronation of the 4th King of Bhutan, His Majesty Jigme Singye Wangchuck. The 23 acre property set amidst pine trees is located 5 kms from Paro International Airport, overlooking the be...

The resort is a 5 acre property,located conveniently in the heart of Paro but away from the distractions of the main town, Tashi Namgay Resort offers you a calm and peaceful environment within a five-acre compound. A unique blend of traditional Bhuta...
Trip Guide/Leader
---
×

Yonten Phuntsho may give way to being  shy guy bordering with man of a few words. But he is man who loves to be in thick of action . He leads from the front whilst on the tour. Behind  his facade lies the guide whose knowledge and passion runs deep for the love of his works. His aptly quote Barbara Kingsolver "I do my best work if I think about what it is I have to offer".

From the outset, he knew what he wants to do in his life. Right after finishing his Class 12, he enrolled for guide course for culture initially then extended few more month to complete course on Trekking as well in 2008. After doing free lancing for a while, he joined Wind Horse Tours in 2010.

For most Bhutanese, appeals that mountainous terrains throw in for an out door adventures are native. In the case of Yonten, it was no exception. He easily gave in to the temptation of Mountain biking with its advent. He explored and lead tours in his bike but his allegiance is more inclined to off road biking trips that leads to quaint villages. To explore the unknown and love for nature, these attributes  that he cultivated while trekking the alpine highlands and wilderness in remote corner of country was what prompt him to readily agree to embark on audacious Haa to Phuentsholing on mountain bike, overcoming challenges of carrying bike in tough terrains, untamed vegetations and unexplored areas.





×

From the outset, Pema Namgyal knew what he wanted to do in life. He love to keep things simple. Right after finishing his Class 12 from school in Thimphu in 2004, he joined guiding course to aspire to be a guide. Initially he started as cultural guide but with time, he felt more connected with wilderness, he did course for trek in 2008.

After a fruitful experiences with other companies, he joined Wind Horse Tours in 2010. He has led many treks, and I seriously doubt, if there are any tourist trails that he hasn't tread upon. One trek that stand out is challenging Snowman Trek, he comes highly recommended for this. In October, 2014 he successfully completed Snowman trek with 4 guests.

×

Growth in Tourism in Bhutan has also its share of impact on young minds. With tourists freely moving around, the curiosities to know them, talk to them holds ground firmly on young minds . Namgay is one among many youth whose imagination was captured by razzmatazz of tourism.

He has his career goal  cut out, he could have easily opted for some comfortable desk jobs, after passing out in flying colours from prestigious St Joseph college Darjeeling in 2010 but he chose to pursue his dream, he loved to be in field, among the guests, so it was only matter of time to enroll for guiding course.

His first foray into job was in 2013 at Wind Horse Tours and still he is going great guns. Feed Backs from guests that he led are great testimonial to his dedication.

He prodigiously read books that open up new frontiers and interaction with guests coupled with sound command of English takes his outlook towards learning and experiences altogether to different height.