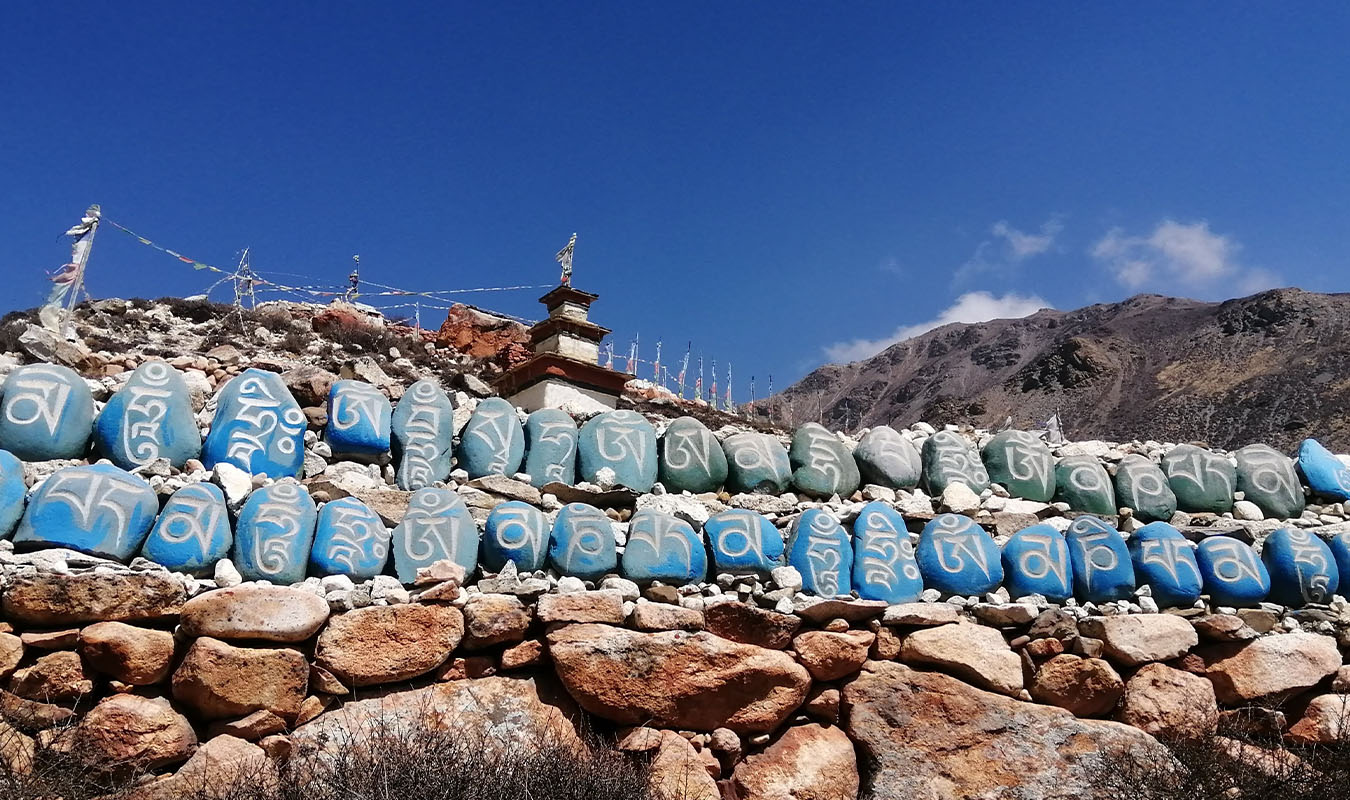 Trip highlights
Enjoy a scenic drive from Kathmandu to Soti Khola.
Explore the banks of the Budhi Gandaki River Valley.
Diversified, unspoiled ecosystems & less explored trekking route.
Walkthrough tropical green hills covered with pine and oak forests at the beginning of the trek
The unique cultural fusion of Tibetan and Nepali ethnic groups with a touch of Himalayan hospitality.
Enjoy the spectacular views of the 8th Highest Mountain in the world and other peaks.
Cross Larkya La Pass (5153m), the highest pass of this route.
Manaslu Circuit Trek is an adventurous classic trek to the less-explored and pristine Manaslu region of Nepal. The Manaslu Circuit trek takes you around the Manaslu conservation area. Besides, this trek allows you to circle Mt. Manaslu(8163m), the 8th highest peak in the world. Moreover, it offers an opportunity to experience the mountain scenery, beautiful landscapes, waterfalls, forests, and unique Tibetan culture. The Manaslu Circuit Trek trail navigates through dramatic valleys against the superb background of classic snow-capped mountains. Despite its popularity, the Manaslu Circuit Trek remains remote and off-the-beaten-path compared to other popular routes, such as the Annapurna Circuit Trek or The Everest Base Camp Trek. This region offers an extraordinary experience. Moreover, the Manaslu Circuit Trek trail passes through a geographically diverse landscape, culturally fascinating, with diverse flora and fauna. Similarly, the Manaslu Circuit Trek traverses through culturally rich highland villages, where we observe the local culture, traditions, and lifestyles of the local people.
The Manaslu Circuit Trek begins with a long drive from Kathmandu to Soti Khola. Our trek starts at Soti Khola. The hike is through beautiful forests, past terraced fields, and across suspension bridges. The Manaslu Circuit Trek trail passes through several villages and eventually arrives at Namrung. Namrung offers an astonishing view of the Ganesh Himal and the Himalchuli. Further, we continue to Samagoan, Samdo, followed by Dharamsala. The trail gets more challenging as we approach Larkya La Pass(5,106m). The hike is a gradual ascent, and the last leg is a steep ascent. There are outstanding mountain views all along the way. Since we will be passing through the Manaslu Conservation area, we will be able to spot different wildlife species like the Himalayan Tahr, Musk Deer, and Blue Sheep along the journey. After crossing the pass, it is a gradual descent to Bimthang. Further, we continue through the villages of Tilije, and Tal, and conclude our Manaslu Circuit trek at Syange. From Syange, we will drive to Besi Sahar and then to Kathmandu.
Detail Itinerary
Day 1: Arrival in Kathmandu
Upon arrival at the airport, meet and transfer to the hotel. In the afternoon, you have the option to take a self-guided tour around Thamel and the local streets of Kathmandu. Welcome dinner in the evening with a typical Nepali cultural program. Overnight in Kathmandu.
Day 2: Kathmandu Sightseeing and Trek preparation
After breakfast, we shall have a half-day sightseeing tour covering some of the UNESCO World Heritage sites in Kathmandu. We will visit Kathmandu Durbar Square and Swyambhunath Stupa. Kathmandu Durbar Square area holds the palaces of medieval Kings who ruled over Kathmandu. Swayambhunath is popular among foreigners as Monkey Temple. Due to the large monkey population living in this area. In the afternoon, we shall have a short briefing and discussion regarding the trek. Overnight in Kathmandu.
Day 3: Drive to Sotikhola (730m/8-9 hrs)
Today it will be a long drive from Kathmandu to Aarughat via the Prithvi Highway (127km/7 hrs). The drive goes along a paved road until Arughat. After arrival in Arughat, Arughat is a significant town in the region. We shall drive further towards Sotikhola for about 2 hours. Throughout the ride, we will enjoy views of the Nepalese countryside, traditional Nepalese villages, and rice and sugarcane fields along the way. Overnight in Soti Khola.
Day 4: Soti Khola - Maccha Khola (930m/6-7 hrs)
Today we cross over the Soti Khola and begin our trek. The trail traverses through beautiful Sal forests and climbs onto a ridge above the Budhi Gandaki river. We then reach Khursane, upon which the rocky trail weaves its way up and down, past two tropical waterfalls on a steep, rocky trail clinging to the cliffside. We eventually make our way down and past a few terraced fields, then up and around the Gurung and Ghale village of Lapubesi (884m). Further ahead is the Khani Besi village, quite a scattered place continuing to Nauli Khola over a long suspension bridge. We continue along the riverside and cross over another suspension bridge finally, arrive at Machha Khola. Overnight in Machha Khola.
Day 5: Maccha Khola - Jagat (1370m/6-7hrs)
There are two routes possible from here. We will follow the winter riverbed trail with some ups and downs, cross over the Tharo Khola and reach Khorlabesi. After a few more ascends and descends, we come across a small Hotspring in Tatopani. From the hot spring, we climb over to another ridge. And then cross over the Budhi Gandaki river over a suspension bridge. At this juncture, we climb on a wide, well-crafted staircase, then across a landslide area and over a ridge to reach Dovan (1070m). Upon crossing the suspension bridge over the Yaru Khola, we climb the stone stairs and then drop to the river. And again, climb more stone stairs to Tharo Bharyang. Crossing the west bank of the Budhi Gandaki, we climb over a ridge, trek along the river and then climb towards the village of Jagat. Overnight in Jagat.
Day 6: Jagat - Deng (1805m/6-7hrs)
Today we follow the stone-paved trail and climb over a rocky ridge to Salleri (1353m). And then descend to Sirdibas (1420m) and reach Ghatta Khola. We continue walking upstream and cross over to Philim (1570m), a large Gurung village. The trail turns north and stays on a level path as it crosses millet fields to Ekle Bhatti. The trail now enters a steep, uninhabited gorge. At this point, we descend to the grassy land slopes, cross over the Budhi Gandaki, then trek along the west bank for a while, then cross over to the east bank, and then back again. As we continue through, the valley widens. We pass through bamboo forests until we reach Deng Khola. Upon crossing the Deng Khola, we arrive at the tiny village of Deng. Overnight in Deng.
Day 7: Deng - Namrung (2630m/6-7hrs)
We shall cross over the Budhi Gandaki and climb up to Rana (1910m). After crossing the bridge, we continue on the trail and reach Bihi Phedi (1990m) & Bihi (2130m), then head west up the valley of Budhi Gandaki. The trail passes through forests and mani walls, where we turn towards a corner that contours to Ghap (2250m). Even though there is another route, we shall take the route through Prok village. We cross the Budi Gandaki river several times and come along across several Gompas en route. The trail follows the river upstream through a dense forest. After crossing the river at an impressive spot where it thunders down a narrow gorge, the forest becomes less dense, and the trail better. Hereafter, it is a steep uphill hike until Namrung. Overnight in Namrung.
Day 8: Namrung – Samagaon (3530m/6-7hrs)
Enjoy the beautiful mountain view from Namrung village. Namrung village is a good viewpoint for Siring, Ganesh Himal, and Mt. Himal Chuli in the south. From Namrung village, the trail ascends through forests to Lihi (2920m), a fine village with many chortens and seasonal barley terraces. The trail drops and crosses the side valley of Simnang Himal with Ganesh Himal and reaches Sho (2880m), where we have beautiful views of Mt. Manaslu and surrounding mountains. Further, the trail traverse through Lho (3180m), Shyala (3500m) villages, and reach Sama Village (3520m). We enjoy extraordinary views of Mt. Manaslu from Lho village and explore the famous Ribung Gompa. In Shyala village, we can see the surrounding high mountains of Himal Chuli and Peak 29 (Ngadi Chuli) to the left, Manaslu and large glaciers straight ahead, Ganesh Himal down the far end, and other snow-capped mountains to the right. Overnight in Samagaon.
Day 9: Acclimatization day(hike to Manaslu Base Camp & Pungyen gompa)6-7hrs
If you have missed the view of the mountains on the previous day, enjoy the breathtaking mountain and sunrise over the mountain with a leisurely breakfast. On this day we shall get acquainted with the rich Sherpa culture. Enjoy the sight of thousands of mani stones with Buddhist texts and pictures and the Sherpa women dressed in traditional clothes and ornaments. On the little hill near Sama village is an old Gompa (Pungyen Gompa), a monastery with a great view of the glacier. It was destroyed a year after the first unsuccessful Japanese attempt to climb Manaslu. Also, hike to Birendra Lake nearby Sama village & Manaslu Base Camp. In the afternoon, return to Samagaon and enjoy the time as leisure. Overnight in Samagaon.
Day 10: Samagaon - Samdo(3875m/4-5hrs)
Today we shall descend to the Budhi Gandaki River valley, following it to a bridge over a side stream. The trail to the left leads to the Manaslu Base Camp. We take the path to the right and follow the Larkya la trail. It is an easy trail on a shelf above the river, past the juniper and birch forests of Kermo Kharka. We drop off the ledge, cross the Budhi Gandaki on a wooden bridge and climb steeply onto a promontory between two forks of the river. From a stone arch, we can view a large white Mani. Finally, walking past the Mani, we reach Samdo. Overnight in Samdo.
Day 11: Rest Day in Samdo
Today is another day set aside for proper acclimatization. There are two options for us today. The option that we highly recommend is a hike up the valley directly at the back of the Samdo village. This hike will take us to one of the trade passes to Tibet. The pass provides excellent views of Mt. Manaslu with views of other Himalayan ranges. Those including Simrang, Hiunchuli, Ngadi, Larkye Peak, Cheo, and possibly Kang Guru behind the pass. We pass many seasonal herding settlements called doksas. We may be able to see some beautiful mountain birds like the Lophophorus, Lammergeyer and Himalayan Griffin soaring high above us. Another option for today could be a trip to the Gya La (large pass), a more frequently used trading route to Tibet. Overnight in Samdo.
Day 12: Samdo – Dharamsala(Larkya Phedi).(4460m/4-5hrs)
We shall continue our hike down the edge, cross the wooden bridge over Budi Gandaki, and begin walking uphill. After crossing the two streams with a view of the Lakya glacier. We take the trail around the valley of the Salka Khola and up to the stone guest house (4450 m). It is not a lodge but a kind of shelter called Dharmshala, also known as Larke Phedi. The short walk today also leaves plenty of time for acclimatization. Overnight in Dharamshala.
Day 13: Dharamsala - Larkya la(5160m) - Bimtang (3590m/8-9 hrs)
After a short climb, we reach a valley on the north side of the Larkya Glaciers. We can enjoy great views of Cho Danda and Larkya Peak. We will cross over the glacial moraine, making a gradual ascent, which becomes steeper only in the last section of the pass. The pass provides outstanding views of Himlung Himal, Cheo Himal, Kang Guru, and the Annapurna II. Further, we cross the Langbuche Kharka and continue to Bimthang. Overnight in Bimthang.
Day 14: Bimthang - Tilije (2300m/5-6 hrs)
From a ridge at Bimthang, we can enjoy great views of Mt. Manaslu, Lamjung Himal, Himlung Himal, and Cheo Himal. We shall descend across a high pasture Yak Kharka (3020m), followed by a bridge over Dudh Khola. We will walk through the rhododendron forest, following a trail through a narrow valley. Finally, we reach the highest cultivated land in the valley at Karche (2785m). We will pass across the fields and then climb over a ridge. Then a short descent will bring us to Gho (2515m) and Tilije village. Overnight in Tilije Village.
Day 15: Tilije - Tal(1700m/5-6 hrs)
Today, we will climb a small ridge over a stone-paved trail past a beautiful village. Then cross the bridge over Dudh Khola and climb up through a chorten-shaped arch, pass a mani wall and reach the Thonje village (1965m). At Thonje, we will come across a police checkpoint. And then continue to Dharapani (1963m). We enter the Annapurna circuit section from Dharapani. Further down, we come across Karte (1850m) village (also known as Khotro village), and we cross a bridge over the Marshyangdi River. And then, pass by some mani walls and arrive at Tal. Overnight in Tal.
Day 16: Tal - Syange (1080m/6-7 hrs)
Today we will cross over the Marshyangdi River and follow the trail to Chyamje village. As the trek progress, the Marsyandi valley opens with its terraced fields, and villages clung very high to the hillsides. The trail then descends through rhododendron and pine forests and finally arrives at Syange. Overnight in Syange.
Day 17: Syange - Kathmandu(8-9 hrs)
From Syange, we will drive to Kathmandu via Prithvi Highway (202km). The drive from Syange to Kathmandu via Besi Sahar offers an opportunity to enjoy both hill and mountain landscapes. The ride is often along the banks of the Marsyangdi and Trishuli rivers. We also drive by some beautiful villages with terraced fields on both sides of the road. Upon arrival in Kathmandu, check into the hotel. Overnight in Kathmandu.
Day 18: In Kathmandu
You have a free day in Kathmandu. The day in Kathmandu can either be spent as leisure or request a tour in the valley(with extra cost). Overnight in Kathmandu.
Day 19: Departure
Transfer to the airport for your departure flight homeward.
Group Size2-10

MealsOnly breakfast in Kathmandu, while all meals are included during the trek

Trip Accommodation3-4* category hotel in Kathmandu and local village lodge during the trek

RouteKathmandu-Soti Khola-Machha Khola-Jagat-Deng-Namrung-Samagoan-Samdo-Dharamshala-Bimtang-Tilje-Tal-Syange-Kathmandu

Trip Type Trekking
Cultural Tour


Trip SeasonsBest during Spring and Autumn

Best MonthsMarch, April, May, October, November

Good MonthsJune, September

Lean MonthsJuly, August

Not RecommendJanuary, February, December
Prices & Dates
Cost Information coming soon !!
Included
All transfers by private vehicle.
Sightseeing and monument entrance fee.
Accommodation in the above listed or similar(3-4*) hotels in Kathmandu and local village lodges during the trek.
Only breakfast during the stay in Kathmandu and all meals during the trek.
One welcome/farewell dinner in Kathmandu.
English-speaking local guide along with a porter(one porter for every two pax) during the trek.
Guide, porter, and trekking staff insurance.
All necessary paperwork and permit (MCAP/RAP).
All Government taxes and service charges.
Trip Guide/Leader
---
×

Hem Raj Bastola is a permanent inhabitant of Pokhara-25.  He has been working as a  tour and trekking guide  since 2010. Formerly he has worked as a guest service agent at the hotel Pokara Grande. He started his career as a Cave guide,  ticket sales man at Gupteshwor Mahadev Cave in Pokhara. So must of his working experience is related to tourism and hospitality industry. Beside his guiding profession, he enjoys reading and writing poetry. His poets have been published in different forums and medias.  When get free time loves to work in the field as well.