Mountain Biking across Bhutan
15 Days
Mountain biking through low traffic areas or off road in the Country
Trip Grade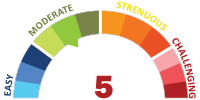 Trip AccommodationIn western Bhutan & Central, hotels are tourist standard covering amenities however in East, it tend to get relatively basic, however hotels are clean and hygienic. See Details
Group SizeAny group size
MealsFull board
RouteParo, Thimphu, Punakha, Trongsa, Jakar, Ura, Mongar, Trashigang, Samdrup Jongkhar
Trip TypeBiking Trip
Trip SeasonsSpring (Feb - April) and Fall (Sept - Nov). These are ideal month in term of weather. It can get wet and hot especially during summer in sub tropical east.
Best MonthsMarch, October, November
Good MonthsJanuary, February, April, December
Lean MonthsMay, September
Not RecommendJune, July, August
Trip highlights
Mountain biking through low traffic areas and few along the off-roads to villages and farmhouses.
Crossing a few mountain passes with over 3000 m.
Challenging ride uphill and swashbuckling downhill ride
Cultural Highlights 

Colorful Weekend Markets

Hike to Takstang (Tiger's Nest) Monastery
Attend Thimphu Tsechu Festival, one of the largest gathering.
visit of villages with opportunity to meet with locals, including a stay in a village.
Historical Monuments, temples, monasteries.
Bike Specification.
Brand – Trek 3700
Height – 19.5″
Gear – Shimona EF51, 7 speed
Brake – Tektro novella cable disc brake.
Frame – Trek Alpha gold aluminum
Chain – KMC Chain
Saddle – Bontragor SSR
Shocks – Adjustable.
Wind Horse biking tours will bring you to appreciate the country's natural beauty and cultural wealth. Primary feature that augment well to make an ideal biking experience is Bhutan's mountainous topography, offering varying degree of natural gradients. From challenging uphill ride to adrenaline rushing down hills to gentle ride in the valley, be it amateur or seasoned biker, it has all for everyone. In addition, it covers medieval and contemporary attractions and sights, tranquil and quaint villages, intact ecology and other natural landscapes.
Traversing the places, sights and topography that lies along the west –east highway (Approx. 600 km), throws challenges in varied forms such as battling a new mountain passes over 3000m everyday, maneuvering the dirt roads to reach some rural villages and farmhouses with the varying degree of gradients. However it makes lot easier with support vehicles at standby to forgo it at some places, if you wish.
You can bring your own bikes, pre-order and buy your bikes in Bhutan, or rent from us. Wind Horse along with our Guides keep and maintain several bikes. is backed by a support vehicle and tour Guide.
Although, the biking run is on the low traffic main roads but as much as possible we will take you to off roads that leads you to villages. Discover Bhutan's varied attributes on your biking pace.
Outline Itinerary
Day 1: Arrive in Paro
Fly to Paro and transfer to the hotel. This afternoon inspect/ready your bikes and take some short hikes and visit National Museum and Rinphung Dzong per available time. Overnight in hotel.
Day 2: Paro Valley
Today, you will get ample opportunity to stretch your legs. We will mainly ride along the back road/ village road, which hardly see much vehicles. Visit the ruins of Drukyul Dzong, Kichu Temple, Dungtse Lhakhang and take up little challenges on the unpaved farm roads with some gradients to Dzongdrakha and so forth. Overnight in Paro.
Day 3: Hike to Takstang  
In the morning, hike to iconic Taktsang.  Upon return from the hike, continue riding in the valley and explore. Overnight in Paro
Day 4: Thimphu
After breakfast, 1hr drive takes us to capital Thimphu. Spend the morning visiting some of the main highlights and attractions of Thimphu.  Thimphu has many short trails with great views. One option is to start from the Giant Buddha statue on Kuenselphodrang ridge and bike on the wide single path  to Changangkha temple for 6-7km with view of Thimphu city.  From here, we can continue uphill to Sangaygang View, Takin Preserve  and bike downhill into the core city area. Overnight in hotel
Day 5: To Punakha & Wangduephodrang
Spend the morning in Thimphu, where we continue with sightseeing, before driving up to spectacular Dochula pass, where we arrive in time for lunch. Some people may like to bike downhill and others don't like biking with motor vehicles speeding by. Visit Lamperi, a small natural Park below Dochula and drive/ride downhill into subtropical Punakha & Wangdue valley. Upon arrival, ride your bike to visit Chimi Lhakhang temple on the farm road, then bike for several miles along the road to your hotel.
Day 6: In Punakha & Wangdue
Spend a full day taking on some exciting rides into villages.  Visit Punakha Dzong and cycle up the Mochu valley. Afternoon take a challenging ride through high forest path from Shengana towards Limukha valley and then ride downhill following the road to Khuruthang. Limukha is a small village in the rice fields located 1000m above the valley floor. Instead of Limukha, we could drive up to Talo and Nobgang and then cycle down following the
Day 7: Punakha – Trongsa
Drive till Pelala Pass (3220m). Then from the pass ride down hill,  gradually loosing elevation past Rukubji village and then Nikachu (2700m). As you  approach Chendebji at 2400m, the road become more level. You can continue riding bikes or just hop on the vehicle and drive to Trongsa (2000m). At Trongsa, visit the impressive Trongsa Dzong. Overnight in hotel.
Day 8: Trongsa – Jakar (Bumthang)
Road make a steep climb up for 30km or so to Yutong La pass (3320m).  For those wishing to challenge oneself, this is one such opportunity. Ride downhill loosing 750m to valley of Chumey valley.  From Chumey, it is another half hour or more drive to Jakar. Overnight in hotel.
Day 9: Jakar
There are many sights and attractions to visit in Jakar. Ride and visit these attractions like Tamsing Monastery, Jambay Lhakhang, Swiss Farm, nearby villages, local homes and many more. As it's a flat valley there is hardly any varying gradient. Overnight in Hotel.
Day 10: Jakar to Ura
Today, the ride uphill till Ura pass or Sertangla pass  gains approx. 900m in about 40km.  From here there are two options to reach Ura. One following off road though shorter but its steep and rough. Other is new road but winding through step field and grazing land. Overnight in Guest House.
Day 11: Ura to Mongar
After a short descent, begin the climb to Thumsing La (3700m). The last ascent of about 9 kilometres is quite gradual and the scenery is stunning, as we pass through dense forest of conifer and rhododendron. This is our last high altitude pass. From the pass, we make a long descent on one of the most enjoyable and breathtakingly beautiful biking road in the world. The road plunges over 3000 metres to the valley floor at 600 metres. This descent is over 85KM and goes through dark conifers forests, and then a mixture of deciduous and conifer before entering the semi-tropical zone at an altitude of around 1500m.  In some places the road is hewn out of the side of a cliff, and above a vertiginous drop. By the time you reach you reach Limithang, it would feel like you are in tropics. Then it is final 20kms uphill  to Mongar, in the heat, that'll sting you. But you can hop in the vehicle.
Day 12: Mongar to Trashigang
With a gradual climb up to the Kori La 2390 M (Gradient 4-6%). From here a stiff descent through long winding road takes us to the Sheri river. From here we further ride to Tashigang along side the Gamri River, Overnight at hotel.
Day 13: Day Excursion to Trashiyangtsi
The ride will be quite interesting as it passes through many local roadside villages and small settlements. En- route, visit Gom Kora Monastery and the village of Duksum. From Yangtshi, drive back to Tashigang. Overnight in Tashigang Guest House.
Day 14: Trashigang – Samdrup Jongkhar (180kms)
For the most part today, we will be driving to cover the long distance but we will ride some interesting sections of the way. Overnight in best available hotel.
Day 15: Depart for Guwahati, Assam
Transfer to Guwahati airport, which takes about 3 hours. Wind Horse can also arrange interesting North East tour.