North East India Special Edition: Upper Assam & Megalaya
14 Days
Explore Tea, Tribe, Topography, history of North East India state.
Trip Grade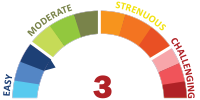 Trip AccommodationHotel used are the mixture of Colonial Tea Bungalow, 3 - 4* hotels, Bamboo Cottage, spartan village home stay. See Details
Group SizeAny number of members
MealsFull Board
RouteArrive in Dibrugarh
Dibrugarh - Sibsagar
Sibsagar - Majuli
Majuli - Kaziranga National Park.
Kaziranga - Gawahati
Gawahati - Shillong
Shillong - Mawylnong
Mawylnong - Cherrpunji
Cherrpunji - Gawahati
Gawahati - Martam (Sikkim)
Excursion to Gangtok
Departure to Bagdogra
Trip TypeCulture Trip
Trip SeasonsMid Oct to Mid March is the ideal time to visit these region. From April to September, it gets hot, humid and wet.
Best MonthsJanuary, February, March, November, December
Good MonthsApril, October
Lean MonthsMay, June, July, August, September
Trip highlights
Explore world renowned Tea Garden in Assam.
Insights into distinct cultural structure in Majuli – One of largest river island in the world.
Scan wild life in Kaziranga National park on elephant's back and Jeep Safari.
Contemporary and conventional Attractions, weaving village, Uma Nanada – world smallest river island in Gawahati.
Visit Mawllynong – Cleanest village in Asia, Living root bridge etc
Explore some natural wonder at world wettest place – Cherrpunji such as Seven sisters waterfall, Limestones caves etc.
Explore village through walk in Martam and not to miss sight and attractions in Gangtok (Sikkim)
Historically, North East India region has thwarted any attempts from  foreign invasions unlike in some other parts. Consequently it could retain its own indigenous culture and tradition forms . This special edition odyssey celebrates  indigenous and uniqueness of region .It is more about tryst with nature's grandeur such as largest river island -Majuli, wild life in natural habitat, natural  limestone caves, rubber fig root bridge at world wettest place,impacting socio -economical tea gardens,quaint villages, insights into social dimensions through greater interaction  with people and any spur of the moment activities that we may confront along the way. Also we have incorporated accommodations in  some spartan Bamboo cottages and village home stay  in  a few places.
The Trip begin from Upper Assam  exploring  tea gardens and its social life. Followed by  Ahom's legacies in form of centuries old Hindu temples. Crossing mighty Brahmaputra river to Majuli and delving into its social, religious structure. Explore best conserve Kaziranga  National park in India that pulsate with myriad wild life in its natural habitat. Gawahati has some contemporary attractions to keep one occupied along with weaving village. Megalaya entice with its allure of being wettest  place on earth and its related natural formation in form of caves, waterfalls.
Outline Itinerary
Day 1. Arrive in Dibrugarh
Flights are generally in afternoon, meet with representative and transfer to colonial plantation Bungalow converted into accommodation amidst tea garden.It still retains colonial charm and flavour with wooded floors and walls, sprawling and manicured lawn and typical tea drinking culture. In the evening, take a unhurried walk across tea garden into Tea garden village. If possible, also visit Tea factory and tea tasting.
Historically, Dibrugarh is a tea town but other commercially establishment grew over the time. Besides the town areas, it is enveloped with rolling green of tea and other foliage.
Overnight in Mancotta Bungalow or Similar.
Day 2. Drive to Sibsagar – 85 km – 2 -3 hours without stops.
Early morning hours is an ideal time for serene and refreshing walk in tea garden. After breakfast drive to Sibsagar, along the way we can stop for school visit. It is seen that students are invariably thrilled to receive visitors. Check into hotel and early afternoon we will visit some iconic attractions that are synonymous with Sibsagar such as Sibsagar Dhol comprising of group of Hindu Temples dedicated to Lord Shiva, Lord Vishnu and Goddess Devi respectively at the heart of the town. On the outskirt of town in Rangpur  is the Tatatal Ghar – a grandeur of Ahom architecture. Later visit Rang Ghar – amphitheatre constructed to watch cultural programmes and traditional games.
Sibsagar was erstwhile capital of Ahom dynasty. It was ruled uninterruptedly for 600 years. Remnant of its glorious past are still visible in form of temples and other architectures. Today, it is the centre for tea and oil industry. Overnight in Hotel Brahmaputra or Similar.
Day 3. Transfer to Majuli Island
Today, it involves some drive to cover some section and ferry across Brahmaputra to reach Majuli. After breakfast, drive to Nimatighat pier to ferry across for Majuli island. It's 66 km and its takes around 1 and half without stops. However along the way, its dotted with many medieval Hindu Temples dating back to Ahom legacy. Visit  a few temples and explore the architecture of temples specifically bas-relief on the outer wall of temples. Upon arrival on pier, catch public ferry to reach Kamalabari pier in Majuli. It takes around 2 hours. After, drive to today's accommodation. Rest and spend evening watching glorious sunset. Overnight in simple Bamboo Cottage.
Majuli is one of largest river island in the world. Due to continue erosion the areas has been downsized alarmingly. So a  few prophesies that Majuli will be annihilated by river Brahmaputra in couple of decades. Due to its unique topography, Majula could sustain a distinct cultural and social structure inhabited  predominantly by  "Missing" Tribe.
Day 4. In Majuli
It can be rewarding to wake up early for beautiful sunrise . Full day in Majuli involves visit to Mask Making unit, Satara ( Hindu Monasteries) we can visit nearby attractions on bicycle and for a outskirt sights such as pottery village and remote monasteries we can use car. We will also visit fishing village of Missing tribe – a typical stilt houses and also a small community sustainable weaving centre. In evening, we can go for walk in nearby villages. Or  in afternoon, we can go for fishing with locales using traditional fishing traps made out of bamboo.
Note – It would be ideal to align with local festival called "Raj Leela" that is based on life of Hindu God Krishna. Generally, it falls in November, based on their lunar calendar.
Day 5. Drive to Kaziranga National Park ( 110 km – 3 -4  hours)
Once again ferry across Brahmaputra to reach Nimitighat Pier. After, drive to Kaziranga, the drive is through smaller towns and patches of cultivated rice field on both side of roads. As we reach closer to Park vicinity, the vegetation gets thicker with lower speed to cross animal biological corridors. Check in to hotel. Later in evening, Jeep safari from the central entry point. Hotel is ideally located at 200 m away from park entrance. If time permit, visit tribal village on the fringes of Park, that based their sustenance on the park.
Kaziranga National Park is a world heritage site and covers 378 square km. Arguably, one of the best maintained national park in India.  The park is  home to two third of world one horn rhinoceros and also large breeding population  of elephant, wild water buffaloes and varied species of deer. Vast expanse of tall grasses, marsh land and sub tropical broad leaves forest provide a perfect habitat for the varied species of bird to thrive. Overnight In hotel.
Day 6. Drive to Gawahati  – 195 km – 4-5 hours.
Rise early for the one last moment being up and close with wild life through elephant rides and Jeep safari. Early morning provides greater opportunity for sighting of wildlife. During winter cotton grey low lying  mist lends a mystical allure to the ambience. Besides the wild life, the park pulsates with subtropical avians – ornithologist delights. After late break fast, embark on relatively long drive to Gawahati  however we will stop regularly to stretch our legs and visit some small pastoral village.Traditional Assamese  lunch on the way. Late afternoon take a stroll in town for shopping or rest in hotel. Overnight in Hotel.
Day 7. Drive to Shillong – 100 km – 2 hours.
Venture into Indian state of Megalaya for first time, the distinct feature is well paved and broad roads . It may take 2 hours at the most to reach Shillong however we will stop for spectacular view of Umiam lake on the way. Upon arrival visit Shillong landmark attractions Don Bosco Centre that display indigenous culture of region's native people. Toward late afternoon, walk through Lewduh Bura Bazar – largest market in Megalaya, its a labyrinth of narrow lanes, though crazily crowded on market day but it can be an adventure to manoeuvre the crowd and browse through shops that sells arrays of products. Overnight in Hotel.
Day 8. Drive to Mawlynnong  via Dawki – 85 km – 3 hours.
Today's port of call is Mawlynnong – known as cleanest village in Asia  and also features some natural attractions. Road is good so is the scenic landscapes that greet you, we will take a detour to Dawki (Indo -Bangladesh border). Whilst taking a detour, the road is slightly in bad conditions in some sections but it passes through remote Khashi villages (predominant tribe in Megalaya) and betel nut plantations – (major cash crop for local). We will stop to interact with locales and also if fortunate, we can watch workers in action at betel nuts plantation. Just before reaching the border, the view of fishing boat over blue Dawki river below is spectacular.After border visit, retrace the step, and we can take a short boat ride in Dawki river. Subsequently, further the road cut through thick betel plantations and vegetation till the Mawllynnong village. In the evening take a leisurely stroll through the village. Overnight in simple Homestay
Day 9. Drive to Cherrapunji
Wake up early for a final stroll in village. Strike conversation and interaction with friendly locales. Leaving village, a few kilometer away, stop to take a walk down to living root bridge – handmade by local people from aerial root of rubber fig trees. After, once we cross the village area, the landscape changes dramatically, thick vegetation give way to moorish land with sparse and dwarf vegetation over granite rocks in combination with incessant rain (being wettest place on earth) and perpetual low cloud especially during monsoon termed this place as Scotland of East. Upon arrival visit seven sister falls, Mawsami limestone Cave. After, on the way to hotel, visit old Presbyterian church established in 1841 – more for its contribution towards culture and social implication than theological. Overnight in colonial post office converted into hotel. If time permits we can walk in nearby local homes or we can do it in morning next day.
Note -if you wish to do famous Double Decker Root Bridge hike, in that case, one extra day has to be allocated, as it takes around 6 hours to complete the visit. It involves covering 3500 steps and descend 2400 feet. Some sections are very steep descent and climb.
Day 10 Drive to Gawahati – 90 kms ( 2 -3 hours).
After breakfast, drive over well paved  road and scenic landscapes on the way down to Gawahati. In Gawahati, there are quite a lot to see, after lunch, we can start with visit to Kamakya Temple – dedicated to all powerful female goddess, among many rituals, one is macabre animal sacrifices. After,  visit Lord Shiva (Hindu God) temple at Uma Nanda (World smallest river island). It involves public ferry ride across Brahmaputra  for 20 mins. From pier follow series of steps to reach the temple. Or if your interest lies on region's culture and tradition. You may visit some museums and cultural centre such as Assam State Museum & Srimanta Sankardev cultural centre respectively. Specifically, in Cultural Centre, largely, theatre are active with performing arts regularly. Overnight In Gawahati.
Note:we can plan to attend colourful 100 drums Wangala festival in Tura (West Garo Hills in Megalaya) – displays tribals  heritage. It generally fall in mid November.
Day 11 In Gawahati – Excursion to Saualkuchi (Weaving Village)
Saualkuchi is endearing referred as "Manchester of the East". Known for its centuries old heritage of weaving. Situated on the northern bank of river Brahmaputra, 37 km away from downtown Gawahati. It sometime take 2 hours or more due to traffic . Weaving is not just tradition passed through generations but way of life -labour of love.Most of the household have wooden operated loom. The products are locally called Mekela Chadar silk – a traditional Assamese dress worn by women. Upon arrival, watch the entire process of making. After retrace step back to Gawahati. Free Evening. After early dinner, gear up for overnight train journey to Siliguri.Overnight in Hotel
Day 14. Departure
Transfer to airport for outbound journey. Fly to Delhi/ Kolkatta or any major cities in India to connect international flight.