Sikkim and Darjeeling Special
8 Days
Sikkim and Darjeeling tour
Trip Grade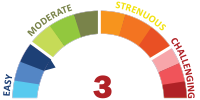 Trip AccommodationBest available 3 and 4 star hotels. See Details
Group Sizeprivate tour with your own group
RouteBagdogra-Gangtok-Pelling-Darjeeling-Bagdogra
Trip Typecultural and walking tour
Trip SeasonsAll the year round, best from March to May and from Sept. to November.
Best MonthsFebruary, March, April, October, November
Good MonthsMay, September
Lean MonthsJanuary, June, July, August, December
Trip highlights
Religious monuments, historical buildings, breathtaking mountain views, tranquil lakes and waterfalls, heritage train ride, lush green forests and tea gardens.
In Sikkim & Darjeeling, Mt Kanchenjunga loom ahead as a permanent fixture in the sky, it's an intersection of divinity, history and living off the land. Under its watchful eyes, over the time, many cultures and legacies thrived – A progression that started with being settlers' carving out lives as shepherds and farmers to the vibrant present day contemporary culture. This special edition trip examines closely history of this progression enveloping in its fold-varied aspects such as assorted living culture and tradition, natural landscapes, remnant of historical legacies in visible form such as monasteries, UNESCO Toy train, quaint and medieval Churches and some modern days attractions and sights too.
It commences from Gangtok – a youthful capital, it's marked with some young as well as archaic sights and attractions that resonate with saga of old days charms and present. And also excursion to highly revered Tsmogo Lake. After, the trip pursue road to west – Pelling is epicenter of Sikkim's historical events. After the focus shift readily to hill town of Darjeeling – there is more to Darjeeling than synonymous Darjeeling Tea and UNESCO toy Train. It is laced with some beautiful monasteries, Colonial Architectures and also some interesting contemporary attractions.
Outline Itinerary
Day 1: Bagdogra-Gangtok:-(1700m/ 125 kms/ 4-6hrs).Upon arrival at Bagdogra airport or NJP station meet our representative and transfer to Gangtok, the capital of Sikkim. The traffic can be chaotic in airport and Siliguri town area. Once away, the drive gets scenic with thick vegetation and roadside villages. The road is carved out of hills with sinuous curve and follow river Teesta upstream till Rangpo town- it also house immigration checkpoint, after immigration formalities, we gradually climb up to Gangtok. Gangtok can easily give in as bustling contemporary capital with its visual façade but upon closer look, traditional and cultural value still runs deep underneath. Upon arrival, its likely that there will time only for some leisurely walk in iconic MG Marg pedestrian boulevard and nearby Lal Bazar. MG Marg Street is what to Bond Street in London to English. It's lined up both sides with upscale and elegant stores. Benches under neon lit lamppost offer a leisurely watch as the finely dressed people passes by. Lal Bazar building is the landmark in Gangtok. Among its varied stores and establishments, vegetable market stands out with fresh supplies of edibles to meet daily needs. People from all walks of life throng the market making it very vibrant. Overnight in Hotel.
Day 2: In Gangtok:After breakfast, there is an option where we can use some walk to visit some nearby attraction like Flower Exhibition Centre – it displays wide array of Himalayan Orchids and other plants – a botanist's delights. It's around 20 minutes uphill walk from hotel or we can visit later via drive. After, drive up hills on the crest to visit Enchey monastery – affiliated to Nyingmapa order of Himalayan Buddhism. If one gets opportunity to be part of prayer or rituals reverberating with sound of bell, cymbal, horn, it can be spiritually uplifting if one can meditate or sit silently for a while. On the way down to the town area, midway visit some Hindu Shrines such as Hanuman and Ganesh Tok. Also we will stop briefly at Tashi View Point for astounding views below. In the vicinity of main town, we will visit Directorate of Handicraft and Handloom – it houses workshops for carpet weaving, Blackstrap loom, Bamboo craft, Painting school followed by a museum and handicraft sale emporium. Post lunch, visit Namgyal Institute of Tibetology – a treasure trove for finest Tibetan works, religious iconography and religious art. A few minutes walk takes you to Do Drul Chorten – a massive Stupa sits amidst 108 prayer wheels. It belongs to Nyinmapa tradition. Free evening – one can rest or relax or opt for souvenir shopping . Overnight in Hotel
Day 3: Excursion to Tsomgo Lake: (40kms/2 hrs)After breakfast we drive along the Kyongnosla Alpine Sanctuary with Rhododendron and other alpine trees to Tsomgo lake. Tsomgo lake is situated at the height of 3753 mts. The lake surface reflects different colours with change of seasons and is greatly revered by the Sikkimese people. This lake is generally covered in snow for most of the year and is a habitat for the red pandas and numerous rare species of migratory birds. After the visit we retrace our drive back to Gangtok. Overnight in hotel.
Day 4: Gangtok -Pelling: (2150m/ 113 km/5-6hrs)Given is the standard driving duration however it may take additional time considering the bad road conditions due to road expansion works currently. Today is relatively long drive. Along the way we will make a brief stops to stretch our legs and also to visit roadside village and interaction with locales but first, in the morning, we will visit famed Rumtek Monastery, sitting loftily on the opposite ridge of Gangtok. It's a main seat of Karma Kagyu linage in exile. The monastery is the largest in Sikkim, and a replica of its Karmapa's monastery in Tsurphu, Tibet. If you wish, you can take a short walk above the monastery through thick conifer trees and colorful prayer flags to a small ground where you can watch young monks playing football most likely. Upon arrival, check into hotel and if time permit, take a leisurely stroll around. Overnight in Hotel.
Day 5: In Pelling:Pelling is a quiet village in West Sikkim but immersed in rich historical heritage in term of Sikkim's monarchy legacies. And also home to historically important and sacred Pemayantshe monastery, Khechoepokri lake and Rabdentsey. Also this region is wettest in Sikkim, which has contributed to formation of many waterfalls. Full day will be devoted to visit these sites and attractions. Begin with Rimbi Falls, Rock Garden, Khechoepalri Lake, and Kanchenjunga Falls, Sewaro Rock etc. Later in the afternoon, we will do 2 short hikes to visit Sangacholing and Pemayantshe monastery. From hotel, its approx. 3 km to Sangacholing Monastery located at wooded hills and takes around 1 hour. Another one-hour hike from hotel enables to visit historical Pemayantse Monastery (2085 m) it belongs to Nyinmapa order of Vajrayana Buddhism followed by visit to Rabdetshe ruins. Overnight in Hotel
Day 6: Pelling – Darjeeling. (2042m/72kms/5-6 hrs)Today's drive to Darjeeling encloses some rough section of road due to road expansion work. However, once we cross Sikkim and as we climb Darjeeling, the drive gets scenic with lush green vegetation, tea gardens and interesting roadside villages. Upon arrival in Darjeeling, a leisurely walk in pedestrian Chowrastra mall and vibrant market nearby can be a perfect antidote for physical stiffness arising out of drive. Overnight in hotel.
Day 7: In Darjeeling:Darjeeling is vibrant hill station in Indian state of West Bengal retaining to a larger degree conspicuous colonial flavor in terms of visual sights of quaint churches, UNESCO Heritage Toy Train, Tea drinking culture etc. Also there is blend of some contemporary thriving culture making it not to miss destination.
Though optional but worthy, provided clear weather but more often, weather plays spoilsport for predawn activities of beautiful sunrise view from Tiger hills. Also, if an avid hiker, one can choose for hike from Chowrastra to Ghoom via Alubari traversing small villages, magnificent views over paved roads for 3 hours.
In standard way, the activities unfold in following ways: After breakfast, we begin sightseeing mostly on foot. Visit Himalayan Mountaineering Institute, one of the premier mountaineering institutes in the world, whose first field director was Tenzin Norgay. Among others, watch elusive and shy Red Panda in Padmaja Naidu Himalayan Zoological Park. Snow Leopard Breeding Centre, houses highly elusive cat that prowl on the Himalayan highlands. Not so far, on a walking distance is Tibetan Self-help centre, it emporium boast of highest quality Tibetan handicrafts. World famous tea is synonymous with Darjeeling so we will visit a tea estate that produce one, on the way back. In the afternoon, 5 km drives from town take you to beautiful Dali monastery – affiliated to Kagyupa sect of Vajrayana Buddhism. After, free time to wander around. Option available to take a joy ride on a toy train . Overnight hotel in Darjeeling.
Day 8: Departure:After breakfast, transfer to the airport/railway station for your onward journey. We will keep enough time at our disposal to counter notoriously chaotic traffic in Darjeeling and Airport area.