Sikkim Dzongri & Goecha La Trek
15 Days
Trekking in Sikkim to the South East Part of Mt. Khanchendzonga
Trip Grade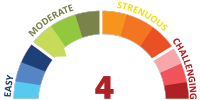 Trip AccommodationIn comfortable 4 star type hotels and lodges during the tour and in tent camps during the trek. See Details
Group SizeMin 2 Required
MealsAll meals, including some high tea.
RouteDarjeeling - Gangtok- Yuksom - Trekking - Peling - Siliguri
Trip TypeTrekking
Best MonthsApril, October, November
Good MonthsMarch, May, September
Lean MonthsJune, July, August
Not RecommendJanuary, February, December
Sikkim Dzongri and Goecha La is undisputedly the most popular trek in Sikkim, that takes you up-close for a spectacular view of the mighty Kanchenjunga (south-east face), amidst a majestic panorama of Mt. Pandim, Kabru, Simvo and great many other peaks of Eastern Himalayas.
This is one of the most romantic trails that the Indian Himalayas has to offer. Starting with enchanting walk through the Tshoka Rhododendron forests, then through vast alpine meadow past Dzongri and Thangshing, climb to see the dazzling blue waters of Samiti Lake. From Lamuney campsite, our final assault, early in the morning, brings us to Goechala pass (4940m), a pinnacle of this classic trek, for incredible views of Mt. Kanchenjunga (8,598m), the third highest mountain in the world, and India's tallest. Until mid-19th century, it was considered the tallest in the world. Kangchenjunga is located on the boundary between Nepal and the Indian state of Sikkim. Kanchedzonga, literally meaning the five Treasures of Snow after its five high peaks, and has always been worshiped by the locals.
Prior to trekking into the realm of towering mountains, this holiday begins with sightseeing in atmospheric British Raj hill station of Darjeeling and in the capital of Sikkim -Gangtok. Along the way, we will also tour some tea gardens
Outline Itinerary
Day 1 & 2: Arrive – Darjeeling
Upon arrival at Bagdogra airport/N.J.P train station or Silguri, meet and drive to Darjeeling through lush green tea garden, where we spend two nights touring its monuments, local attractions and browsing through its narrow alley markets. We will also take a joy ride on the toy train and tour its tea-estate-factory. Overnight in May Fair Hotel or similar
Day 3 & 4: Gangtok, Sikkim
Drive through the rolling hills, past tea gardens and through little towns to Gangtok, capital of Sikkim and spend two nights here. Tour several of its monasteries, Flower Gardens, traditional Handicrafts Factory, stop at several view points and stroll through the local market. Overnight in Nethuk House or similar.
Day 5 : Yuksam
Drive west through foothills, along river valleys to Yuksam, with ever changing vegetation. En-route we will also stop to visit as many places as possible, as our road passes through Singtam, Temi tea Estate, Ravangla and Tashiding. Yoksum is important in Sikkimese history as the place where the first Chogyal (king) of Sikkim was crowned in 1642. At Yoksum, we'll rendezvous with our trekking staff, including the Sherpas, porters, and cook staff. Yaks will be used on the trek to carry our gears and supplies. While here, we will also try to visit attractions around Yuksom and make short walk to Dubdi Monastery. Overnight in simple hotel (Tashigang)
Day 6, 7 & 8: Trek to Bakhim & Dzongri
From Yuksom, we begin our trek, steadily climbing up through the rhododendron forests, crossing Prekchu river and up the hill to Bakhim. Next day we gain more altitude as we we climb up to the meadows of Dzongri (4,030m). In Dzongri, we have a full to explore and enjoy impressive views of the surrounding Himalayan peaks, or simply rest !
Day 9 & 10: Thangsing & Lamuney
Well-rested, we continue gradual ascend over open hillside, with more astounding views, and then descend through rhododendron forest to Prek Chu River. From here we follow the river upstream to Thangsing, located beneath Mt. Pandim. Next day our agenda is to walk bit further to Lamuney, which takes only about 2-3hrs and get some rest or explore the area or proceed bit further depending on the weather and group situation. Camp.
Day 11: Goechala – Thangsing
Early this morning, we make a final ascend to Goecha La (optional), the pinnacle of this trek, for the incredible view of Mt. Kanchendzonga and adjoining peaks. Return to Lamuney and continue further downhill to Thangsing camp.
Day 12: Thangsing – Tshoka
Leaving Thamgsing, we take a slightly different route back, avoiding the long climb to the Dzongri Plateau. Descending to the Prek Chu river, contour round through jungle with, inevitably, some ups as well as downs, to emerge at Phedung again. From there it is a steep walk down to Tsoka. This, of course, saves a day on the return march, but does involve quite a long day . Camp.
Day 13: Tshoka – Yuksam -Pelling
An easy day of hiking brings us back to Yoksum. Bid farewell to the trekking crew and afterwards drive short distance to Pelling, from where you can look back at Kanchenjunga. Overnight in a comfortable hotel.
Day 14: Pelling- Siliguri
Sunrise view over the Kanchenjunga and after breakfast visit Pemayangtse monastery and Randentse ruins, before driving down to Silguri, following Tista river most of the way. Overnight at a comfortable hotel Sarovar Plaza.
Day 15: Siliguri-Bagdogra
Departure transfer to Bagdogra airport in time for your departure flight.
Save