Dzongri & Goecha La Trek Sikkim
13 Days
Trekking in Sikkim to the South East Part of Mt. Khanchendzonga
Trip Grade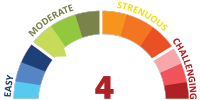 Trip AccommodationIn comfortable 3-4 star type hotels and lodges during the tour and in tent camps during the trek. See Details
Group SizeMin 2 Required
MealsAll meals, including some high tea.
RouteBagdogra - Namchi - Yuksom - Trekking - Peling - Siliguri
Trip TypeTrekking
Best MonthsApril, October, November
Good MonthsMarch, May, September
Lean MonthsJune, July, August
Not RecommendJanuary, February, December
Sikkim Dzongri and Goecha La is highly rated trek for its conventional beauty in eastern Himalayas. The combination of its rugged terrains and trail at some stretches that challenges and test your dexterity as a trekker and eventually exposure to surreal alpine landscapes ring in a sense of completeness as a trek. A tryst in particular as you will be greeted with spectacular view of the mighty Kanchenjunga (south-east face), amidst a majestic panorama of Mt. Pandim, Kabru, Simvo and great many other peaks of the Eastern Himalayas all along the way. Complimented by enchanting walk through the Tshoka Rhododendron forests, then through vast alpine meadow past Dzongri and Thansing, climb to see the dazzling blue waters of Samiti Lake, ultimately, a spell binding view from Goechala pass (4940m).
Also some of the cultural attractions that defines spiritual Sikkim, prior and post trek in Namchi, Yuksom and Pelling respectively.
Outline Itinerary
Day 1. Bagdogra-Namchi. (1675m/97kms/4-5hrs):On arrival at the airport, meet our representative and drive towards Namchi, a small town with the Kanchenjunga range at the backdrop. The road passes through the town of Siliguri and other settlements, foothills, forests along the bank of the Teesta River and enters Sikkim at Melli. After completing immigration formality at the checkpoint we make a gradual ascent till Namchi. If time permit, we can visit the char dham complex where we can find the replicas of all the four dhams (Hindu pilgrimage sites) of India, all in one place. Evening free to stroll around the town. Overnight in Namchi.
Day 2: Namchi – Yuksom.(1780m/81kms/4-5hrs):Early morning visit the nearby Ngadak monastery. After breakfast check out of the hotel and proceed towards Yuksom. On the way we can visit the Samdruptse hills where there is a huge statue of Guru Padma Sambhava and the Samdruptse monastery. Further we continue our drive with a short break at Ravangla to visit the Buddha Park. After the visit proceed through changing vegetation to Yuksom. Yuksom was the first capital of erstwhile kingdom of Sikkim and the main trailhead towards Mt. Khangchendzonga and is a popular destination among trekking enthusiasts. In Yuksom, we rendezvous with our trekking staffs and the crew. Overnight in Yuksom.
Day 3: Yuksom – Sachen (2050mts/8km/3 to 4hrs trek):The trek begins, the campsite for today is revised one to Sachen than previous Bakhim. For larger portion, it's a gradual climb and its get steeper for last 20 minutes to Sachen. The trek gradient is from moderate to slightly difficult. Unlike overnight in Bakhim, this gradual hike and gain in altitude provides a much-needed acclimatization in the process. The trail passes through a sub tropical forest comprising of oaks, chest nuts, magnolias, Himalayan maples, vibernums, lianas and orchids clinging on trees and cliffs etc and over the courses of hike you'll also cross three iron bridges over the rivers Pha Khola, Tshushay Khola, Mentogang Khola respectively. Khola locally means river. Sachen at 2050 m is a small clearing amidst forest. It houses a small log cabin but we will camp just opposite the log hut. Overnight in tent camp.
Day 4: Sachen – Tshoka (3000mts/8kms/3 to 4hrs trek) via Bakhim:From today, as we trek further, gain in altitude will be noticeable. Although, its just 8 km, but the trek start to get strenuous with noticeable altitude gain. At the beginning for 1 km till the iron bridge over Prekchhu river is relatively gradual. The bridge is adorned with colourful Buddhist prayers flags, which mark the start of Goecha la Trail. After, to reach Bakhim (2625 m) is a steep climb; one can feel the altitude gain with every step one takes, through oak forest and along the way, the vista of Mt Pandim & Mt Tenzinkay are astounding. From Bakhim, the view of Yuksom valley is beautiful. After tea break, continue hike for 2 km to reach Tshoka however on the way we have to maneuver a series of switchbacks – trail involves a mixture of steep ascent and descent until a gradual climb takes you to the plateau of Tshoka – it also denotes last sign of human settlement. If time permit, you may also visit a monastery, which entail a walk away from Tshoka and crossing a small wooden bridge. From Tshoka the view of eastern Himalayas Mountain peaks are conspicuous, but among it, Mt Kanchenjunga and Mt Pandim dominates the horizon. Overnight in camp or log Hut.
Day 5: Tshoka – Dzongri (4000mts/9kms/ 5 to 6 hours trek) via Phedang:From here on Trek start to get serious with rapid altitude gain and rough trail conditions makes it even more challenging. Past Tshoka, the trail climb through rich vegetated forest of Rhododendron, if spring, it's a visual treat to see it in bloom however the trail follows rocky terrain initially but give in to paved wooden log trail after, however the trail continue to be filled with rocky elements such as stone and pebble till we reach Phedang (3200 m). By then you will have covered only half portion of today's hike – 4.5 km, takes around 3 hours of difficult hike.
After much need rest in Phedang, we will embark on hike to cover other half (4.5 km) of days hike till we drop anchor for today in Dzongri. As we gain altitude, the vegetation turns from temperate to alpine with dwarf rhododendron featuring mostly along the way. The trail climb sharply with dwarf Rhododendron that lines the slopes and a few stretches of muddy trail that may test your dexterity in maneuvering the condition. It's a ridge climb so the trail switches to the alternating sides of hill so are the view that changes between Mt Pandim and Kabru. An hour later, climb to the top that is marked with stupa and prayer flags, this also happens to be the highest point in day hike at 4100 m. After break, gently descent into the verdant meadows of Dzongri surrounded by mountains on all sides, offering surreal alpine landscapes and vista of Koktang 6,147m, Ratong, Kabru 7,338m, Kangchenjunga 8,586m, Simvo 6,815m and Pandim 6,691m.Overnight in tent camp.
Day 6: In Dzongri. (rest day):Early morning hike up the ridge till Dzongri peak for Sun rise view with Khanchendzonga Range and the Onglathang Valley on the back drop (45 minutes to 1hour). After breakfast we will take a day hike to Gingay Dara with its panoramic views of the Ratong Valley and Ratong Glacier as well as the snowy peaks of Koktang, Kabru, Frey and mountains to the south of the Kanchenjunga. We will also be able to see in the distance the H.M.I. Base Camp, the area designated for high altitude mountain training for students undergoing basic and advanced courses with the Himalayan Mountaineering Institute. The hike to Gingay Dara is moderate, about four hours roundtrip. Overnight in tent camp.
Day 7: Dzongri- Thansing (3900mts/12kms/4 to 5hrs):Today is relatively moderate hike with a mixture of gentle descent and ascent in some stretches. Past Dzongri, the lush meadows and dense Rhododendron forest continue with gentle descent till it give way to forested area – pulsating with myriad temperate birds. These attributes make this trail very beautiful. Further hike with clear descent to Kokchurung (3660 m) – it houses one small trekker's hut and also one can see the view of Thansing –our campsite. However we will walk a few more minutes to bridge over Prekchu river. After resting, the last segment of trail is of 2 km. It entails till midway or more traversing through Rhododendron forest with gentle ascends but after you will confront rocky climb to some distance and a bit of further hike suddenly exposes you to lush meadow of Thansing, which is U shaped valley. Overnight in camp
Day 8: Thansing-lamuney (4164mts/7kms /3hrs). (Samiti Lake):Today we begin our approach toward our last camp at Lamuney. The trail to Lamuney is quite decent with gradual ascent that combines with landscapes of lush meadows and stretched pastures, yak herder camp, grazing yaks etc along the way. However closer to campsite, it's a steep rocky climb. In total it should take 2 – 3 hours, upon arrival in Lamuney, you can choose to rest or embark on short hike of 1 hours to cover 2 km to visit beautiful Samiti Lake however the trail is filled with stones and pebbles. The campsite is in a beautiful area near Prekchu river at the base of Mount Pandim and other peaks. Overnight in Camp.
Day 9: Lamuney –Gochela- Thansing. (4960mts/approx. 18 kms/7-8hrs):Today is the longest and toughest in the trip. An early departure is strongly advised to cover epic 18 km in a day at above 4500 m altitude. Ideally, a way before pre- dawn (around 3 a.m.), earliest departure has manifold advantages such as reaching on time to viewpoint for first ray striking Kanchenjunga. Pre sunrise walk over moraines is much easier than post sunrise as the snow is still hard. Most likely a good view in morning is higher. On the way back, it provides more time to spend in Samiti Lake.
Follow the same trail to Samiti Lake, which takes around 1 hour through moraines. From here Goechala viewpoint is 3 km, it may sound miniature but it's a steep climb to the ridge over a narrow trail struck to the sides of mountain. Breathtaking views from Goechela are what make one forget all the odds and physical endurance that one undertakes to reach. After spending some time, retrace the step, moor for a while in Samiti Lake to savor its sight and surrounding for last time and lunch in Lamuney. After descend for 2 hours to today's campsite at Thansing. Overnight in Camp.
Day 10: Thansing – Tshoka via Phedang. (18 kms/ 7-8hrs):From here on we will start losing altitude as it's largely descend. Today is another long walk but trail structure and gradients are good with flat and descend hike respectively. We'll override the trail to Dzongri, instead follow the trail left which remains flat and quite interesting with moderate switchback only to switch between mountains. The trail envelopes Rhododendron forest all along the way and on left Mt Pandim and neigbours dominate the skyline till Phedang, which is 10 km and takes around 4 hours. After resting in Phedang the trail to Tshoka is steep descent. Overnight in Camp.
Day 11:Tshoka–Yuksom-Pelling (16kms /6 -7hrs trek):We retrace back to Yuksom. Today the trek is much easier as it is almost downhill walk until Sachen. From Sachen the trail goes up and down generally losing altitude. With a few ups and downs finally we reach the neighborhood of Yuksom. On reaching Yuksom board on to the waiting vehicle and drive to Pelling to the comfort of your hotel.
Overnight in Pelling.
Day 12: Pelling-Siliguri:Unlike most, we choose Pelling over Yuksom for overnight. Pelling is a small hamlet immersed in history with some important monasteries standing testimonial to its glorious past. After breakfast hike to Pemayangtse monastery, this monastery stands on a hilltop and is about 45 minutes walk from Pelling. Further continue to the ruins of Rabdentse, the 1st capital of the erstwhile kingdom of Sikkim. Later we continue our journey towards Siliguri. Siliguri is a commercial epicenter for Darjeeling districts and Sikkim. Also it has some very fine hotels, after trek, perhaps to indulge in some form of luxury is naturally justified. Most importantly, its close proximity to airport is its forte, in past, driving from Sikkim or other places there were many close call to reach airport on time due to its ever growing chaotic traffic.
Overnight in Siliguri
Day 13: Departure:After breakfast transfer to the airport for your departure flight.
Save