Village Tour of Western Bhutan
09 Days
Villages in Paro -Punakha - Thimphu & Haa Valley- 9 days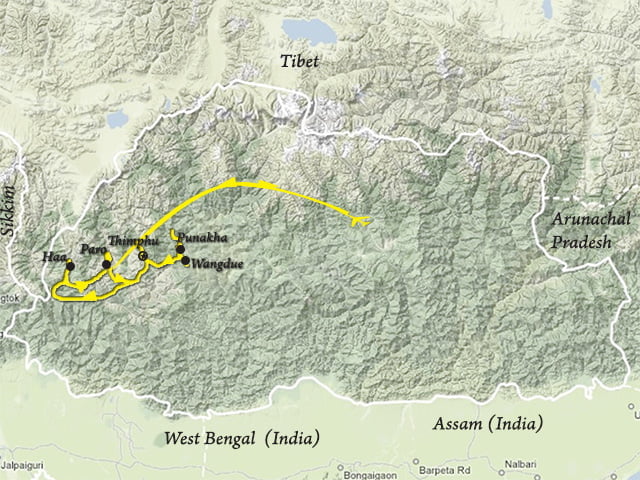 Trip Price From US$ 1630 | See Details
Trip Accommodation Hotels & Lodges with Bhutanese Hospitality and ambience. See Details
Group SizePrivate travels - individual or small group
MealsAll meals and evening tea & Snacks are included.
Route Paro - Punakha / Wangdue - Thimphu - Haa - Paro
Trip Type Cultural & Village tour
Trip Seasons Through-out the year.
Best MonthsJanuary, February, March, April, May, June, July, August, September, October, November, December
Trip highlights
Step back in time while visiting the remote villages of western Bhutan. Experience real Bhutan in its villages, in meeting local folks and experience Bhutan's unique culture. Take in spectacular Himalayan scenery. Go walking in pristine valleys. Join a pilgrimage trek to the remarkable 'Tiger's Nest' Monastery Learn about local legend at the Buddhist temples and Dzongs. Visit local markets.
Bhutan Village tour is our sincere effort to show real Bhutan found in its villages, where time have stood still. Immerse in its culture, try the local food, visit Bhutanese farmers, interact with the families, children, monks and nuns and revitalize with traditional stone bath. We also include visits to the key monuments such as Dzongs and but ensuring that you will not be dzonged out with too many of them. Our long experience and visitors' feedback for many years have prompted us to come up with this tour that provides authentic Bhutanese experience. It is a summary of all that draws visitors our country; friendly people, beautiful scenery, a vibrant, proud culture. On this tour, Wind Horse strive to showcase the living culture and traditions, and its harmony with modernity. It is our endeavor to show the pristine environment and how culture, nature and modernity can coexists to provide happiness in the country known for Gross National Happiness.
Outline Itinerary
Day 1: Arrive in Paro Upon arrival, meet and transfer to the hotel.
This afternoon begin the tour familiarizing with visit to local village, which gives the first glimpse of Bhutanese rural life. We also visit historical Rinphung Dzong, and also stroll around Paro.
Overnight in hotel.
Day 2: Paro –Punakha/Wangdue On the way to Punakha, we will get the first sight of Thimphu, which is an hour drive from Paro.
From Thimphu, continue drive uphill to Dochula pass (3,100m), which provides spectacular panoramic views of the Bhutanese Peak. We spend some time exploring the area, its park and may be even walk for a bit. In the afternoon, visit Ewakha village and take a short walk to visit Chimi Lhakhang. Later in the evening, visit impressive Punakha Dzong at the confluence of Pho & Mo Chu rivers. Punakha and Wangdue are located at about 1400m in warm sub-tropical valley, alongside Punatsangchu river.
Overnight in hotel or (option to stay family run Guest House)
Day 3: In Punakha & Wangdue Drive up the hilly road to explore Talo village and Nobgang village, the home of the Queen mothers of Bhutan. We will have an opportunity to visit one or two homes, enjoy a tea with them, see their vegetable and flower garden and learn about their daily living. Then return to the valley and visit Richengang village near Wangdue.
Overnight in hotel or (option to stay family run Guest House).
Day 4: Punakha – Thimphu After early breakfast, drive back across Dochula pass, to Thimphu. Rest of the afternoon is for touring the capital, where we visit among others, Folk Heritage Museum, Textile Academy, the great Tashicho Dzong, Colorful Farmer's Market and Changlimithang ground for opportunity to see an Archery in progress.
Overnight in hotel (Option to stay in a home-stay Guest House).
Day 5: Thimphu – Haa Valley In the morning, after briefly touring Thimphu, drive through one of the least traffic road, and beautiful landscapes to Haa Valley. Along the way, we will make stops in several villages.
After our arrival in Haa, we will visit Chebri village and drive up the dirt road to Tachu Goempa village. Your accommodation in Hatoey village is in a traditional Farm house converted to a modern lodge.
Tonight, you will be provided traditional hot stone bath, and you try Ara, a local Bhutanese Liquor as a part of this Bhutanese experience.
Overnight in lodge.
Day 6: In Haa Valley Full day in Haa, to explore local villages on foot, visit their homes and meet the families. Today, you will also try some Haap dishes.
Overnight in lodge.
Day 7: Haa – Paro On the way to Paro, stop at Chele la pass, the highest motor-able road in Bhutan. Just below the pass, visit secluded Kila gompa nunnery, a cluster of cliff-hanging homes for nuns. Upon arrival in Paro, the rest of the afternoon is for visiting local villages in Paro.
Overnight in hotel
Day 8: In Paro – Hike to Takstang Our Bhutan Village tour culminates with the hike to famous Taktsang (Tiger's nest) monastery.
Options are available for hiring riding pony/mules till the view-point.
Upon return, freshen up at the hotel and visit the town area, for a final stroll and a farewell dinner.
Overnight in Hotel.
Day 9: Departure If you flight departs late, we will cover any remaining sights in Paro. Then transfer to the airport, in time for departure flight out of Paro.