Village walking tour of Sikkim
6 Days
Walking tour that delves deeper into village life.
Trip Grade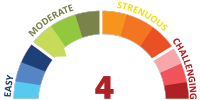 Trip Accommodation1. In Upper Martam Village - Martam Retreat hotel
2. In Temi Tea Garden - Cherry Resort/ Local Home Stay See Details
Group SizeAny group Size
MealsFull Board
Route1.Arrive in Upper Martam Village
2. Upper Martam Village - Gangtok & Back
3.Martam - Temi Tea Garden via Ravangla.
4. Departure
Trip TypeWalking Tour
Trip SeasonsThis tour can be done throughout the year due to its ideal altitude of 1300 to 2100 m. Except it can be reasonably wet during july and August. Even peak winter can be pleasant with clear blue sky and warm sun.
Best MonthsJanuary, February, March, April, May, October, November, December
Good MonthsJune, July, August, September
Trip highlights
Explore Upper Martam,  Temi Tea Garden village and smaller one along the roadside whilst driving
Visit attractions and sights in Gangtok
Interaction with villagers, school Visit, scenic moderate village hike.
Visit factory in Temi Tea Garden, interaction with Tea workers, walk in Tea garden.
A few can claim to be a short trip but it's good enough to cover some of pleasantly old fashioned yet charming villages in east and southern Sikkim. This 5 nights/ 6 days trip is specially curated so that we can delve deeper into life sustained in villages combined with adequate amount of walking as the title itself suggest. Arguably, through setting pace of walk of our own, it  can be best way to feel the pulse of life in village. We can make a spirited effort to be part of system, ambience and daily life of villages by striking  chord with friendly locales through greater interaction, school visit, cooking and learning the art  of making  local cuisine, home stay  etc.
Also, we have incorporated excursion visit to bustling & youthful capital – Gangtok and not to miss attractions and sights. Temi Tea Garden is the only tea garden in Sikkim that just not only boast of bio – organic tea but also great weather. Watch tea workers in action -plucking fresh leaves and also making of tea in factory. Visit villages that revolve on tea garden for the living, etc.
Outline Itinerary
Day 1: Arrive in Upper Martam Village (4500 feet)Pick up could be from Bhutan/India border, Bagdogra airport or NJP train station in Siliguri. Meet guide & Driver and arrive in upper Martam village (East Sikkim). Toward evening take a gentle walk to visit Martam village which is close by. This will be first introduction to village life in Sikkim.
Overnight in Hotel
Day 2: In Martam Today, embark on a scenic hike to visit next village. It takes around 2 hours one way and hike is a mixture of forest and terraced rice field trail walk. It traverses rich sub tropical forest, traditional houses with granary, vast expanse of rice field. Traditional lunch in local home. After, visit Hindu Krishna Temple and village tour. On the way back, we'll take different route that end near the school. School and village visit.
Overnight in Hotel
Day 3: Excursion to Gangtok. (5250 feet/36 km/ 1 – 2 hours)Gangtok is the exuberant capital of Sikkim. After breakfast, drive to Gangtok. Visit prominent attractions such as Directorate of Handloom and Handicraft, Namgyal Institute of Tibetology, Enchey Monastery, Flower Exhibition Centre, Do Drul Chorten, vibrant Lal Bazar Market. On the way back, visit Rumtex Monastery – main seat for Karma Kagyu lineage of Vajrayana Buddhism. After, take a short hike of 1 -2 hours to cover 6 km stretch to reach the hotel. Its on paved road but with very less vehicular traffic.
Overnight in Hotel.
Day 4: Drive to Temi Tea Garden (6900 feet/98 km/ 3- 4 hours)After breakfast drive to organic Temi Tea Garden. The drive profile are it's a brief descent and on relatively flat road for almost 30 km, after as you ascend there is distinct changes in vegetation, gradually sub tropical vegetation give way to temperate, such as pines, conifers, fir Hemlock combined with perennial clear white clouds add to mystical allure. Stop at Ravangla and visit Buddha Park. Upon arrival, take a walk in beautiful tea estate.
Overnight in Hotel (Option of Home Stay)
Day 5: In Temi. Full day in Temi Tea Garden Hotel is idyllically located on the top overlooking lush green tea garden and mountain ranges. After breakfast, we will visit village, which is nearby to hotel. Interact with villagers, delve into their daily life. Later visit School, Tea factory, walk in Tea garden and interaction with Tea worker.
Day 6: Transfer to Bagdogra for flight to Delhi. (4- 5 hrs)Ideally, we start early to cover traffic congestion nearby airport, if any.
Optional: We can arrange local cultural show in evening.
Meeting & interaction with some literally figure such as one who has published books on Sikkim (Subject to availability).
Learn and cook the local cuisine.