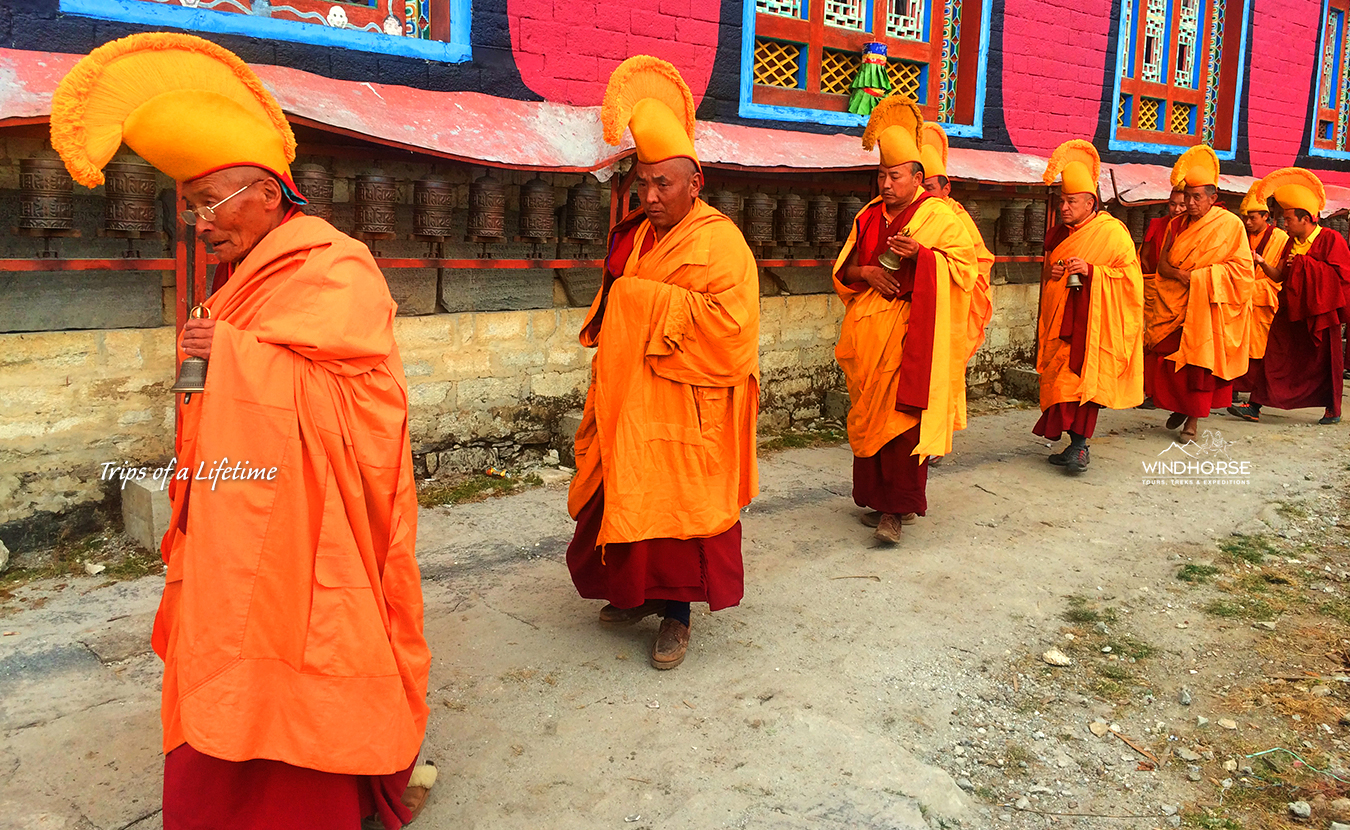 Everest Sherpa Cultural Trek
Till Namche bazaar & Tengboche
13 Days
As the name itself suggests, The Everest Sherpa Cultural Trek. The aspects that readily conjure up with the name of Mt Everest are that of reverence, its might, and in the same breath, the Sherpa's associates for their contribution as a porter, submitters, and keepers of the larger-than-life entity. Since time immemorial, they have lived around the sanctity of Mt Everest and formed their own endemic culture and tradition ethos. This trip explores the cultural delights of the Sherpa community, through a relatively easy trek, across a broad spectrum of flora and fauna. Offering rewarding views of Mt Everest and other mountainous ranges at the end for all the efforts.
The Everest Sherpa Cultural Trek and the Everest View Comfort Trek are two easy treks in the Everest region. Trekkers do not need prior trekking experiences to do these treks. Anyone with good health and little trekking experience can do this trek. In this Everest Sherpa Cultural Trek, you will explore areas below 4000m, around Namche Bazaar and Tengboche, with some of the best views from Namche Bazaar, Syangboche, and Tengboche. Moreover, the Everest Sherpa Cultural Trek brings you up close to the heartland of the Khumbu region, where you experience the Himalayan culture, lifestyle, and tradition of the Sherpa people, with Buddhist monasteries and snow-capped peaks around. But, if you are looking for a more challenging trek in the Everest region, please check our Everest Base Camp Trek, Everest Three High Pass Trek, and the Gokyo Lakes Trek.
Outline Itinerary
Day 1: Arrival in Kathmandu
Day 2: In Kathmandu
Day 3: Fly to Lukla-Trek to Phakding
Day 4: Trek to Namche Bazaar 
Day 5: Trek to Syangboche
Day 6: Trek to Pangboche(via Tengboche)
Day 7: Trekto Thashinga(via Phortse)
Day 8: Trek to Thame
Day 9: Trek to Monjo
Day 10: Trek to Lukla
Day 11: Fly to Kathmandu
Day 12: In Kathmandu
Day 13: Departure
Trip Highlights
Sightseeing tour to various historical/natural/cultural sites in Kathmandu.
Magnificent scenic flight to Lukla from Kathmandu.
Experience the lifestyle and traditions of Sherpa people living in the Himalayas.
Trekking in Sagarmatha National Park (Listed as UNESCO world heritage natural site).
Scenic spectacular view of Mt. Everest from Everest View Hotel.
Discover numerous Buddhist monasteries and other cultural monuments Variety of floras and faunas.
Explore the Sherpa Museum in Namche Bazar & a bustling remote village town of Sherpa settlement at the altitude of 3440m.
Visit Tengboche Monastery, situated at a height of 4000m.
Discover rich Buddhist and Tibetan culture and traditions.
Eye-popping view of the world's highest mountain, Mt. Everest.
Visit Sir Edmund Hillary School in Khumjung.
Detailed Itinerary
Expand All
Day 1.
Arrival in Kathmandu
Upon arrival, meet our representative and transfer to the hotel. Depending on your arrival time, you can either relax at your hotel or take a short walk and visit the Thamel area. We will have Dinner in the evening at a traditional Nepali Restaurant with a cultural performance. Overnight in Kathmandu.
MEALS:
Altitude:
1350m
Today we will visit some UNESCO World Heritage Sites, including Kathmandu Durbar Square, Boudhanath Stupa, and Pashupatinath Temple. Kathmandu Durbar Square is the former palace used by the Kings of Nepal, we will visit the Durbar square area along with various temples and monuments. After the visit, we will drive to Boudhanath stupa, Boudanath stupa is the largest buddhist stupa in Nepal. Circumambulate along with the pilgrims and visit the monasteries around. After lunch we will drive to visit the Pashupatinath temple, the holiest hindu temple in Nepal. Later in the evening, we will have a short discussion regarding the trek. Overnight in Kathmandu.
MEALS:
Duration:
5-6hrs
Day 3:
Fly to Lukla-Trek to Phakding
This morning we will take a spectacular 30-minute flight to Lukla. The flight to Lukla, in itself is a thrilling adventure because the Tenzing Hillary airport at 2860m is one of the highest situated airports in the world. The flight offers good views of the mountain peaks. We will meet our porters, who will carry our bags at the airport. We will gather our gears and head for Phakding along the Dudh Koshi river. The trail goes through scenic landscape, forests and local villages. We will cross over a suspension bridge and arrive at Phakding. Overnight in Phakding.
All flights to Lukla during the peak trekking season(1st April-30th May & 1st Oct-30th November) will operate from Manthali airport in Ramechhap.
MEALS:
Altitude:
2610m
Duration:
8kms/3hrs

Village Lodge/Tea House
Day 4:
Trek to Namche Bazaar
From Phakding, the trail goes through beautiful pine and rhododendron forest along the bank of Dudh Koshi River. We pass through several Sherpa settlements like Bengkar, Chumao, and Monjo , crossing over the Dudh Koshi river several times. We enter the Sagarmatha National Park at Monjo and cross over the Hillary Suspension bridge. We get the first glimpse of Mt. Everest from Chautara. Hereafter it is a steep uphill hike all the way to Namche Bazaar. Namche Bazaar is the centre of Sherpa community and the most vibrant town in the Everest region. It has various shops selling: souvenirs, trekking gears and many more. There are cafeterias, good hotels, even a bakery, banks,  and money exchange counters. This is the last place where you can do you last minute shopping , if you have missed out anything in Kathmandu. Overnight in Namche Bazaar.
MEALS:
Altitude:
3440m
Duration:
12kms/6hrs

Village Lodge/Tea House
Day 5:
Trek to Syangboche
Visit the nearby internationally known Museum of Sherpa Culture & Everest Photo Gallery. Our stay in Namche naturally helps to acclimatize, so we begin another 2hrs steep climb up to Everest View Hotel, passing Syangboche airstrip (3700m) along the way. Opened in 1971, the Guinness Book of World Records (2004) accords it as Highest Placed Hotel. Enjoy the 360-degree panoramic view from the hotel and descend to Syangboche village. Overnight in Syagboche.
MEALS:
Altitude:
3780m
Duration:
2.5kms/3hrs

Village Lodge/Tea House
Day 6:
Trek to Pangboche(via Tengboche)
Topday is a bit more challenging day. Leaving the hotel, we head towards Khumjung (3790m) and join the main trail for Tengboche. The trail descends to Dudh Koshi (3250), past several lodges and a series of water-driven prayer wheels. Hereafter, it is a steep ascent of about 600m to the ridge‐top of Tengboche (3870m), the famous monastery with Ama Dablam, Everest, and other peaks in the background. Tengboche is the biggest monastery in the region. From Tengboche, we descend to Debuche village, cross the Imja Khola, and climb through the rhododendron forests, past mani stones to Pangboche. Pangboche is a pleasant village surrounded by fields with great views and an old monastery. Overnight in Pangboche.
MEALS:
Altitude:
3970m
Duration:
11kms/6hrs

Village Lodge/Tea House
Day 7:
Trek to Thashinga(via Phortse)
If you wish to make it easy, return via the same trail. Otherwise, we plan on going via Phortse. Walk to Tashinga via a different route, passing through the less-visited Phortse village. From Pangboche, we will take the high trail above the Imja River. This trail undulates along the valley side, with fabulous views across the mountains, Tengboche perched on its ridge. After about two to three hours, we round a corner with the isolated village of Phortse (3,840m) below us, situated in a spectacular spot on a promontory overlooking the Dudh Kosi in one direction and the Imja in the other. We will alk down to the river (3600m) valley and climb towards Mong La through a heavily forested area, where you may see Danphe pheasant and musk deer. The mountain views from Mong La (3950m) are breathtaking. We then descend to our lodge in Thashinga (3450m), located outside the village, with views down the valley to Ama Dablam and Everest. Overnight in Thasingha.
MEALS:
Altitude:
Thashinga at 3450m
Duration:
10kms/5-6hrs

Village Lodge/Tea House
Leaving Tashinga behind, the trail contour on a small path and reach the main trail leading to Khumjung in about an hour. It is a gentle uphill walk up the shallow valley built into a mountain bowl. The villages with terraced fields overlooking the Sherpa holy mountain called Khumbu Yul Lha. Khumjung is the first village, and Khunde is a short walk further on, which contains the famous medical center instigated by the Sir Edmund Hillary Trust. We take time to visit the Edmund Hillary School in Khumjung. The path continues, and rounding a corner, we look down at the hamlet of Tshro. As we move up to the head of the valley, we come to one or two lone houses and small fields, then cross the river and pass through the small hamlets. We follow the old Tibetan trade route where we may pass by some Tibetans who come over the Nangpa La to trade in Namche. This well‐formed, wide path makes for a mostly easy walk. Today you are more than likely to see Griffin vultures and mountain goats. Before you reach the village of Thame, the path descends to a bridge over a narrow fissure with water roaring below. Here there are large wall paintings of Guru Padmasambhava. Hereafter the trail climbs steeply to the picturesque village of Thame (3750m) with a backdrop of massive snow-covered peaks. Overnight in Thame.
MEALS:
Altitude:
3750m
Duration:
14kms/5-7hrs

Village Lodge/Tea House
We will retrace our hike to Phurte, from where we will take the lower trail to Namche. After 3-4 hours of easy walking, we will arrive at Namche Bazaar for lunch and maybe a short time for shopping. Then a long descent downhill, crossing the Sir Edmund Hillary Bridge to Monjo. Overnight in Monjo.
MEALS:
Altitude:
2835m
Duration:
13kms/5-6hrs

Village Lodge/Tea House
Our last day of trekking is gradually downhill till Phakding. We will have a chance to visit the Gumila monastery from Phakding by walking a little more than a half-hour from the main trail. From Phakding, we continue following the river valley for a bit and then climb the side of the ridge to Lukla (2840m). Overnight in Lukla.
MEALS:
Altitude:
2860m
Duration:
13kms/4-5hrs

Village Lodge/Tea House
Early morning, we will fly back to Kathmandu. The rest of the afternoon is free for you to choose to rest, relax, pursue your interest, or explore the vibrant city further. Overnight in Kathmandu.
MEALS:
Altitude:
1350m
Duration:
30min
Today has been set as a contingency day, in case the flight from Lukla gets canceled due to the unpredictable mountain weather, which is unfortunately quite frequent. In the event if everything goes as planned, you may spend this day as you please. You might wish to go souvenir shopping or, if you prefer, you can request a sightseeing tour of the Kathmandu Valley. Overnight in Kathmandu.
MEALS:
Transfer to the airport for your departure flight.
MEALS:
Cost Information
Included
All transfers by private vehicle.
Accommodation as per itinerary, 3-4 star hotels in Kathmandu & local village lodge/tea house during the trek.
Only breakfast in Kathmandu and all meals during the trek.
Sightseeing as per itinerary with entrance fee
English-speaking local trekking guide with porter(1 porter for every two members)
Necessary paperwork and permits (TIMS/National park fees/Rural municipal fee)
Domestic flight-Kathmandu-Lukla-Kathmandu
One welcome or farewell dinner with cultural performance in Kathmandu
Not included
Nepal Visa fee
International flights to and from Kathmandu
Meals other than those listed (Lunch & dinner is not included in Kathmandu and also in the case of early return from trekking than the scheduled itinerary)
Extra night accommodation in Kathmandu in case of early arrival, late departure
Personal expenses (Tips, Laundry, Telephone, bar, beverages, battery recharge, extra porters, bottle or boiled water, shower, etc)
All other personal expenses not listed in the included section
Traveller Review
I was fortunate enough to book a last-minute trip to Nepal through Wind Horse for March/April 2017. I had confidence in them because I had a wonderful experience with them in Bhutan. Ugen and his team are really great at putting custom trips together. I was interested in wildlife and trekking, and seeing the Himalayas, and every day was simply amazing!!!
Three days in Chitwan National Park watching rhinos, elephants, crocodiles, and an amazing array of birds. The hotel was beautiful and right on the river, and you could even see rhinos from the deck every day! Then off to a 5-day trek in the Annapurna region. I had never really done trekking before, and my guide, Hem Raj Bastola, was really helpful and kind. I learned so much about the region and stayed in fun trekker lodges with gorgeous views. The hiking was so diverse…with jungles, sweeping vistas, monkeys, and to top it off, sunrise with clear views of the Himalaya from Poon Hill!
Then it was off to the Everest region for a 10 day trek. My guide, Lhakpa Sherpa, was simply and amazing person and I felt very lucky to spend time with him and explore this spectacular region. I loved every town, every day, every minute of this part of the trip. Seeing Everest for the first time, and all the peaks around it and in this region was one of the highlights of my life, made so much more so by the amazing open and big hearted people of this region.
I also got to see beautiful and important sites in Kathmandu and Bhaktapur thanks to Mahendra, my guide in Kathmandu and overall contact in Nepal. No matter where I was in the country, Mahendra was keeping track and making sure everything was going well. I really appreciate his outstanding efforts to provide an excellent and varied experience for me. I went on this trip solo, but I never felt alone.
I highly recommend Wind Horse Tours and am looking forward to my next adventure with them!!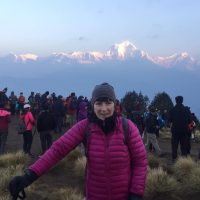 Dianne
March 26-April 18,2017
Facebook Review
Trip Photos