This trip was truly remarkable, and my mother-in-law and I had the experience of a lifetime.
From

West Chicago,Illinois, 60185, United States

Travelled with us on

Customised Tour of North India, Bhutan And Nepal

Travelled Date

Sept 13 to Oct 03,14
Hotels New Delhi -The Hans, New Delhi
Jaipur - Trident Jaipur
Agra -Radisson Blu Hotel Agra
Khajuraho - Radisson Hotel Khajuraho
Varanasi - Radisson Hotel Varanasi
Nagarkot - Club Himalaya Resort
Kathmandu - Soaltee Crowne Plaza
Thimphu - Hotel Druk
Punakha - Meri Phuensum Resort
Paro - Tashi Namgay Resort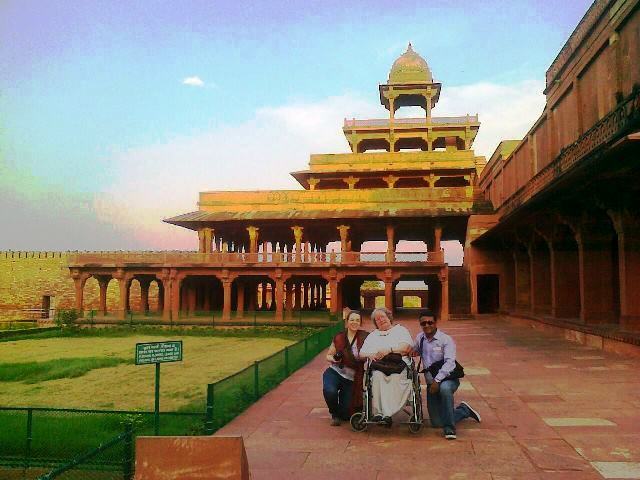 Petrie's India,Nepal & Bhutan Private Tour. TID -753 (Sep 13 – Oct 03, 2014)
Dear Anand and team, Namaste! Thank you for your follow up message! My apologies for the delay in response. It would be my pleasure to provide feedback and any endorsements that would be useful to you in future planning and for promotional purposes in bringing on new guests.
This trip was truly remarkable, and my mother-in-law and I had the experience of a lifetime. It is with reluctance that we are making our transition back into life now in the US again, because we enjoyed our time abroad so very much, and because we still dearly miss the people, and the sights, sounds and tastes of these amazing countries!
The India portion of the trip was our favorite time, and we learned so very much. We were particularly impressed with Gaurav Goyal as our guide, as you know, and couldn't recommend him enough. He made us feel like family during our stay and went out of his way to ensure that my mother-in-law in particular felt comfortable and cared for. Unfortunately, she had developed an issue with her back during the trip that she is still recovering from, which has been making walking all the more difficult for her. This, regrettably, was the reason for cutting the time in Bhutan short. I had very much been looking forward to hiking those last couple of days, but just did not feel good about leaving her behind in the hotel in order to do that. Back in Delhi, we were able to take in a few more activities that she and I could enjoy together. But not only Gaurav – all of the guides, and the drivers as well – went above and beyond to assist her every opportunity that they could, in every area we visited. Thank you so very much for all the kindness and thoughtfulness!
Our hotels were all very nice facilities, and we found ourselves continually pleased with the arrangements. Our favorite places to stay were the The Hans in Delhi, the properties in Jaipur and Agra, and Club Himalaya Nagarkot. Again, thank you!
We have so many pictures and video from our travels! I put together a YouTube video – which you are most welcome to view and/or share, if you would like – of just one day of sightseeing in Delhi, and I am actively in the process of making more, one from each segment of our trip:
As soon as I get the opportunity, I do also plan to add some comments to TripAdvisor about your company and the various places we saw and where we stayed. In the meanwhile, if you have any further questions for me, or if there is anything else I might do for you, please don't hesitate to let me know.