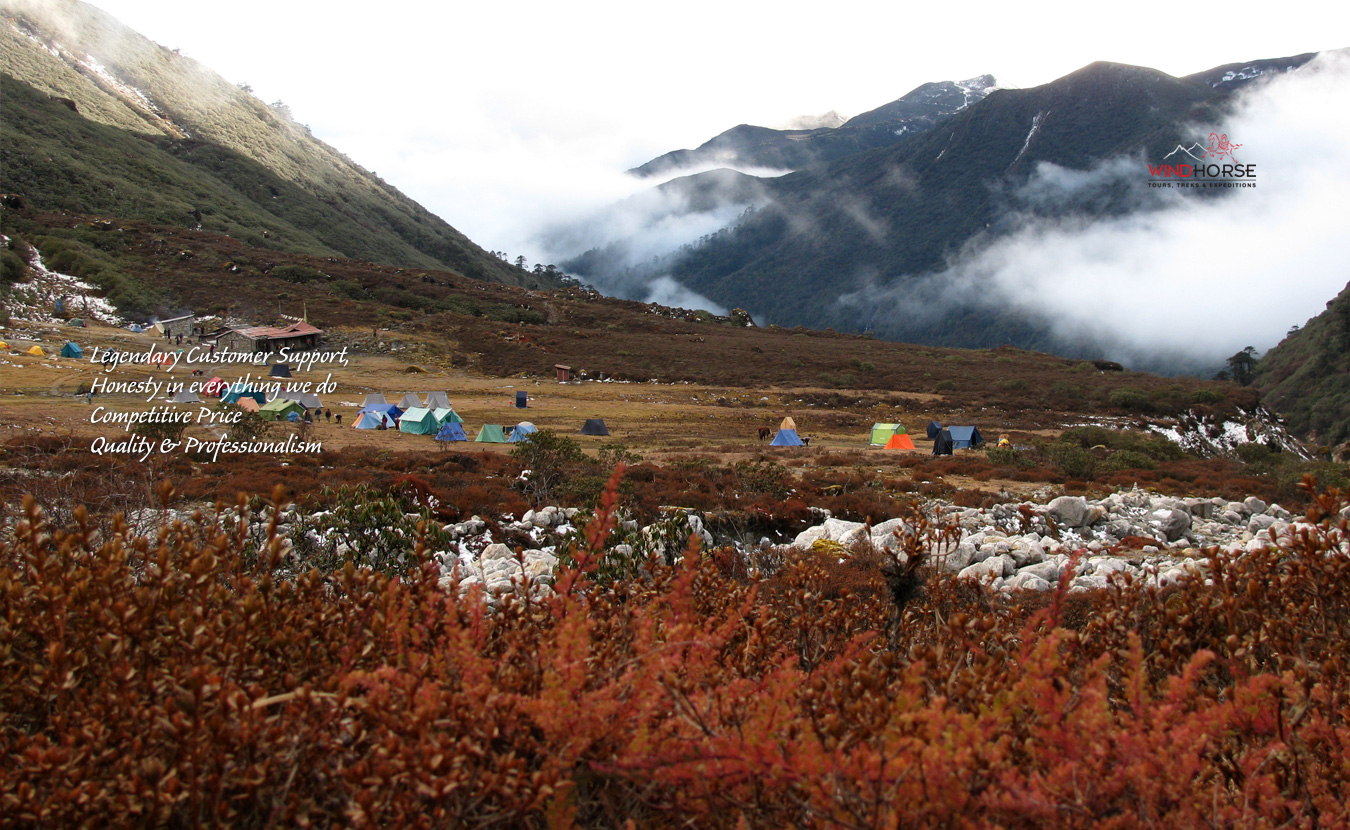 Above The Clouds – Jomolhari Laya Gasa Trek
Chomolhari Laya Gasa trek
19 Days
Trekking
Jomolhari Laya Gasa Trek, also spelled as Chomolhari Laya Gasa trek, is among Bhutan's and the world's best treks. It offers diverse trekking conditions, from scenic farmland and forests to a stunning lunar landscape surrounded by majestic peaks. Wildlife sightings of blue sheep, Takin, various bird species, and even the elusive snow leopard are possible. Along the way, you'll encounter isolated Dzongs, scattered settlements like Jangothang, Lingshi Chebisa, and the unique village of Laya, which provide cultural interest. This moderately challenging trek forms a loop along Bhutan's northwestern border with Tibet and is considered the most aesthetically beautiful trek in the Himalayas.
At Wind Horse, we take pride in having organized this trek as a Private trip for over 25 years and a small group journey annually for a decade, with small modification over time with changing conditions.
Embark on the extraordinary Jomolhari Laya trek, where you will ascend above the clouds for a truly unforgettable journey and once-in-a-lifetime experience. This journey promises to forge enduring memories while enhancing your fitness.
Outline Itinerary
Day 1: Arrive in Paro
Day 2: Paro Valley Tour
Day 3: In Paro Hike to Taktsang 
Day 4, 5 & 6: Trek from Shana to Jangothang
Drive north of Drugyal Dzong for about 1-2hrs along the new farm road and begin trek into Jigme Dorji Wangchuk National Park. The first two days are about 3-4hrs trek each day, slowing gaining altitude. Third day trek is about 5-6hrs to Jangothang,  a beautiful grassy meadow beneath the enormous east face of Jomolhari.
Day 7: Jangothang Rest day (Base Camp) 
Today is a scheduled rest day, intended to aid acclimatization before the crossing of the high passes. Jangothang is one of the most spectacular camping places in the entire Himalayas. Snow capped peaks dominate the horizon on western side, with stream running through the open valley, surrounded by yak herders villages. Option to hike up the ridge, from where there is an incredible close-up view of Chomolhari and its glaciers. The cooks will have had all day to prepare a small feast for your dinner.
Day 8 & 9: Trek to Lingshi & Chebisa villages  
Cross Nyile La pass (4870m) to Lingshi village. And next day walk shorter distance to Chebisa. It is around these area that you see tons of blue sheeps.
Day 10, 11, 12 : Trek to Shomuthang, Robulthang & Limithang
Each day cross a high pass or two and camp in the lower valley. There are villages but one may come across nomadic yak herder's camps. In Tsharijarithang valley,  one will normally see large number of Takins (national animal of Bhutan) in wild, among the wild yaks. Each day the mountains views are beautiful and on several occasions, you will see it really up close.
Day 13 &14: In Laya
A short trek from Limithang camp brings you to Laya by midday. Locals are immediate to welcome and greet the visitors. You have time this afternoon and full day next to explore this large highland village, spread across the hillside.
Day 15: Trek Laya – Koena -Gasa Hot Spring (Trek ends)  
Our final day of trekking that brings us to the nearest roadhead (Tongchudra). It is a long march downhill, but what a way to end by soaking ourselves in the popular hot springs below Gasa. Overnight in a tents or Guest House as available.
Day 16: Punakha & Wangdiphodrang  
Day 17 & 18: Thimphu
Drive to the capital Thimphu and spend a day and half here to explore its many attractions
Day 19: Departure 
Transfer to the airport in time for your departure flight.
Trip Highlights
Abundant wildlife such as Blue Sheep, Takin, elusive Snowleopard and many birds.
Remote villages of Yaksa, Lingshi, Chebisa, Goyul, Laya and Gasa.
Rich and diverse landscape and vegetation.
Spectacular mountain scenery
Cultural highlights and towns of western Bhutan
Departure Dates
Start Date
End Date
Status
Remarks
Cost Information
The trip is priced per person according to the number participants in a group.
$2950 + SDF  for 5 or more travelers
$3100 +SDF for 3-4 travelers
$3800+SDF for 2 travelers
$6250 +SDF for Single traveler including single room/tent supliment.
$300 for Optional Single tent/room supplement.
SDF is $1800 per person for the 18 nights of this trip extra above the land cost provided.
Included
Accommodations in hotels as listed during the tour and in tents during the trek
All meals
All transfers
Sightseeing with entrance fees.
English Speaking Wind Horse Local Tour Leader.
Bhutan visa including visa fees.
SDF (Sustainable Dev. Fees)
During the trek: Fully organized trek with all meals, and beverages. All trekking gears including Tents, Thermal mats, Blow pillow, Hot-water bag for warmth during night. Portable Altitude chambers Bag for emergencies. Pack animals to carry luggage and additional riding pony for emergency, Basic Medical Kit. Trekking staffs include first aid trained Guide, Cook, assistants and horseman.
Sleeping bags can be borrowed ! (cleaning charges will apply)
Borrow for free; trekking poles, water bottle, rain poncho, duffel bag
Not included
Flights in and out of Bhutan.
Travel/Medical Insurance
Optional expenses: bar/beverages, gifts, tips
Personal trekking gears & clothing
Guides