Three Himalayan Kingdoms
15 Days
Tour the highlights of Tibet, Nepal and Bhutan in one trip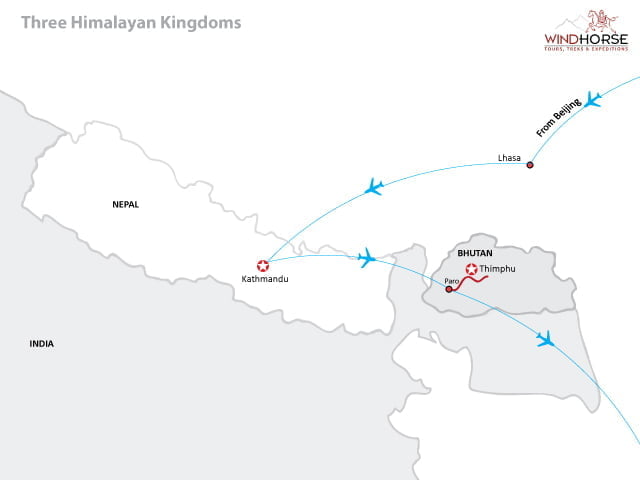 Trip Grade

Trip Price From US$ 2750 | See Details
Trip Accommodation3-4 star hotels in Beijing and Tibet, 4-5 Star in Nepal, Best available A Class Hotels in Bhutan, which are 3-4 star types. See Details
Group SizeMaximum 9
MealsDaily breakfast and dinner in Tibet & Nepal. All meals, while in Bhutan.
RouteBeijing - Tibet - Nepal - Bhutan
Trip Type Cultural Tour
Trip SeasonsAlthough this trip can be done throughout the year except winter, Tibet remains closed till february.However, Ideal time are March - May and Sept - Nov. Not just in term of weather but also for festivals in these Himalayan Nations.
Best MonthsSeptember, October
Good MonthsApril, May, June, July, August, November
Lean MonthsJanuary, February, March, December
Trip highlights
Visiting Lhasa, Kathmandu and Western Bhutan, starting from Beijing.
Highlights of Tibet Nepal & Bhutan
An enriching cultural tour that introduces the Three Himalayan Kingdoms: Tibet, Nepal and Bhutan, in one single trip. Starting with a spectacular flight from Beijing, fly into incomparable Tibet. In Lhasa-Tibet's long forbidden Capital City at 12,000 feet, we will tour the major monuments and power places, including the legendary gold-roofed, thousand-room Potala Palace. Travel to Gyantse and Shigatse in central Tibet. Then a breathtaking flight over the trans- Himalayas whisks you to Nepal's capital city of Kathmandu, an unforgettable melting pot of Hindu and Buddhist cultures.
In the local markets and bazaars, we will rub shoulders with some of Nepal's very diverse people. Another spectacular and short flight east steers you into Bhutan, where we explore the pastoral back roads of Bhutan. We'll visit the Shangri-La setting of Paro Valley, the central Bhutanese town of Punakha, with its huge spectacular monastery set by the river, followed by a visit to the capital city of Thimphu. Your trip ends with a flight to Bangkok or other preferred destinations.

Outline Itinerary
Day 1: Arrival in Beijing.Arrive with your own arrangements in Beijing. You may use hotels' free shuttle or take a short taxi ride. Your Tibet permit will be handed over at the hotel.
Overnight at Beijing, Citic Airport hotel or similar (included).
Day 2: Fly to Lhasa, Tibet  Take a shuttle or a short taxi ride to the airport in time for your flight (departs around 9AM). A spectacular mountain flight brings you to Lhasa. Upon arrival in Gongkhar airport, you are met by our Guide & Driver and driven to Lhasa city, which takes little over one hour. Free afternoon for a complete rest, to acclimatize to the altitude (Appox 3500m/11450ft) Overnight and dinner at your hotel.
Overnight in the hotel.
Day 3: Lhasa Tour  Visit the giant Potala Palace in the morning. In the afternoon visit Sera Monastery, one of the largest monasteries of Tibet, noted for their debate. Later visit ancient Jorkhang temple, considered by most Tibetan as the most sacred and important temple in Tibet. Located in Barkhor square, close to your hotel, it was founded in 7th century.Stroll through the Barkhor square. Dinner with a cultural performance at a local restaurant.
Overnight in Lhasa.
Day 4: Lhasa Tour  Visit Drepung Monastery, the largest monastery of Tibet. At the height of its glory, Drepung is said to have housed over 10,000 monks. In the afternoon, visit Norbulingka, a park and palace built in 1755 by 7th Dalai Lama, which served as the traditional summer residence of the successive Dalai Lamas. Free evening.
Overnight in Lhasa.
Day 5: Yamdrok Tsho – Gyantse After breakfast, embark on the ride of a lifetime along the Lhasa-Gyanste highway. After half an hour from Lhasa, you will drive across the Yarlung Tsangpo river, and gradually the road snakes up to Kamba La pass (4800m) ) from where you will have the first view of brilliant turquoise blue Yamdrok Tso Lake below and views of several massif peaks surrounding it. The road follows the shores of this holy lake for many miles, passing few villages, yaks and sheep pastures, then climbing to Kharola pass (5010). From the pass, we get a great view of the glaciers, as they seem to stop just above the road. After a long descend, we arrive in the historical town of Gyantse, which still retains the charm of ancient Tibet. This afternoon, we plan on visiting Kumbum Chorten and Pelkhor monastery and stroll around the town. Around 260km/5-6hr drive.
Overnight in hotel (Altitude 3900m)
Day 6: Gyantse – Shigatse – Lhasa Two hour drive to Shigatse passes through fertile plains where wheat and barley are grown. Shigatse is the second largest city in Tibet. Here we visit the giant Buddha statues inside Tashilhunpo monastery and time permitting, join pilgrims in circumambulation path around the monastery. In the afternoon, drive to along the Yarlung valley north for about 4-5hrs to Lhasa. In the evening, you can stroll around Barkhor.
Overnight in Lhasa.
Day 7: Fly – Kathmandu After breakfast, transfer to Gongkhar airport in time for your flight to Kathmandu. The flight is even more spectacular than the last one, crossing the Himalayan peaks, with view of Everest and several of the world's highest seen from your plane. Upon arrival, meet Nepalese Guide and transfer to the hotel in Kathmandu. This afternoon, visit Kathmandu Durbur Square and walk through Asan and Indrachok market. Dinner with cultural performance at a typical Nepalese restaurant.
Overnight at the hotel
Day 8: In Kathmandu Drive and visit Pashupatinath temple, followed by a visit of Boudanath Stupa. Drive to Bhaktapur city, to see the medieval buildings and homes. Visit temples, town squares, Palace squares, local market, etc. Return to your hotel.
Day 9: Fly to Bhutan Fly into Paro, Bhutan, yet again another spectacular flight as you fly parallel to the Himalayas. Upon arrival at Paro airport, meet your Bhutanese Guide and driver and transfer to the hotel. This afternoon, we plan on visiting the National Museum. Later visit Rinphung Dzong and walk down to the small and charming township of Paro.
Overnight in Paro (2200m)
Day 10: Paro – Punakha After breakfast, drive for about 2hrs till Dochula pass (3,050m). Along the way, we will get the glimpse of capital Thimphu as well. At Dochula pass, we take a short break for tea and to enjoy the views of the eastern himayan peaks. Continue our drive descending about 1500m in two hours through ever changing vegetation into semi-tropical Punakha and Wangdue valley. After lunch, visit 17th century Punakha Dzong, straddling at the confluence of Pho and Mo Chu river. Then drive short distance through idyllic countryside to Khamsum Yuley temple on Nyinzergang hill, that provides good vista of the valley and paddy fields (optional).
Return to Punakha for overnight (1450m)
Day 11: Drive to Thimphu In Wangduephodrang, visit Richengang village, unique for cluster of houses connected with each other, followed by short walk to visit Chimi Lhakhang temple, dedicated to Lama Drukpa Kunley (1455 – 1529), popularly known as 'the divine madman, a folk hero and a cultural icon around whom countless yarns of facts and fiction, stories and legends have been spun. Drive back over spectacular Dochula Pass to capital Thimphu, which takes about 3hrs. Late afternoon, visit great Tashicho Dzong and the giant Buddha statue on Kuenselphodrang ridge.
Overnight in Thimphu (2400m)
Day 12: In Thimphu We have a full day to tour the capital of Bhutan, where there are lots to see and do. Visit memorial Chorten, a landmark of Thimphu. Tour Takin Preserve, Zilukha nunnery, a Viewpoint, followed by visit to traditional Art school (also called painting school) and visit Indigenous Hospital. In between, we can stop at the Post Office to send beautiful postcard home or buy the stamps. See the textile academy and museum, stroll through the Farmer's market, peek at Changlimithang ground, where you may see the archery (national game) in progress. Stroll in the core city area, and shop for souvenirs.
Overnight in Thimphu.
Day 13: Thimphu – Paro  An hour drive takes us back to Paro. Along the way we may stop to see a nunnery in Sitsina village. Paro is serene and one of the loveliest in Bhutan. Visit the Dzongdrakha cave temples with local homes. In the afternoon, tour the ruins of Drugyal Dzong located north of Paro. On the way back, stop to visit the 7th century Kichu temple, said to have been built one the same day as Jorkhang in Lhasa. Visit local village home and if time permits, we can also visit Dungtse Lhakhang temple, which contains some ancient murals. Stroll around the charming township of Paro.
Overnight in Paro.
Day 14: Paro (Takstang Hike)  Your journey in the Kingdom culminates in a hike to famous Taktsang (tiger's nest) monastery (3120m/10,200ft). Visible from afar, this magical monastery clings to a vertical granite cliff 1,000 feet above the valley floor. It is one of the most amazing and important pieces of architecture in Bhutan. If for some reason, some of the members wish to skip hike to Taktsang, our Guide and driver can arrange other interesting alternatives. You can also hire pony for the uphill part, till the first view point & cafeteria but you must be able to walk back downhill. While some will probably not make it all the way to the monastery, however it is worth even to try getting till the first view point. Return to Paro, where we may have more time for stroll around the town. Farewell dinner in the evening.
Overnight in the hotel in Paro valley.
Day 15: Departure While this journey is planned to fly you to Bangkok, you can also choose or destination such as Kathmandu, Delhi, Kolkata or other destination that the airlines operate. If you are planning a connection flight from those cities, it is best to connect next day as the flight from Paro are subject to delays.
Based on the dates of travel, itineraries are slightly revised to incorporate festival and local events.